Revere ready to make final push for batting title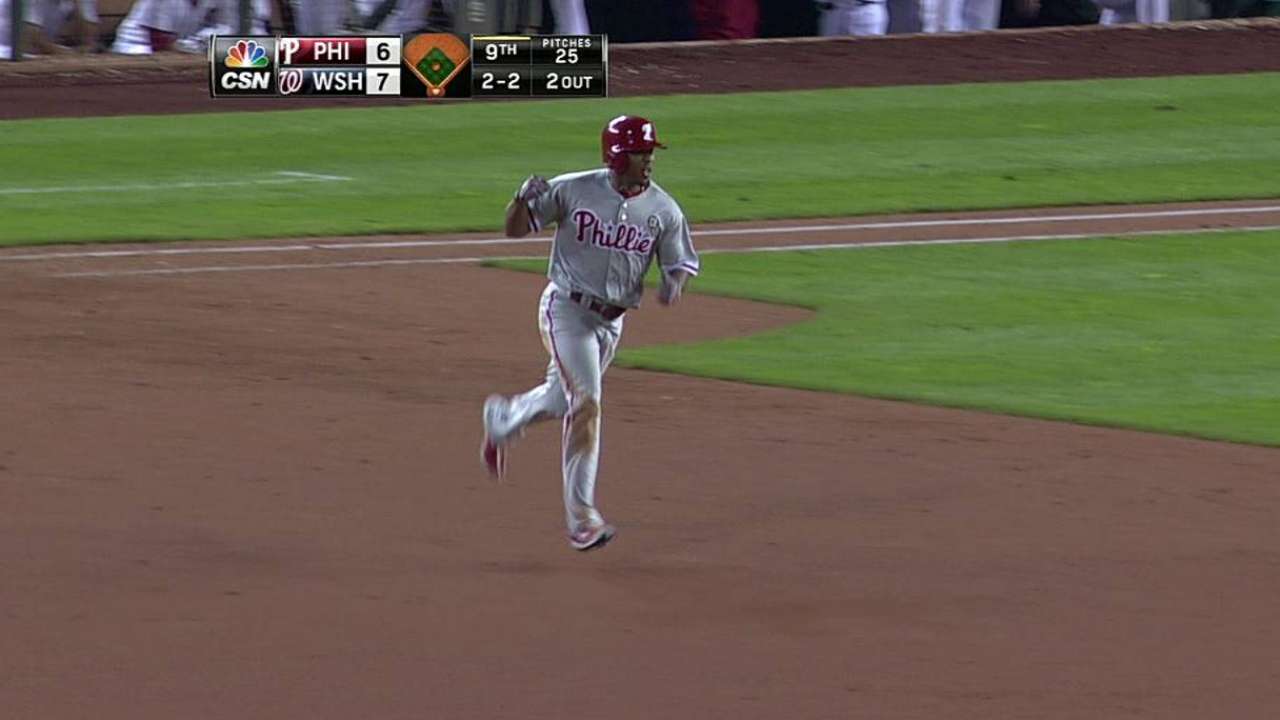 WASHINGTON -- The day-to-day grind of chasing an individual achievement can wear on some players, but Phillies center fielder Ben Revere is ready to handle the pressure as he battles for the National League batting crown.
Through Sunday's action, Revere was tied for second in the NL with Pittsburgh's Josh Harrison with a .315 average, one percentage point behind Colorado's Justin Morneau.
Revere is aiming to become the sixth Philadelphia player -- and the first since Richie Ashburn in 1958 -- to win a batting title.
"I'm just trying to do everything possible to bring excitement to this clubhouse, as an individual goal and as a team player," Revere said. "Honestly, I'm just trying to finish this season on a strong note. Right now, I'm just going out there and having fun."
Revere went 0-for-4 in Saturday's 3-1 win over the Nationals before connecting on a pinch-hit single in Sunday's 3-2 loss.
Revere was a key component to the Phils' success on their nine-game road trip, with a .378 (14-for-37) mark and eight RBIs.
"If you see the ball good, you can still hit it and get out," he said. "If you hit where the defense isn't playing, it's going to be good. It's definitely tough to hit over .300 in Major League baseball."
Revere credits a habit instilled in him by some of the big-name players he's worked with during his career for his approach during games and behind the scenes.
"Playing with future Hall of Famers like Jim Thome, Joe Mauer, Jimmy Rollins, Chase Utley, Marlon Byrd and Ryan Howard, and watching them prepare themselves -- they treated me like a veteran. Every day, it's all about preparation," Revere said. "If you don't prepare, you'll struggle."
Elliott Smith is a contributor to MLB.com. This story was not subject to the approval of Major League Baseball or its clubs.