Darnell, bullpen stumble in finale against Angels
Southpaw allows five runs over 4 2/3 innings before handing game over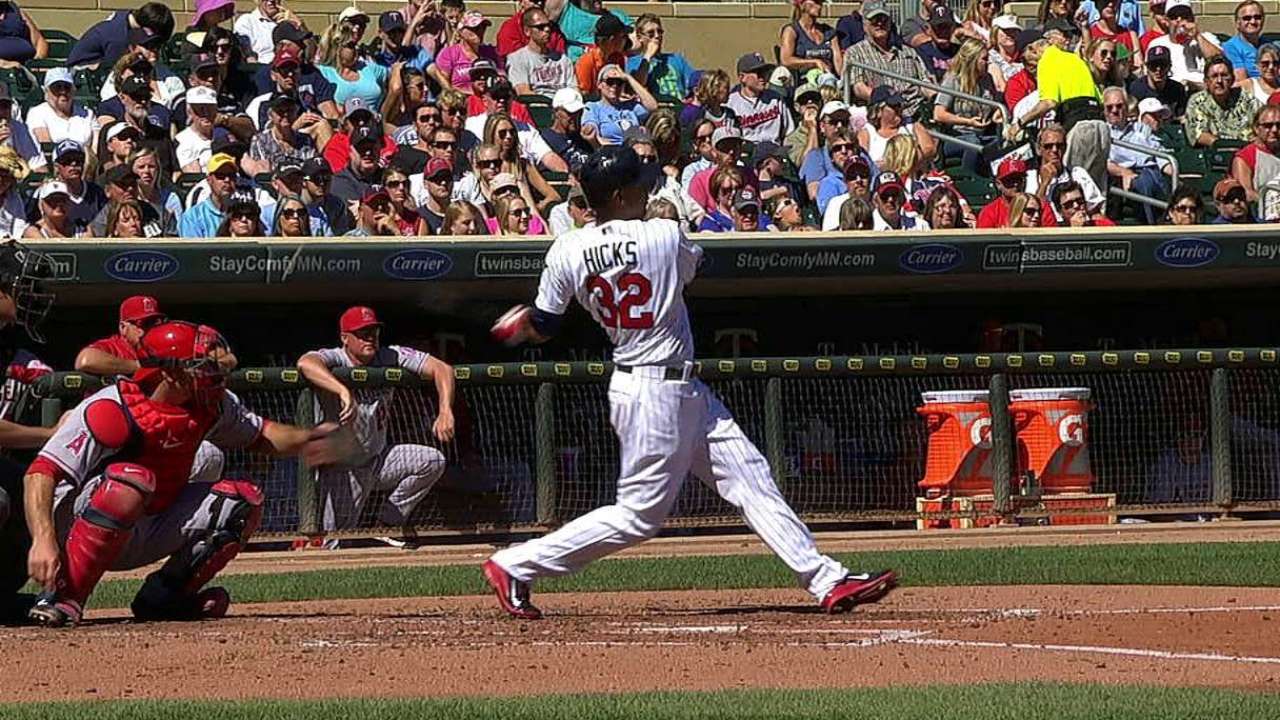 MINNEAPOLIS -- After hanging in there in three straight losses to the Angels, who possess the best record in the Majors, the Twins saw their pitching woes catch up to them in the series finale on Sunday.
Logan Darnell scuffled through 4 2/3 innings in a spot start and the bullpen continued its recent struggles in the Twins' 14-4 loss to the Angels at Target Field. The Twins led 3-1 after the second inning, but the Angels scored 13 straight runs to complete a four-game sweep and the season sweep by going 7-0 against the Twins.
Darnell, starting in place of Tommy Milone after Milone skipped a start due to shoulder fatigue, gave up five runs on five hits and a walk to fall to 0-2 with an 8.64 ERA this year.
"We threw some young pitching at them today and we had our troubles," Twins manager Ron Gardenhire said. "Darnell was OK at times. He left some pitches up and they made him pay just about every time he did. The rest of them all had their issues. They kept swinging and the ball kept flying."
The Angels opened the scoring with a solo homer from Howie Kendrick in the second inning. They used the long ball to their advantage again in the third, as Mike Trout connected on a two-run shot to tie the game.
"Starting off, I felt pretty good, but later in the game I made a couple pitches they made me pay for," Darnell said. "I threw my fastball better than I had in the past. But when I got two strikes on Kendrick, he hit a good curveball out and I fell behind Trout and left a changeup up."
Los Angeles retook the lead with a three-run fifth inning with Erick Aybar bringing in the first run on a sacrifice fly. Darnell exited after walking Trout with two outs and reliever A.J. Achter came in for his second career appearance. Achter gave up a single to Albert Pujols and a two-run triple to Kendrick with one run getting charged to Darnell.
The Angels broke the game open with a six-run sixth inning. Achter served up a two-run homer to C.J. Cron before being removed for reliever Lester Oliveros. Oliveros, making his second appearance of the year, gave up an RBI double to Pujols and a two-run single to Chris Iannetta.
"We did a lot on the offensive side," Angels manager Mike Scioscia said. "Some things on the mound we didn't quite get done as much as we have been, but the bats picked us up this whole series and definitely this afternoon. It's good to see the guys get in a groove."
Right-hander Ryan Pressly came in for the seventh and gave up a pair of RBI singles to Shawn O'Malley and Kendrick. Kendrick went 3-for-4 with four RBIs.
Gardenhire said he used September callups such as Achter and Oliveros to see what they could do against a tough Angels team, especially given how much the bullpen was used during the four-game series.
"You have to see what these guys can do and how they react to it," Gardenhire said. "You don't want to kill the guys. Once they get to a certain amount of pitches you have to bring another guy in. We were just trying to get through a ballgame."
The offense was more than enough for Angels left-hander C.J. Wilson, who went 6 1/3 innings, allowing three runs on four hits and four walks with six strikeouts.
The Twins scored their three runs in the second, when Wilson issued three straight walks to open the inning. Aaron Hicks made Wilson pay with a two-run double with one out before Brian Dozier plated a run on a sacrifice fly to right.
But the offense went cold after that, as Wilson settled down and retired 11 in a row before giving up an infield single to Eduardo Escobar in the seventh inning.
The Twins plated their last run of the game on Kennys Vargas' deep solo homer, his seventh, in the eighth. Vargas' homer traveled an estimated 451 feet and came on a 2-0 fastball.
"He hit it a long ways, that's for sure," Gardenhire said. "And it wasn't in an easy part of the game. The shadows were bad. He hit that ball pretty good and that's what he can do."
But it was from enough for the Twins, who were blown out by the Angels after losing the first three games of the series because of collapses from the bullpen.
"We were facing a very good baseball team that can swing the bat really good," Gardenhire said. "We hung in there the first three games and had our chances, but today they pretty much dominated us. They beat the ball all over the place."
Rhett Bollinger is a reporter for MLB.com. Read his blog, Bollinger Beat, and follow him on Twitter @RhettBollinger. This story was not subject to the approval of Major League Baseball or its clubs.