Teheran hits wall as Braves falter in race
Righty allows four runs in 5 1/3 innings while bats remain silent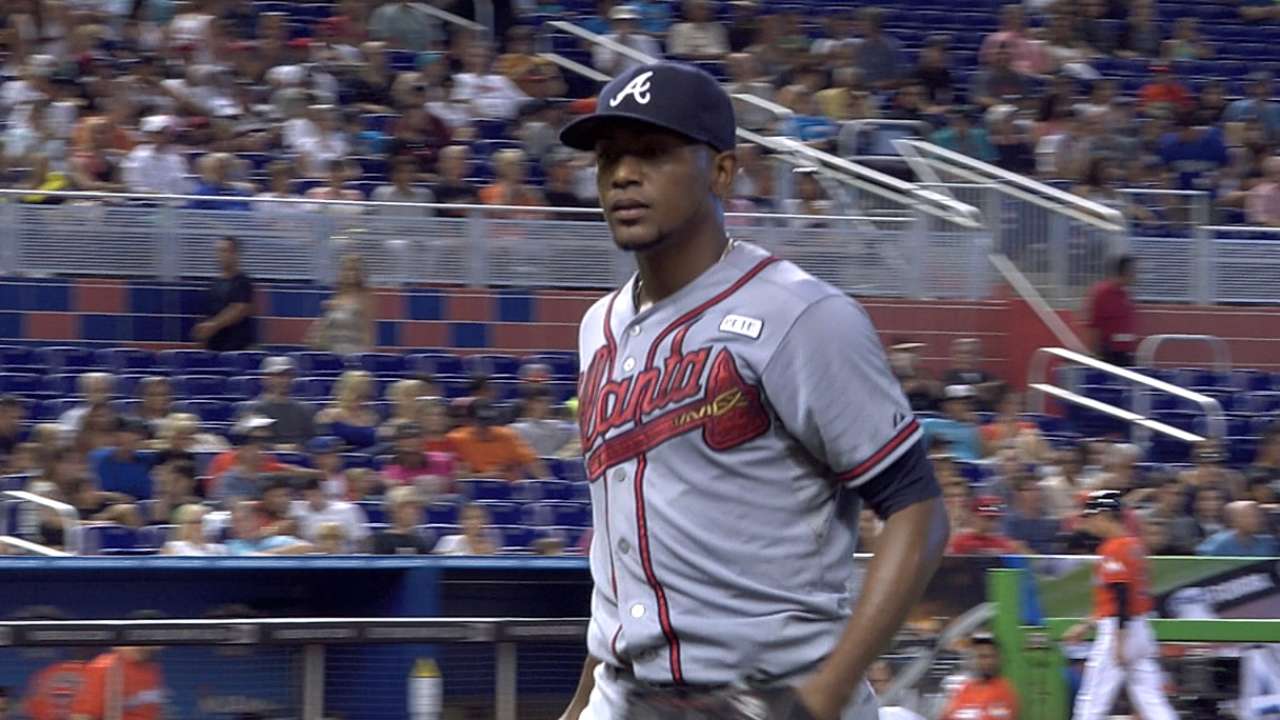 MIAMI -- Julio Teheran proved he is just one of the many Braves players who have been pushed to the point where they are no longer able to keep their emotions in check. Teheran's frustration was on display as he was abruptly chased during the sixth inning of Sunday afternoon's 4-0 loss to the Marlins at Marlins Park.
After seeing his final pitch of the afternoon result in a Marcell Ozuna double that snuck under second baseman Phil Gosselin's reach, Teheran smacked his glove against the mound. The 23-year-old right-hander went to the dugout a few moments later and unleashed his anger on a bucket full of bubble gum.
"That's the reaction that I get from the game," Teheran said. "Sometimes, I want to make a pitch and when I don't get it, that's the kind of reaction that I can't control. Sometimes, I control it. But sometimes, I can't."
Teheran's emotions were influenced by the fact that he was constructing a gem before he started to unravel with two outs in the fifth inning. At the same time, he was likely affected by the stress Atlanta's pitchers have felt as the offense has extended its woes by scoring three runs or fewer in 11 of the past 15 games.
The Braves have now been shut out in four of their past eight games and a total of 13 times this season, which ties them with the Phillies and Giants for the most in the National League. They have also lost eight of their past 14 games and find themselves a half-game behind the Pirates for the National League's second Wild Card spot after Pittsburgh won, 10-4, on Sunday.
"There weren't many, but the opportunity was there," Jason Heyward said after the Braves went hitless in seven at-bats with runners in scoring position. "All it takes is one time. It didn't happen today. It's not going to go unnoticed, because we're in a very tight race here."
Given that Marlins starting pitcher Brad Hand had spent the past couple weeks in a relief role, this was yet another of those afternoons when the Braves provided the baffling appearance that they were actually facing Clayton Kershaw or another bona fide ace. Hand, who had produced a 4.82 ERA in his only 12 previous starts this year, scattered five hits over six scoreless innings.
"The only thing he had going for him outside of him throwing well was us not having faced him a whole lot in the past," Heyward said. "There's no excuse. There's nothing special about what he did today other than he threw well and threw the ball over the plate and made pitches. When pitchers do that, sometimes it's going to go their way."
Things were certainly going the right way for Teheran, who allowed a first-inning leadoff single to Christian Yelich and then erased the young Marlins outfielder with his 14th successful pickoff attempt since the start of 2013 -- the most by a Major League right-hander during this span. Teheran then proceeded to retire each of the next 13 batters he faced.
But after relying heavily on his fastball the first couple times through the lineup, Teheran came unglued after Garrett Jones doubled with two outs in the fifth. Jarrod Saltalamacchia and Adeiny Hechavarria followed with consecutive singles.
The Marlins then constructed a three-run sixth by recording four hits before sending their sixth batter to the plate during the inning. After retiring 13 straight, Teheran allowed hits to seven of the last nine batters he faced. He has posted a 4.12 ERA over his past seven starts. Fifteen of the 17 runs he has surrendered during this span have scored in the fifth inning or later.
"I think they made adjustments to the way I was pitching today," Teheran said. "I was using more of my fastball. Later in the game, I think they were looking for my fastball. That is something I tried to switch."
Even if Teheran had continued to cruise, he might have simply set himself up for a tough-luck loss or no-decision. The Braves' first squandered opportunity came when Chris Johnson was left stranded after he stole second base with no outs in the fifth inning. One inning later, a Gosselin double put runners at second and third base with no outs. But Hand struck out Justin Upton and breathed a sigh of relief when the threat ended with an Evan Gattis lineout to left field.
Given that these events simply added to the frustration that has compiled over the past few weeks, Braves manager Fredi Gonzalez seemed to understand why Teheran allowed his emotions to get the best of him as he exited.
"He competes and he doesn't want to come out of games, which I don't blame him. I don't want anybody wanting to come out of games," Gonzalez said. "But he's got to keep pitching the way he's been pitching and hopefully we'll start swinging the bats."
Mark Bowman is a reporter for MLB.com. This story was not subject to the approval of Major League Baseball or its clubs.