Royals continue playoff push with win over Yanks
KC spoils Jeter's day by scoring two unearned runs to back Ventura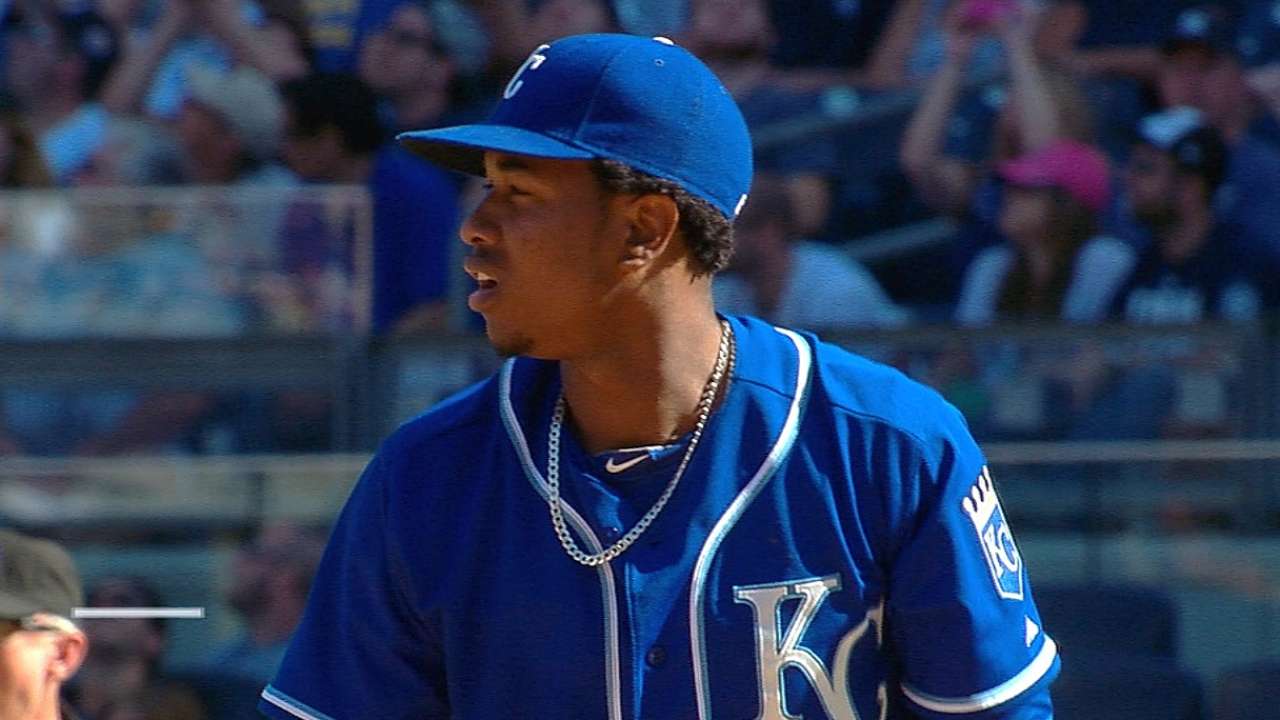 NEW YORK -- The Royals have been playing meaningful baseball all season long. Thus, this September has become dedicated to a playoff push and not, as has typically been the case, a final month of playing spoiler. On Sunday afternoon at Yankee Stadium, they got to play both.
After a stirring pregame ceremony in front of a sellout crowd gathered for "Derek Jeter Day," the Royals, thanks to another fine pitching performance, mostly silenced the fans and the Yankees' bats, dampening New York's celebratory day with a 2-0 victory.
The series win kept the Royals two games ahead of the second-place Tigers in the American League Central. Detroit defeated San Francisco, 6-1, on Sunday night. The Royals open a three-game series against the Tigers at Comerica Park on Monday afternoon.
Just a day after left-handed starter Danny Duffy exited after one pitch, Yordano Ventura stepped up to save some tired bullpen pieces, spinning six scoreless innings while allowing just three hits before exiting after issuing a leadoff walk in the seventh. Aaron Crow escaped the inning with a double play, while Kelvin Herrera and Wade Davis -- celebrating his birthday -- held down the eighth and ninth, respectively, to preserve Ventura's third straight win.
"He ended up getting a huge double play, which was big, and made a great pitch when he needed to," manager Ned Yost said of Crow. "It's a real comfort level knowing you've got Herrera, Davis, [and Greg] Holland, but there's also a certain comfort level when one of those guys isn't available."
Ventura had what Yost called before the game "great stuff," commanding his change and curveball but especially his tailing fastball. He featured that for an exclamation point in the fifth inning, showing some maturity while facing Jeter in the midst of a potential rally.
With a runner on first, one out and two strikes to the Yankees' captain, Ventura threw a two-seam fastball that just missed the outside corner of the plate, a pitch he thought was strike three as he walked off the mound and toward first base in frustration. Eric Hosmer and catcher Salvador Perez quickly went out to calm him down, and on the next pitch, he reared back and got Jeter swinging, eventually escaping the inning unscathed.
"They said, 'Keep going, stay calm, good pitch, repeat it, and make another one,'" said Ventura. "The biggest thing was to continue to try and come back in the count and make good pitches after the walks."
Those were again the rookie's only kryptonite, allowing seven baserunners thanks to four free passes, a stat he's had trouble with -- 21 walks in his last five starts -- but this time was able to work around them.
"He pitched around [the walks] effectively, got back his mechanics, commanded it downhill with his fastball," said Yost. "[He] really stayed within himself with his changeup and his curveball, and I thought he just did a fantastic job."
The Royals were glad because their offense -- though it made Shane Greene battle early and often for 90 pitches in five innings -- sputtered again for most of the day, as both of their runs were unearned.
In the second inning, Josh Willingham scored from second when Nori Aoki chopped a roller down the first-base line that Greene picked up and threw off target to first base.
Yankees right fielder Carlos Beltran helped things in the third when he dropped a lazy fly from Alex Gordon. Beltran then misfired on a throw home on a Hosmer single that brought catcher Brian McCann up the first-base line, helping Gordon, who had stumbled around third, score.
"When you're not swinging the bats as well as we are, sometimes you've got to make things happen and put it in play, take the extra base, stuff like that," said Gordon, who had stolen second base in order to score. "You've got to create runs when you're not crushing the ball. I feel like our team can do that."
"A 'W' is a 'W,'" said Yost of his offense. "I'm on top of the world."
Remaining there will be tough unless the Royals start crushing the ball again. But still, Yost's club churned out two victories this weekend on just three unearned runs and two shutouts, earning them their first season-series victory against the Yankees since 1999. That was at least one reason to celebrate.
Of course, it's unlikely their offense will solve itself on the flight to Detroit, but gearing up for an even bigger playoff-type atmosphere against a team on its heels might just be the spark the bats need, if New York didn't provide that feeling already.
"We didn't play our best baseball I feel like," said Gordon. "But we're feeling pretty good to be in a big series and we're excited to be in this situation."
The Royals hope the pitching, however, will remain just as dominant as it has been the whole season.
"This is what it's all about," said Crow. "It's going to be a tough series. We know they have a good team. We're just going to go in there and take care of business."
‪Jake Kring-Schreifels is an associate reporter for MLB.com. This story was not subject to the approval of Major League Baseball or its clubs.