Abreu already looking to be more of a leader in 2015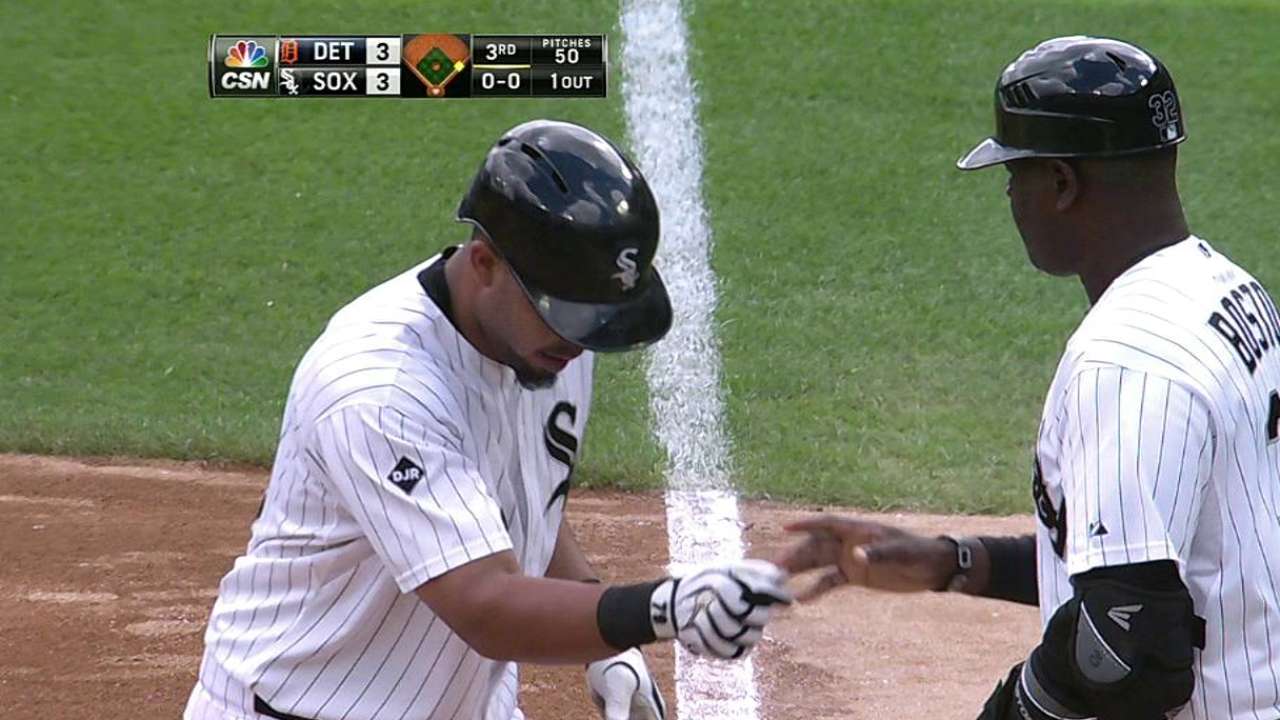 CLEVELAND -- Jose Abreu still has 20 games remaining of what looks to be his American League Rookie of the Year 2014 performance. But the White Sox first baseman and future cornerstone already has started thinking about 2015 and his increased role as a leader.
"Actually, I was talking to Alexei Ramirez the other day, that, 'Hey, I know we only have a few weeks but for next year, we have to, or we should, take the leadership role here,'" said Abreu, through interpreter and White Sox manager of cultural development Lino Diaz. "'And try to accomplish some things here as a team.'
"It's an honor they speak of me like that. Believe me, if they look at me as that and they allow me to be that, I will do my best. So, we all as a team play together, we are able to get this thing to the next level."
Abreu showed his leadership this season without having to say much. He entered Sunday's contest hitting .321 with 33 homers and 99 RBIs. His 14-game hitting streak came to an end Saturday, joining his 18- and 21-game runs, leaving Abreu as the only Major League player to have three hitting streaks of 14-plus games this season. He is attempting to become the first White Sox rookie to hit .300 with 30-plus home runs and 100-plus RBIs, and the first rookie overall to reach such a lofty mark since Albert Pujols in 2001 (.329/37/130).
Once the season comes to a close on Sept. 28, Abreu intends to take a month off and spend time with his family. He'll then work back into cardio and strength training, followed by a focus on hitting.
"I want to be ready when Spring Training comes," Abreu said.
He'll also be ready as a go-to guy on this team, something Abreu already has become over the past few weeks with some of the Minor League callups and fellow rookies.
"I'm a person that likes to give advice," Abreu said. "I'm a person who likes that if I know something and if I know for a fact that it works, I like to share those thoughts with players. So, yes, I have talked to a few players about a few different things. Just like with me. A lot of people have helped me and I really appreciate that. And everything they tell me they can help me, I'm always willing to listen."
White Sox manager Robin Ventura knows Abreu possesses all the key components of being a good leader.
"His actions speak more than his words right now. For a lot of people, that's great stuff that you get to that point. For him, he has aspirations of doing more than that," said Ventura of Abreu, who leads the AL in the second half with a .457 on-base percentage and a .997 OPS. "His actions do speak loud, not only on the field, but how he acts in here, how he goes about his work.
"When you have that, and he wants to be a leader, it looks pretty promising, that you have the right guy to be able to do that. Some people might want to do that, and they might not be the right person to do that. He's the right person to do that."
Third to first
• Ventura mentioned Sunday that Abreu looks to be running better and will return to first base during the upcoming seven-game homestand against the A's and Twins.
• Avisail Garcia received a day off Sunday.
• Although it's not quite set, Ventura is strongly leaning toward Chris Bassitt starting Wednesday.
"Still working on that," Ventura said. "But it looks like he'll be going Wednesday and push [Chris] Sale and [Jose] Quintana back to Thursday and Friday."
Scott Merkin is a reporter for MLB.com. Read his blog, Merk's Works, and follow him on Twitter @scottmerkin. This story was not subject to the approval of Major League Baseball or its clubs.