Gomes, Kluber devise winning game plan
Battery relies on fastballs early in right-hander's dominant outing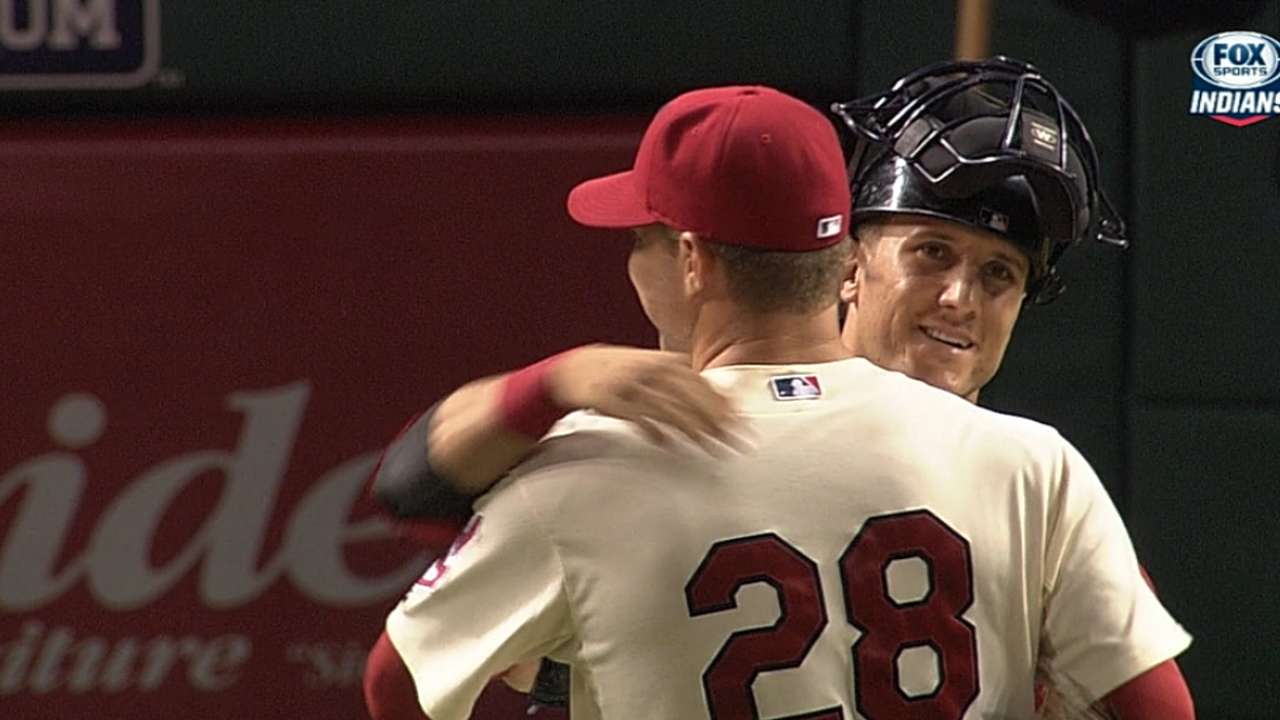 CLEVELAND -- Ask Mickey Callaway which pitch of Corey Kluber's is his best and the Indians pitching coach will always cite the fastball without hesitation. Being aggressive and precise with his sinker opens the door for Kluber to be more effective with his offspeed offerings.
During Saturday's complete-game gem against the White Sox, Kluber and catcher Yan Gomes tested that approach at an extreme level. For the first eight batters, the right-hander threw only two-seam sinkers, waiting until the ninth hitter to finally show a cutter. Kluber did not throw his slider until his 31st pitch of the night.
"Any time you can do that and establish your fastball like that," Callaway said, "you don't give away your good stuff. If you can get through three innings with your fastball, you should do it every time. Establish your fastball. Establish that fastball command. Make them really respect that.
"Then, your offspeed stuff is going to be dominant the rest of the game. That's kind of what we saw."
After the 3-1 win, in which Kluber struck out eight and allowed one unearned run, Callaway asked the pitcher if the exclusive use of his fastball early in the game was by design. Kluber said it was a credit to Gomes, who quickly took note of Chicago's aggressiveness at the plate and decided to try to take advantage for some swift, early-contact outs.
Over 104 pitches, Kluber threw 71 percent strikes, generated 14 outs via ground balls and created 19 outs on three or fewer pitches.
Kluber praised Gomes' ability to balance both a pitcher's strength and a particular hitter's approach.
"He's extremely prepared back there," said Kluber, who struck out eight and walked none in the win. "Based upon what a guy wants to throw or what a certain hitter is looking for, he's good at putting down the right fingers. I definitely rely on him a lot. I'm not just throwing what he puts down, but it definitely gives you that extra confidence when you know how prepared he is and how he goes about it."
Indians manager Terry Francona also took note of Gomes' work behind the plate in Saturday's win.
"Certain pitchers have their routines and rituals," Francona said. "Klubes always comes past me in the entrance to the dugout. Most pitchers go the other way. So it's hard to let a guy go past you without saying something. I caught myself after that thinking, 'Why am I not saying something to Gomer?' He's the one calling the pitches.
"I make sure I always pat him on the back, too, after Kluber, because you can tell how proud Gomer is after a game like that. That's pretty cool. They obviously have a great working relationship. There's implicit trust, which is really good. That doesn't just happen."
Quote to note
"Hopefully, that's why you do all the work in between [starts] and in the offseason and stuff, so when you get late in the season, you're still in a good spot and you're not wearing down or anything like that. Hopefully that has something to do with it and we can ride it out."
-- Kluber, on still feeling strong into September
Smoke signals
• White Sox slugger Paul Konerko, who is retiring after this season, has 48 career home runs against the Indians, marking the 10th-most all-time against Cleveland. Eight of the nine players ahead of him on that list are in the Hall of Fame. Konerko currently has 439 home runs in parts of 18 Major League seasons (16 with Chicago).
"To do it over and over and over every day," Francona said, "and to produce in that way, whether you're beat up or not, and year after year after year, that's quite an accomplishment. He's been so consistent. And he made himself a good hitter."
• Kluber has 223 strikeouts, moving him past Luis Tiant (219 in 1967) and Gaylord Perry (216 in 1974) for 17th place on Cleveland's all-time single-season strikeout list. Kluber has also joined Sam McDowell (six times), Bob Feller (five), Perry (twice), Herb Score (twice) and Tiant as the only Indians pitchers to have a season with at least 220 punchouts.
• First baseman Carlos Santana drew a walk in the first inning on Sunday, giving him 100 on the season. Santana joined Travis Hafner (2006), Jim Thome (six times, most recently in 2002), Andre Thornton (1982) and Al Rosen (1950) as the only players in Indians history to have at least 25 homers and 100 walks in a single season. He hit his 25th homer on Saturday night.
Jordan Bastian is a reporter for MLB.com. Read his blog, Major League Bastian, and follow him on Twitter @MLBastian. This story was not subject to the approval of Major League Baseball or its clubs.