White Sox offer little help to Carroll in loss to Tribe
Righty allows two runs over seven-plus innings; bats collect four hits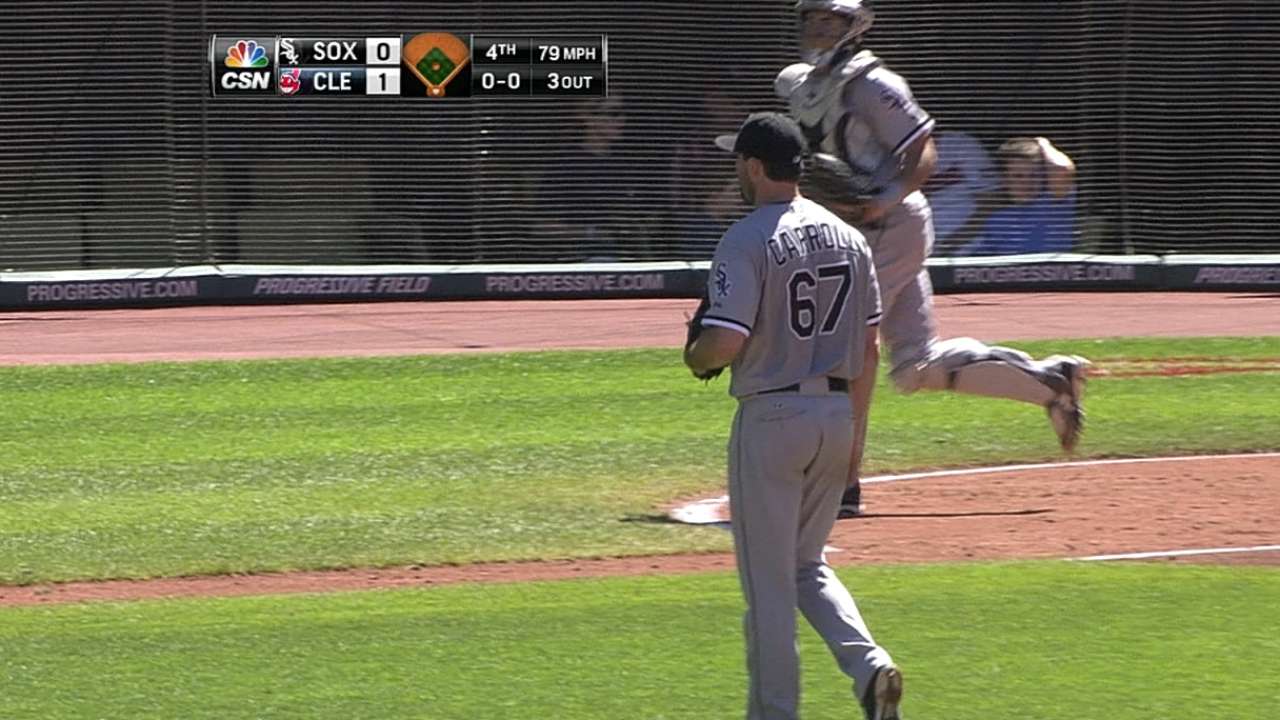 CLEVELAND -- Over the three games played this weekend at Progressive Field, the White Sox pitching staff allowed seven runs. Their starting pitching trio of Chris Sale, Jose Quintana and Scott Carroll yielded four runs in 19-plus innings.
Yet, with Cleveland's 2-0 victory Sunday afternoon, the White Sox (63-79) departed for Chicago following a three-game sweep and finished 1-4 on their second-to-last road trip of the season. The White Sox have a 4-14 record in these last 18 contests and have been swept seven times this season, scoring just one earned run over the last three days
So the question after this latest tough setback, which ended with the tying runs on base for the White Sox in the ninth, is whether this weekend was more about rough White Sox offense or great Cleveland pitching? The answer seems to fall somewhere in between.
"Their pitching, all three nights, was great," said White Sox manager Robin Ventura, whose team lost the season series to Cleveland, 10-9, after finishing 2-17 against the Indians in '13.
"Losing is not fun, but hats off to them," White Sox starting and losing pitcher Scott Carroll said. "[Carlos] Carrasco pitched his butt off."
Carrasco (7-4) fell one out short of his first career shutout. Since rejoining the rotation on Aug. 10, Carrasco has a 4-0 record with 0.70 ERA.
He fanned eight, gave up four hits and didn't issue a walk over 103 pitches, before giving way to Cody Allen (19th save). The White Sox moved only one runner as far as third base, coming in the second inning after a Conor Gillaspie double and an Alexei Ramirez groundout. But Andy Wilkins struck out and Dayan Viciedo grounded out to strand Gillaspie.
Wilkins followed with his first Major League hit, a one-out double, in the fifth. But strikeouts from Viciedo and Jordan Danks kept the White Sox scoreless. Wilkins ended an 0-for-13 stretch to start his career with that double.
Adrian Nieto opened the ninth with a single, and two outs later, on a 1-2 pitch, Jose Abreu singled to left. That hit left Allen to face Gillaspie, who lined out to center fielder Michael Bourn.
"Today, that kid was great. He had great stuff. He had a lot of life on his fastball," said Ventura of Carrasco. "Hits were just hard to come by, really on both sides, but their guy, when he's throwing it up there at 97, 98 [mph] and his breaking stuff was great. You could see by some of the swings, the movement that he had, he was fantastic."
Carroll, who made his first start since Aug. 29 against Detroit, gave up a first-inning run on Bourn's triple over the head of center fielder Adam Eaton and Michael Brantley's single one out later. The right-hander finished with two runs allowed on seven hits over seven-plus innings, with one walk, one strikeout and 13 outs recorded via ground balls. That first-inning run broke a stretch of 14 straight scoreless innings for Carroll against the Indians (74-67), who have scored just two earned runs over 21 innings against the rookie.
"I worked on some things in the bullpen this week, made some adjustments to my mechanics, just staying more balanced, not rushing," Carroll said. "It came together for me. As far as being able to command my breaking ball, it was big. And with the sinker. When I'm able to do that, I get good results."
"He kept the ball down so well that it almost made it like we were reaching, but he was throwing enough strikes that we didn't barrel up a ton of balls," said Cleveland manager Terry Francona. "Bourny led off with a really good swing and then Brantley picked him up. And then the other run was Carlos [Santana] got jammed so bad he didn't know where the ball was. That kid pitched pretty well."
Sunday's start was the 17th for Carroll, who also has made six appearances in relief. Despite being part of the team since April 27, Carroll continues to audition for the 2015 season.
Many players on this expanded roster, from Wilkins to Carlos Sanchez to even Nieto, are working during this final month to prove they belong in the next step of this ongoing reshaping. Playing those kids might skew the team's final record a bit, but it doesn't make losing any easier for a group that has been trying to top last year's win total for four games.
"You don't know what's going to happen next year," Carroll said. "You always try to put your best foot forward and make your best case. That's all I'm trying to do, show this team what I'm capable of doing."
"Right now, you're looking at a group, you're kind of seeing what you're going to get," Ventura said. "We're playing some younger guys. You kind of take this out of it and you're looking at steps in the right direction."
Scott Merkin is a reporter for MLB.com. Read his blog, Merk's Works, and follow him on Twitter @scottmerkin. This story was not subject to the approval of Major League Baseball or its clubs.