Fill-in closer Mujica shuts door
Reliever Britton solid in back-to-back outings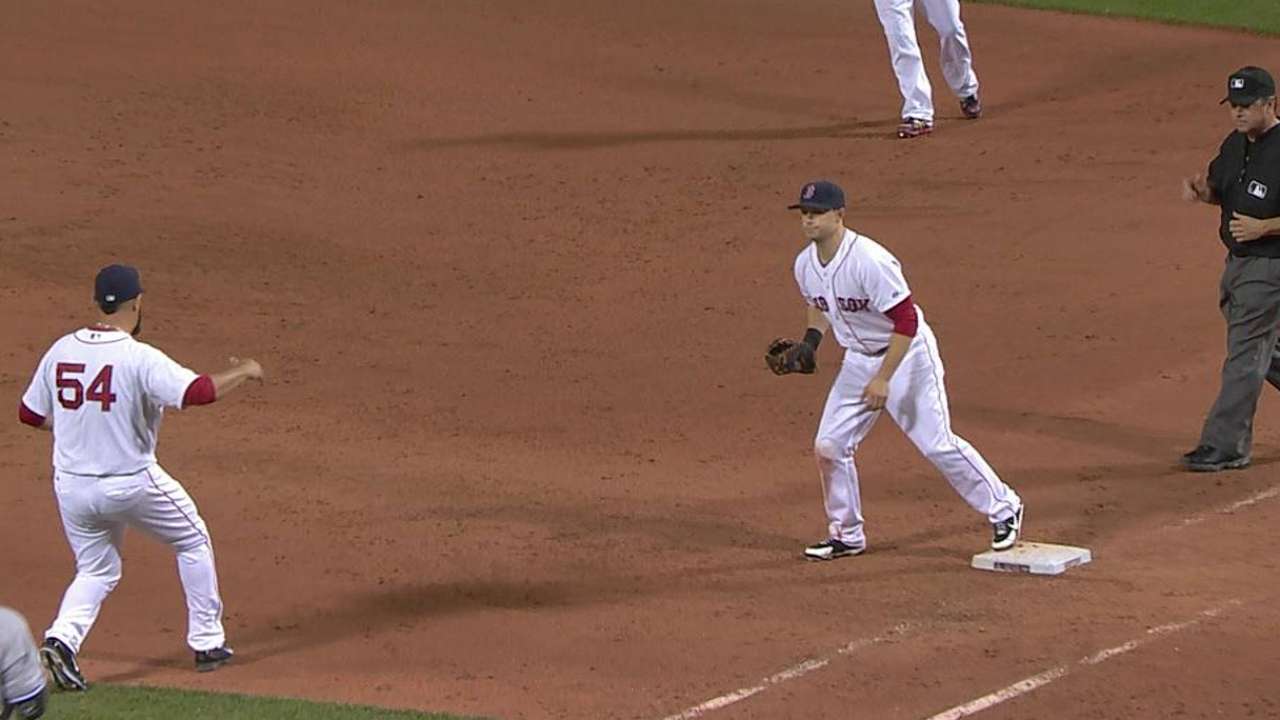 BOSTON --- Edward Mujica is no stranger to closing games, but based on his performance early in the season, one would have thought he wouldn't be anywhere near the ninth inning of a close game for the Red Sox in September.
Mujica, however, is the closer for the time being after Koji Uehara was lifted from that role because of his recent struggles. Mujica got the final two outs of Saturday night's 4-3 win over the Blue Jays at Fenway Park. He got Jose Reyes to fly out to deep left-center, walked Jose Bautista, then got Juan Francisco ground out softly to first to end the game.
"The opportunity is there," the 30-year-old righty said. "This is a big opportunity for me to go out there and show what I can do."
Mujica saved 37 games with the Cardinals last season and came to the Red Sox on a two-year, $9.5 million deal last winter. He allowed 10 runs and 14 hits in nine innings in April, but settled down and has been stellar lately. Since Aug. 1, he's posted a 1.26 ERA and .621 OPS against in 14 1/3 innings.
On the season, he has a 4.00 ERA and 1.37 WHIP.
Mujica acknowledged Saturday that it's different closing games than pitching in the middle innings. Last year, he would stretch in the fifth and start getting ready in the seventh, trying to map out what part of the lineup he'd face in the ninth. Now, he's returned to that routine, although he has no idea how long it will be for after the usually dominant Uehara hit a rut.
"That's a decision for them," he said. "I have to go out there and just work."
Before giving way to Mujica, Drake Britton recorded the first out of the ninth and all three in the eighth. He's pitched on back-to-back days and given up a hit and a walk over two innings.
The 25-year-old lefty made 18 relief appearances for Boston last season, posting a 3.86 ERA and 1.33 WHIP. In 45 games for Triple-A Pawtucket in 2014, Britton had a 5.86 ERA and 1.97 WHIP. The next few weeks are important for many players, but especially Britton, since this is the last year he can be optioned.
"This year in Pawtucket might not have been his strongest, but don't lose sight of what he did for us last year at the Major League level," manager John Farrell said. "He's been durable. He's resilient. He's got good stuff. Any opportunity anybody has here for us the remainder of the way is going to be an evaluation for us."
Steven Petrella is an associate reporter for MLB.com. This story was not subject to the approval of Major League Baseball or its clubs.