Wood continues to show Braves he belongs
Young lefty delivers another impressive performance as Atlanta continues its playoff push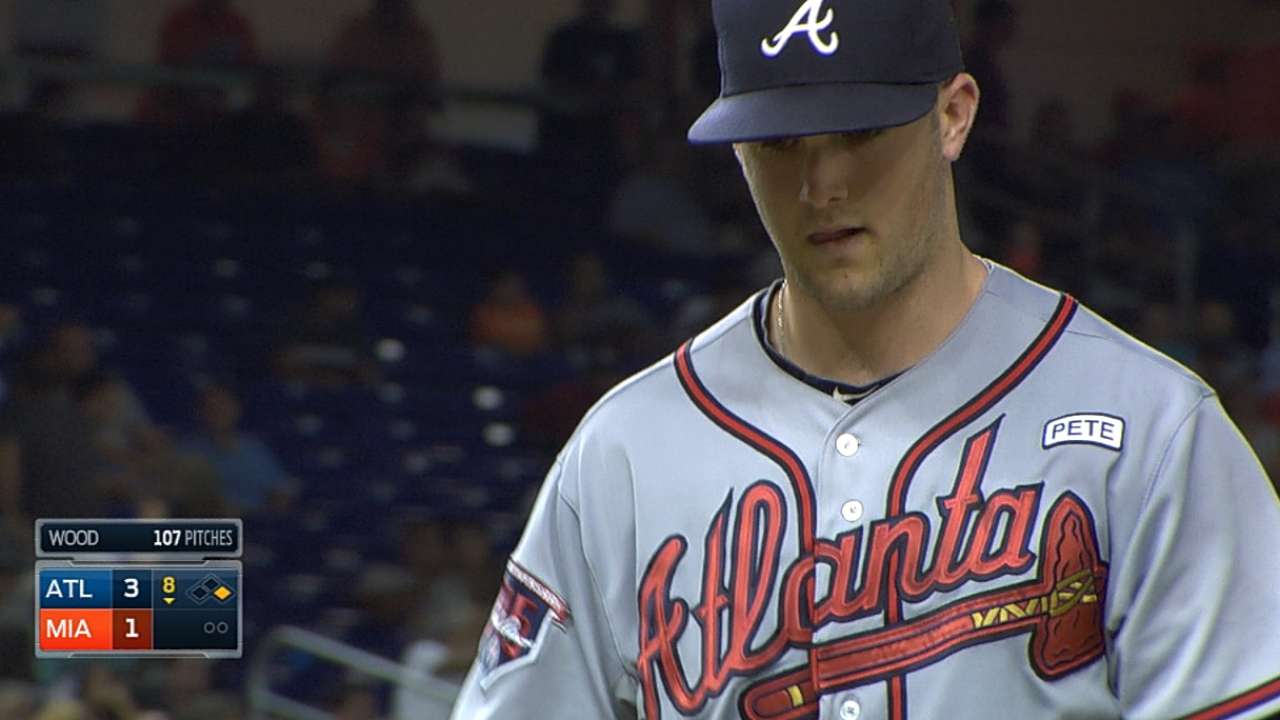 MIAMI -- When Braves area scout Brian Bridges reminisces about the days he scouted Alex Wood at the University of Georgia, he remembers being impressed by the young left-hander's mature makeup and intense desire to compete. A little more than two years later, Wood is showing why Bridges believed he could be so special.
"That's what you're so impressed by, his demeanor and his character," Braves manager Fredi Gonzalez said after watching Wood provide seven strong innings in Saturday night's 4-3, 10-inning win over the Marlins.
As Wood held the Marlins in check through the first seven innings, it was hard to remember that this was just his 32nd career start. The 23-year-old was left with a hard-luck no decision after the Marlins tallied a pair of runs as Jordan Walden was on the mound in the game-tying eighth. But the Braves knew they would not have celebrated victory without Wood's most recent contributions.
Wood limited the Marlins to one run through the first seven innings and then exited after walking Christian Yelich to begin the eighth inning. Walden then issued a walk and Casey McGehee's game-tying two-run single. The development was similar to what transpired on Aug. 20, when Wood carried a shutout bid into the eighth and then issued a leadoff walk before seeing the Pirates tally a pair of runs to tie the game with Walden on the mound.
But unlike that night in Pittsburgh, the Braves won this game and preserved the latest gem constructed by Wood, who has produced a 1.95 ERA in his past eight starts. This successful span has shown why the Braves sent him to the bullpen in May in an effort to make sure he would not reach his innings limit before having a chance to be a difference maker in their rotation down the stretch.
"This is just another feather in his cap," Braves reliever David Carpenter said. "It shows he definitely belongs here. He's a big-time part of doing what we're doing. You see him out there. He has that aggressiveness and that confidence to go after people."
Wood pitched around the leadoff singles he surrendered in both of the first two innings and minimized damage when he surrendered three consecutive two-out singles in the fourth inning. The only run he surrendered before the eighth inning came when Jeff Baker hit a single that scored McGehee, who had drawn a one-out walk.
Adding to his contributions, Wood also helped himself with a two-out, two-run single in the fourth inning that accounted for the third hit and first RBIs of his career.
"I feel good, knock on wood," Wood said. "I just have to continue to keep doing my routine in between [starts] and stay on top of everything and continue to pitch well down the stretch."
Mark Bowman is a reporter for MLB.com. This story was not subject to the approval of Major League Baseball or its clubs.