Big inning fells Eovaldi once more
Righty surrenders all three earned runs in fourth inning vs. Braves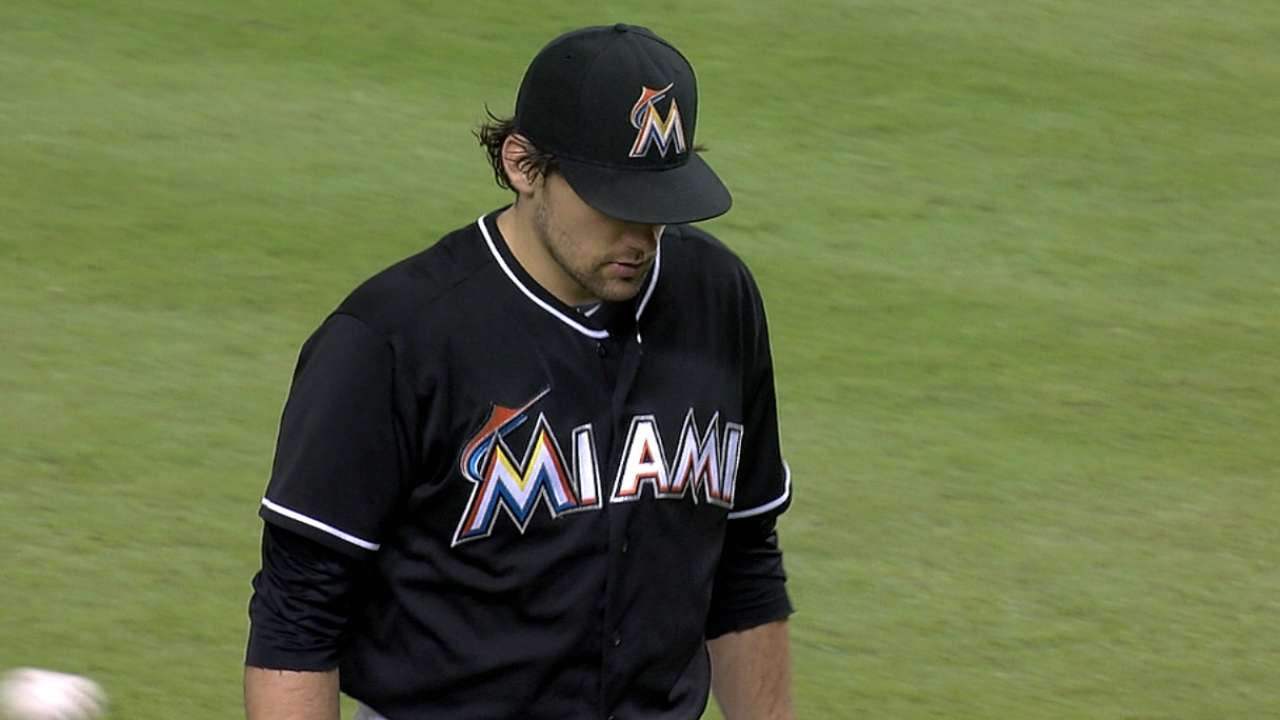 MIAMI -- The inability to avoid a big inning has been a point of contention for Nathan Eovaldi all season. He's been back and forth between shutting down opponents or letting them pile on runs in a single frame.
And that was the pitcher the Marlins saw in Saturday's 4-3, 10-inning loss to the Braves, though to a lesser extent. Atlanta, fueled by a hit batter and a pair of RBI hits, struck him for three earned runs in the fourth inning before he managed to settle down and get through 6 1/3 without allowing more damage.
"It is something that he has to get over the hump," manager Mike Redmond said. "That inning started when he hit a guy. It resulted in three runs and the pitcher getting the big hit. For him to get on the other end of these [games], he has to eliminate those big innings."
Eovaldi had thrown less than 40 pitches through his first three innings and had retired 10 of 12 batters. Then a 95-mph fastball got away from him and drilled Justin Upton in the side. Evan Gattis followed with a soft knock to left field, and although Eovaldi struck out the following hitter for the second out, he couldn't put away Andrelton Simmons as the shortstop hit a single to knock in the first run of the game.
In an effort to escape the inning unscathed, Eovaldi intentionally walked B.J. Upton so he could pitch to Alex Wood, whom he caught looking in the third. But the plan backfired and Wood got the best of him, driving in the first RBI of his career on a single to center. Simmons scored the third run on a contested bang-bang play at the plate, and Wood wound up with two RBIs.
"Gattis put up a good at-bat, fought off some good pitches. Same with Simmons. They came through in that inning," Eovaldi said. "With the pitcher up, you try to go up there and attack with your best stuff, especially in those situations, you know, try to get him out."
Eovaldi struck out Jason Heyward, the eighth hitter of the sequence, to end the inning. The Marlins took back one of the runs in the home half, but the 24-year-old right-hander found himself pitching with a 3-1 deficit the rest of the night. He only got off the hook when his teammates tied the game in the eighth inning.
The Marlins have lost all five of his starts since Aug. 8, so they'll need Eovaldi to stop racking up so many high-scoring frames if they want to keep pace in the National League Wild Card race.
Maria Torres is an associate reporter for MLB.com. This story was not subject to the approval of Major League Baseball or its clubs.