Offensive attack launches Bucs into playoff position
Pirates seize second spot in NL Wild Card behind 19 hits, four HRs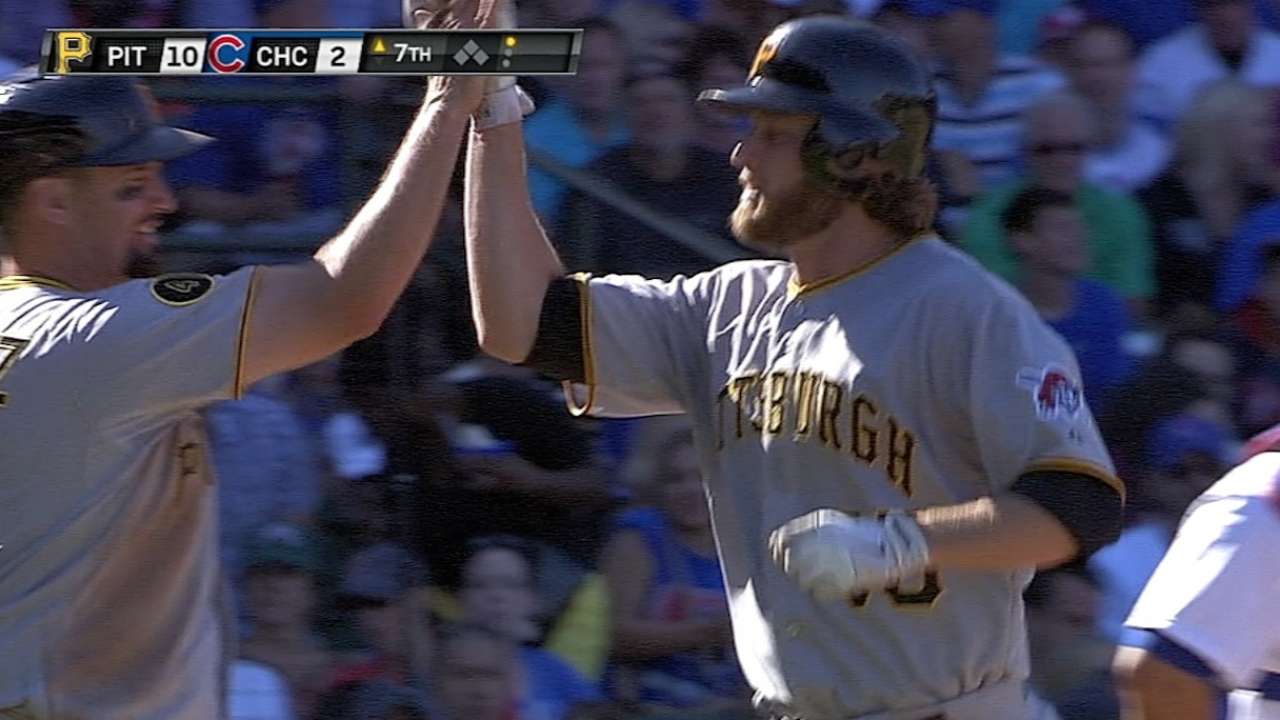 CHICAGO -- After two weeks of tense, tight action -- or, as manager Clint Hurdle put it, "nip and tuck and push and shove and tug-of-war" -- the Pirates were due for a game with some breathing room.
Fortunately for them, it came in a laugher, not a crier. The Bucs flattened the Cubs, 10-4, on Sunday at Wrigley Field to steam into a half-game lead over Milwaukee for the National League's second Wild Card playoff spot.
And, so, the deja vu is still on, entering The Final 20. Early last September, the Pirates had limped away from St. Louis after getting swept and went to Texas to sweep the Rangers. Now they have followed up a sweep by the Cardinals with a sweep of the Cubs.
"We got wiped out in St. Louis and reset in Texas," said Hurdle, reflecting on 2013. "We didn't play our best ball [this time] in St. Louis, and got after it here. We did what we had to do."
Pittsburgh's postseason charge continued with a 19-hit attack featuring four home runs, one by Neil Walker to match the 127-year-old franchise's record for a second baseman, and another by pitcher Gerrit Cole. Andrew McCutchen, Gaby Sanchez and Walker each contributed three hits as the Pirates notched their biggest offensive day of the season and their first 19-hit game since June 29, 2012.
Walker started the scoring in the first against Chicago lefty Travis Wood with a two-run drive for his 19th homer, matching Bill Mazeroski's 1958 record total at the position.
"I knew the high was 19, but I certainly wasn't chasing it," said Walker, a former catcher/third baseman tutored at the position by Mazeroski during Spring Training. "Personal accomplishments take a far backseat to the team but, sure, just to have your name mentioned with someone like that, it's pretty special."
Jordy Mercer and McCutchen added back-to-back blows in a five-run second as the Bucs put the finishing broom strokes to their first Wrigley Field sweep since May 5-7, 2000.
Those first three blasts were all off Wood, who allowed nine hits in 1 2/3 innings.
"If I missed a pitch, they hit it out of the park," Wood said, "and if I executed one, they hit it in the hole. It just wasn't my day. They have a good team over there."
Watching that second inning, Hurdle, the preacher of fundamentals, must have felt like he was in a dream in which a genie had granted his biggest wish: the Bucs got six consecutive hits with two outs for all five runs.
"It's always good when your offensive players are out there playing nine innings, putting some runs on the board," Hurdle said. "It's good for their self-confidence."
By the end of the second inning, the Bucs had more runs (seven) than they've scored in a game in two weeks. And at 7-0, Cole had his biggest lead ever as a Major Leaguer, wider than the six-run margin he enjoyed over Milwaukee on June 28, 2013.
Accordingly, Cole coasted through six-plus, propped by the big cushion.
"The offense exploding early allowed me to try some things out there," Cole said. "I didn't really have a whole lot working, but with a lead like that, you can take some risks. I was fighting myself as well as the Cubs."
Cole finally lost his shutout bid in the fifth on Mike Olt's single to score Ryan Kalish, who had tripled. He gave up another run in the sixth -- then got both of them back in the seventh by sending a Blake Parker first-pitch fastball into the seats for his first career homer.
"It was nice to finally be able to put a good swing on it," said Cole, who thus crossed a big item off his bucket list. "Pretty sweet. Everybody wants to hit a home run in The Show, and for it to happen in Wrigley, that's really cool."
Walker's installation in the cleanup spot against a left-hander spoke loudly of the payoff of the switch-hitter's hard work against southpaws. And it paid off again: Walker yanked a 1-1 pitch into the bleachers for his second homer of 2014 as a right-handed hitter -- two more than he had in '12-13.
Walker's home run was the most historic, but McCutchen's was the most impressive, and the longest. In fact, Wood asked for a new ball and had it in his glove from plate umpire Jeff Kellogg before McCutchen's drive settled into the back of the bleachers.
McCutchen wound up getting three hits for the second straight game, his first back-to-back three-hit games since July 8 and July 13 in 2012, wrapped around the All-Star break.
Tom Singer is a reporter for MLB.com and writes an MLBlog Change for a Nickel. He can also be found on Twitter @Tom_Singer. This story was not subject to the approval of Major League Baseball or its clubs.