Wood bounced early as Cubs fall in series finale
Lefty surrenders seven runs over 1 2/3 innings; late rally not enough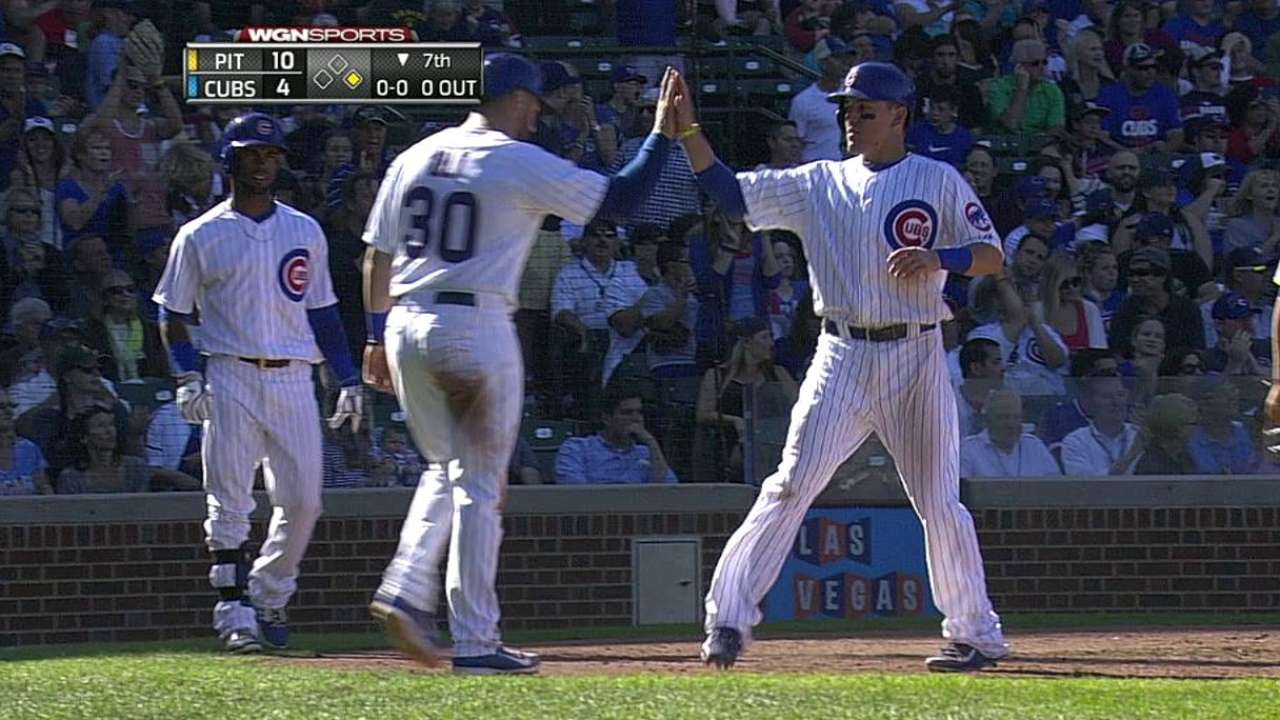 CHICAGO -- Before Sunday's game, Cubs manager Rick Renteria described Travis Wood's season as being inconsistent, adding that the lefty "is a better pitcher than he's probably shown."
The Pirates didn't give Wood much time to show anything, scoring seven runs in the first two innings to back Gerrit Cole, who helped himself with a two-run home run, and post a 10-4 victory on Sunday over the Cubs at Wrigley Field.
Wood served up those seven runs on nine hits and one walk over 1 2/3 frames, his shortest outing since he pitched one inning on Sept. 27, 2013, his last start of the season. That abbreviated start was planned because the Cubs wanted the lefty to finish with 200 innings for the year, then shut it down.
Sunday's performance was unexpected.
"If I missed a pitch, they hit it out of the park, and if I executed one, they hit it in the hole," said Wood, who served up three home runs, including back-to-back blasts by Jordy Mercer and Andrew McCutchen in the second. "It just wasn't my day. They have a good team over there."
Wood retired the first two batters he faced, then McCutchen singled and Neil Walker followed with his 19th home run. Gaby Sanchez doubled to start the second, and he scored two outs later on Starling Marte's single.
Marte's hit was the first of six in a row, which included a two-run homer by Mercer, followed by a solo shot by McCutchen. Walker, Russell Martin and Jose Tabata smacked singles, with Walker scoring on the latter to make it 7-0 and chase Wood from the game.
"It wasn't Woody's day today," Renteria said. "They came out swinging and he got two-strike at-bats, but couldn't finish them off. It happened kind of quick."
Eric Jokisch took over, and the lefty held the Pirates to one run over 4 1/3 innings in his Major League debut.
"I knew they were going to want me to try to eat up some innings, so I was trying to pound the strike zone and keep the ball down and get early outs," Jokisch said. "It all happened so fast. I didn't have time to think about it. I think I threw two pitches and got a flyout to get out of the inning, and then I kind of settled down into normal game mode."
After the game, the rookies found costumes in their lockers instead of their street clothes, and had to dress up for the road trip to Toronto. Imagine the look on the customs officials faces when they see Jorge Soler in a muscled Superman outfit or Javier Baez as Supergirl. Mike Olt was Batman, Matt Szczur dressed as Spiderman and Brian Schlitter got the Wonder Woman outfit.
"This a normal outfit for me -- I like going as Luigi," Jokisch said with a straight face in his Mario Brothers costume. Teammate Kyle Hendricks was Mario.
Back to the game. Cole struck out eight and scattered nine hits over six-plus innings, plus he belted his first career home run, a two-run shot in the seventh. The Cubs ended a 19-inning scoreless drought in the fifth when Ryan Kalish tripled and scored on Olt's single against Cole. Olt finished with a career-high three hits.
While the Cubs were swept in the series and outscored, 20-7, Cole definitely noticed a difference in the lineup compared to the start of the season when the two teams squared off.
"They have a lot of talented hitters over there," Cole said of the young Cubs. "Their lineup can't be taken lightly. [Beyond the current stats], I think they're all really trying to figure stuff out, do stuff the right way. They're extremely talented, you absolutely have to be careful with them, pitch out of the zone as much as in the zone. It's about maintaining that leverage in the count, while not really throwing anything over the plate, because they can really crush that."
Wood has at least two starts remaining, and said he was scheduled to face the Reds. If the Cubs stayed in order with the six-man rotation, the lefty would have a rematch with the Pirates in one week. Would he like to face Pittsburgh again?
"Absolutely," Wood said. "If it falls on that, it'd be a great chance to get back at them."
In 2013, Wood ranked among the National League leaders with 24 quality starts and held opponents to a .222 batting average. This season, he has 12 quality starts, and teams were hitting .279 off the lefty.
"I think it's been a little bit of hit and miss," Renteria said, describing Wood's season. "I think Travis is a much better pitcher than he's probably shown, and I think he'd be the first one to tell you that."
Wood isn't exactly sure what's happening.
"Obviously, something is different, whether it's the hitters' approach off me or just not being able to execute pitches the way I did last year," Wood said. "That's something to be addressed in these next couple starts.
"I feel great. That's one of the bad things about this. I feel great, and the outcome is not what you want."
Carrie Muskat is a reporter for MLB.com. She writes a blog, Muskat Ramblings, and you can follow her on Twitter @CarrieMuskat. This story was not subject to the approval of Major League Baseball or its clubs.