Pujols' milestone night keeps Angels out front
Slugger scores 1,500th run, collects go-ahead RBI on 2,500th hit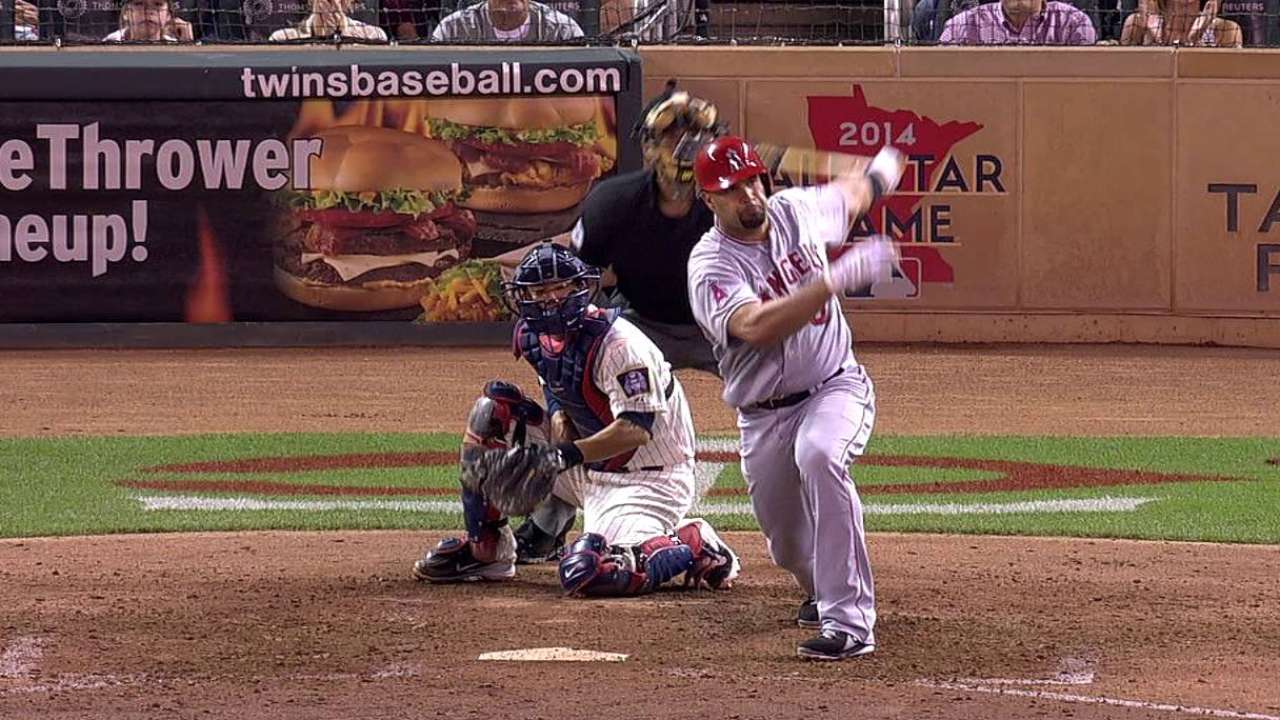 MINNEAPOLIS -- Albert Pujols has a giant trophy room in the basement of his house in St. Louis, a prodigious collection of mementos he once thought about transplanting to his place in Southern California before realizing it probably wasn't worth the trouble. "I can't do it, man," Pujols said. "It's too much."
The collection only grew on Saturday, a night that saw Pujols reach 2,500 career hits and 1,500 career runs in the Angels' third straight victory, an 8-5 win over the Twins at Target Field. Pujols' third-inning solo homer -- his 25th on the year -- made him the 70th member of the 1,500-runs club. His ninth-inning two-run double -- giving him 87 RBIs on the season -- made him the 98th member of the 2,500-hits club.
Most gratifying of all: the latter brought in the winning runs, with two outs and the score tied in yet another seesaw game.
"I thought about it when I came to bat," Pujols said after lacing the decisive liner down the third-base line against Jared Burton. "I was like, 'Man, it'd be nice to get it here.' It's pretty special that I was able to help the team win. To me, at the end of the day, that's what's important. That's why I play the game. Hopefully, at the end of my career, I can appreciate it more. But it's hard for me to get caught up in numbers now."
Everyone else can do it for him, though.
Pujols, who turns 35 next January, is only the 11th player since 1901 to reach 1,500 runs by his age-34 season. He's now one of 14 players all-time with at least 13 seasons of 25-plus homers. And he's the 16th player ever with 500-plus homers, 2,500-plus hits and 1,500-plus runs -- milestones that were all reached this season.
"I know a lot of people give him crap for not hitting .320 or whatever, but his main goal, just like the rest of us, is to win," said Angels second baseman Howie Kendrick, who went 4-for-5 with three RBIs while taking the place of Josh Hamilton (sore AC joint) in the cleanup spot.
"It's amazing," third baseman David Freese said of Pujols, also his longtime teammate in St. Louis. "He's still got some time left to climb those ranks, but that's not what he's about. He'll tell you that. I'm sure he loves being part of teams that win. He loves helping his team. What he does is get up every day and he wants to win. But they are amazing accomplishments."
So is winning on the days when you don't even have a traditional starting pitcher.
The Angels have done that twice now, going 2-1 on the nights Garrett Richards' spot would've come up with a potpourri of relievers taking his place instead. Last Saturday, eight relievers threw nine scoreless innings against the A's. This Saturday, it was seven arms -- Cory Rasmus, Michael Roth, Yoslan Herrera, Cam Bedrosian, Wade LeBlanc, Joe Smith and Huston Street -- that gave up five runs but still gave the offense a chance.
"The bullpen has been outstanding for us," Pujols said after his 3-for-5, three-RBI night. "Obviously today it didn't work out the way we wanted, but we picked them up."
One night after beating the Twins in a 10-inning game that saw the Angels take five different leads, they notched their 42nd comeback win -- five shy of the franchise record -- and moved a season-best 31 games above .500. They're still six games up on the A's in the American League West, with now only 21 games left -- and they seem to find new and creative ways to win every night.
"It doesn't matter how we do it; we've just been doing it," Kendrick said. "It's different guys all the time, and that's what makes it fun. That's what makes it a team. When you have different guys, that's really important, because you're going to need everybody to win championships."
Alden Gonzalez is a reporter for MLB.com. Read his blog, Gonzo and "The Show", and follow him on Twitter @Alden_Gonzalez. This story was not subject to the approval of Major League Baseball or its clubs.