Didi's defense impresses D-backs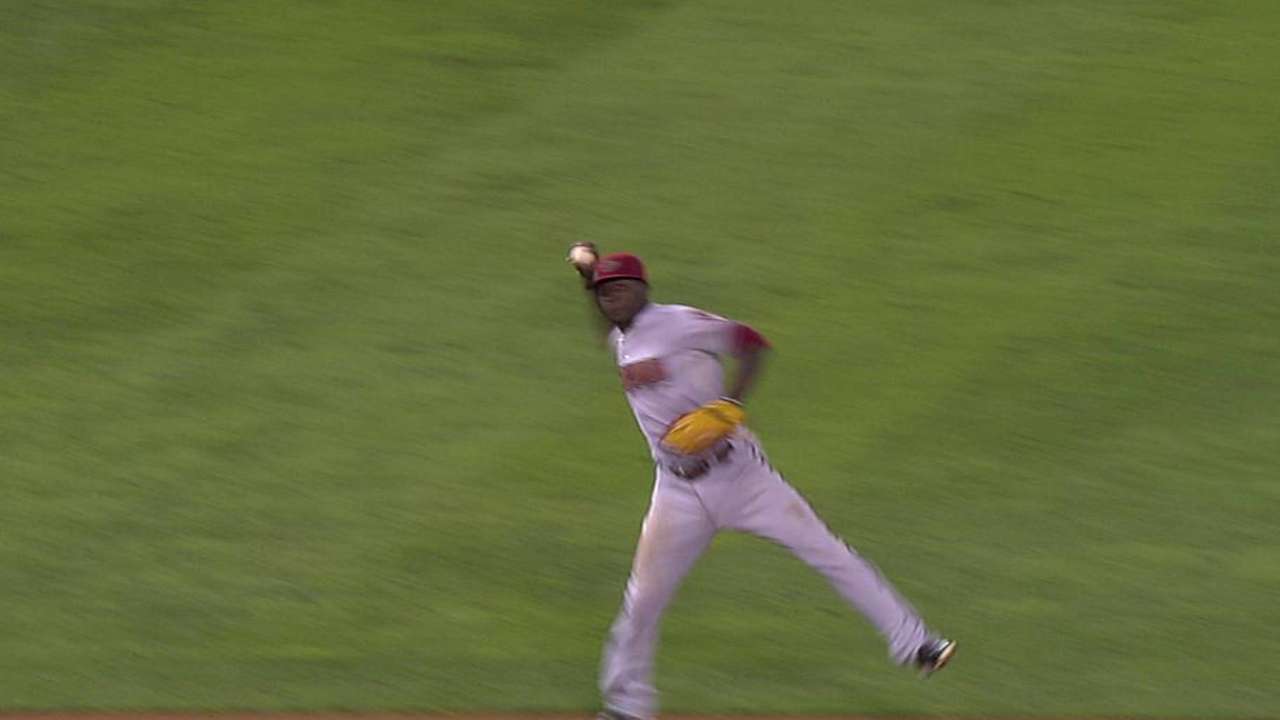 LOS ANGELES -- D-backs shortstop Didi Gregorius ranged far to his right, nearly touched the outfield grass and unleashed an off-balance throw across his body.
It was perfect. The ball reached Mark Trumbo's glove in plenty of time to catch the Dodgers' Justin Turner for the second out in the third inning Friday. It's that kind of defense that makes Gregorius look more and more like the D-backs' shortstop of the future.
"The play last night he made in the hole, I don't know who else could throw it from the angle he threw it and have the ball go so straight and so accurately," manager Kirk Gibson said. "He's been a very, very good shortstop. We like him there, absolutely."
In preparation for next season, the D-backs are experimenting with a new infield configuration, moving shortstop Chris Owings to second base, second baseman Aaron Hill to third and starting Gregorius at short. Hill made his second start at third base since 2005 on Saturday night with Owings playing second. Gregorius had the night off while Cliff Pennington took shortstop.
Though Gregorius has shown the defensive chops to handle shortstop, his bat remains a work in progress. Gregorius was hitting .206/.277/.355 heading into Saturday, but Gibson said he's noticed improvements that stats don't necessarily show.
"He's been working hard on his batting. He's trying to keep his hands above the ball," Gibson said. "It's good to see that he's starting to utilize that in a game."
Worth noting
• A.J. Pollock and David Peralta were both out of the starting lineup Saturday. Gibson said Pollock's groin has bothered him, and Peralta's back locked up after Friday's game. Both players are day-to-day.
"Just being proactive," Gibson said. "This time of year, things like that pop up."
• Chief baseball officer Tony La Russa named former A's ace Dave Stewart as a candidate to replace Kevin Towers as Arizona's general manager. Gibson is familiar with Stewart from his playing days but said he doesn't know him well.
"I competed against him. He's very competitive, I know that," Gibson said Saturday at Dodger Stadium. "We competed on this field right here in 1988. ... Personally, I don't know him other than we have mutual acquaintances. He's a competitor, very intense."
Michael Lananna is an associate reporter for MLB.com. This story was not subject to the approval of Major League Baseball or its clubs.