MLB.com Columnist
Mike Bauman
Lynn improving at winning ugly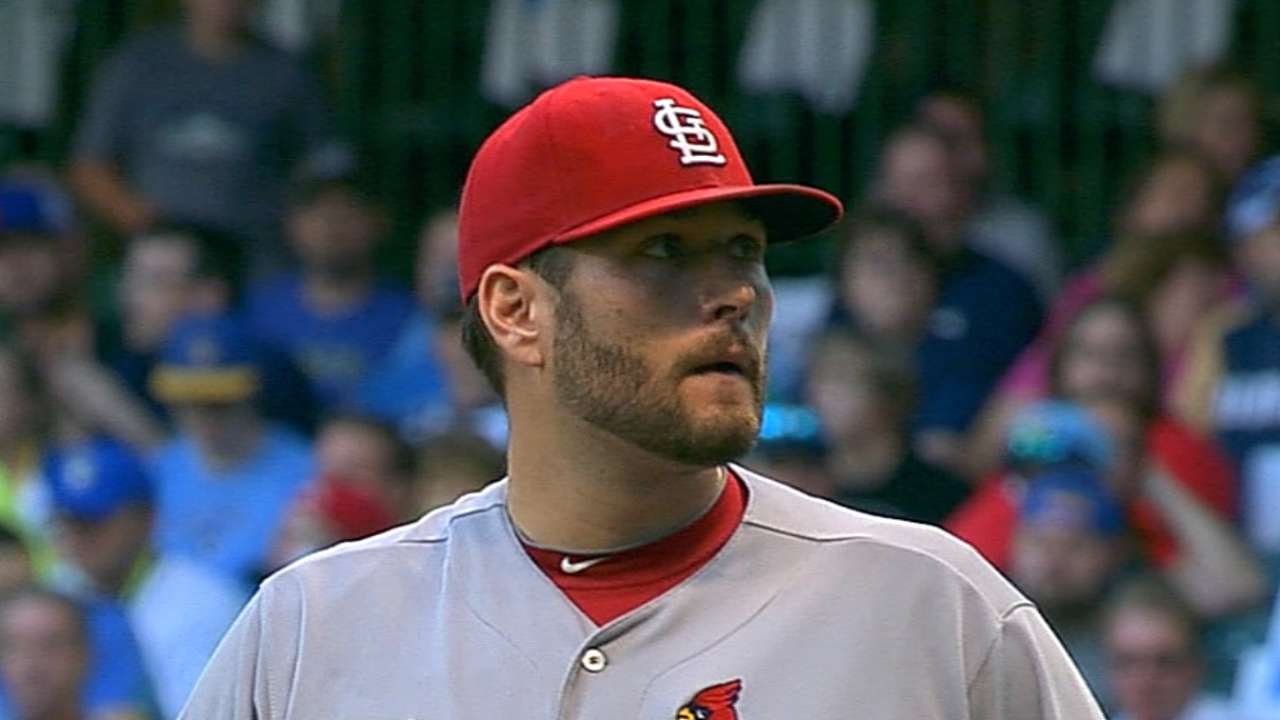 MILWAUKEE -- Lance Lynn is a better pitcher than he used to be, although he was good enough in the first place.
One way or another, he wins. There was never a better example of both the improvement and the results than Saturday night at Miller Park in a pivotal game between Lynn's St. Louis Cardinals and the Milwaukee Brewers. A loss here would have cut the Cardinals' lead over the Brewers to two games in the NL Central.
It didn't go that way. Lynn didn't let it go that way. There were problems in the first inning, but they were not caused by Lynn. The Redbirds committed three errors in that inning, leading to two unearned runs.
But Lynn limited the damage and proceeded to strike out four of the next six hitters. Order was restored. The Cardinals went on to a 5-3 victory over Milwaukee. Their lead, instead of shrinking to two games, grew to four.
This was not Lynn's best work. He issued four walks. His command was not precise and he had to throw 114 pitches to get through six innings. But that underscores the point. He still gave up just one earned run. He has reached a level where he is good enough to win without his best stuff, mature enough to stay the course when events seem to be conspiring against him.
"There was a rough first [inning] but he got out of it," Cardinals manager Mike Matheny said. "We've seen in the past, really before this season, where a couple of miscues behind him [turned] into a really ugly inning. But today he was able to limit the damage. And I thought he got better after that.
"He's starting to see the benefits of having a consistent approach on the mound regardless of the circumstances; not getting distracted, not letting his emotions get out of whack. Overall, he did what you'd expect a veteran pitcher to do. I think he's starting to gain traction because of situations like that and being able to get out of them.
"We don't want to take the emotion or the intensity away from him. I think that's one of his strengths. But to harness it in the middle of a game is the key."
Lynn was asked if he has improved at handling difficult situations on the mound.
"I think I've been great at handling those [for] my whole career," Lynn replied with a straight face. "Sometimes you just have bad luck and that's just terrible when it happens."
He, as it turns out, is also more humorous, at least in these public settings, than he used to be.
Lynn did get into his own jam in the fourth, but he worked out of it. Two walks and a hit-by-pitch loaded the bases, with two out. But Lynn got pinch-hitter Matt Clark on fly to shallow center to end the threat.
"Sometimes, you've got to win ugly," Lynn said, deadpanning it again. "Just like the next inning, I walked the first two guys to get to three and four. And nothing happened. "
No, the fifth inning wasn't easy, either. Lynn walked the first two Brewers and, with the three-four hitters coming up, the situation looked promising for Milwaukee. But Lynn got Ryan Braun to hit into a double play and struck out Aramis Ramirez. Another inning ended quietly for the Brewers.
"I'm never OK with walking the first two guys to get to three and four," Lynn said, amending his earlier remarks. "I got lucky.
"When you don't have your good stuff and you give up one earned run and you win, that's a beautiful thing."
This victory was Lynn's 15th of the season, putting him in extremely select company. The only other current pitcher who has won 15 or more games in each of the last three seasons is Max Scherzer of the Tigers. Scherzer, of course, won the AL Cy Young Award in 2013.
What does this mean to Lynn? He responds, this time in seriousness: "The only thing that matters to me is that two of three years thus far, we've made the playoffs. That's the only thing that matters."
There is no doubt about Lynn's improvement. He is 15-8 now. His earned run average this season is 2.80. Coming into this season, his career ERA was 3.82.
And there is reason to look at this improvement as part of a healthy trend.
"I just look at what he brings to the table," Matheny says. "He's strong, he's tough physically, he's tough mentally, and he's one of those guys who as he gets deeper into the game seems to get better. And he's still young [27 years old]. That's a nice combination."
That's Lance Lynn in September of 2014 -- a highly talented pitcher who has made great strides and could make even more.
Mike Bauman is a national columnist for MLB.com. This story was not subject to the approval of Major League Baseball or its clubs.