D-backs drop nail-biter with Dodgers
NL West leaders break tie with three-run eighth vs. Hudson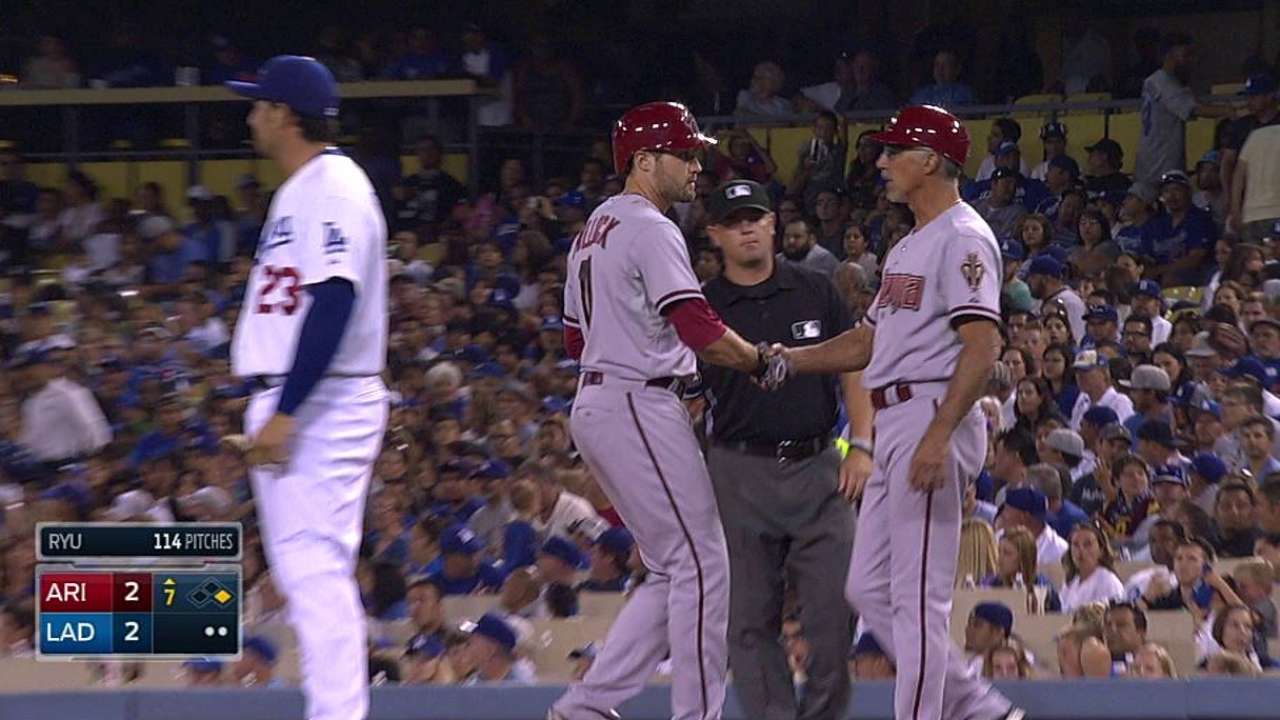 LOS ANGELES -- Daniel Hudson was somewhat surprised to hear his name called in the bullpen, but that didn't mean he wasn't ready. He was ready -- for the pressure, for a whole new environment. In just his second appearance since 2012, the right-hander was called to protect a tie game in the eighth inning at Dodger Stadium.
But unlike the perfect inning he threw in his triumphant return from Tommy John surgery on Wednesday, Hudson's Saturday night ended in disappointment. A rough inning by the righty sent the D-backs to a 5-2 loss against the Dodgers.
Hudson's night began with a single by Juan Uribe. Then, with one out, third baseman Aaron Hill tried to turn a 5-4-3 double play on Justin Turner's ground ball, but he was unable to catch the lead runner, pinch-runner Roger Bernadina, at second base. And with two outs, Hudson tried to sneak a 3-2 changeup by Dee Gordon. Instead, Gordon stroked the ninth pitch of the at-bat for go-ahead single to center field.
"I left a pitch up to Dee. I probably should've stayed hard with him, but live and learn," said Hudson, who was visibly frustrated after the loss. "Trevor [Cahill] came up to me and said, 'That's the one bad part about the bullpen.' You get through that as a starter and you can end up going seven innings and giving up just that, but when you come in and give up a bunch of baserunners and give up a run, it snowballs from there."
And snowball it did.
Will Harris replaced Hudson after Gordon's hit and promptly gave up a two-run double to Hanley Ramirez, which was later ruled a ground-rule double after a replay review revealed a fan had interfered. Both runs were charged to Hudson.
That three-run cushion proved more than enough for Dodgers closer Kenley Jansen. And it also reversed Arizona's heroics in what seemed like a momentum-shifting seventh inning.
Before the game, first baseman Mark Trumbo said the team's greatest source of offensive struggles was its lack of timely hitting. He called it a "gut punch," the way the D-backs always seem to get close but can't quite get the big hit that separates a win from a loss.
On Saturday night, the D-backs did manage not just one but a couple of big hits. Facing a two-run deficit in the seventh, the D-backs engineered a game-tying rally, finally solving Dodgers left-hander Hyun-Jin Ryu. Cody Ross doubled in the team's first run with no outs, and A.J. Pollock delivered a pinch-hit single to tie the score.
Ultimately, the rally wasn't enough, but it did save starter Chase Anderson from a tough-luck loss. The right-hander's lone mistake was a 93-mph fastball he left over the plate to Adrian Gonzalez in the first inning. The two-run homer represented the only runs Anderson allowed in the game.
He gave up just four hits, walked none and struck out six in six innings.
"I don't control what those hitters do," Anderson said, "I do the best I can to battle up there and get base hits, but I'm just trying to do my job as a pitcher, keep the team in the game, and hope those guys scratch the runs away, and they did. A.J. came up with the big hit and scored a run, and those guys are battling and doing the best they can, so I'm never going to say anything bad about those guys."
The D-backs loaded the bases against Ryu with no outs in the top of the second, but their hopes quickly turned sour. Nolan Reimold took strike three looking, Tuffy Gosewisch lined a ball directly into Carl Crawford's glove in left field, and Anderson was unable to help his own cause, striking out to end the inning.
"He's got the extra gear," Trumbo said of Ryu. "He's got an extra two or three mph in the tank when he needs it, and he really bears down in those situations."
Hudson faced one of those situations in the eighth inning, with a game in his hands for the first time in two years.
"It's a little bit of a different environment for him out there," manager Kirk Gibson said. "We didn't get an out on Turner's ground ball. That was critical. He left a changeup up to Gordon, and that's the one he hit up the middle, but he's still throwing the ball good."
Hudson said he was grateful for the opportunity to pitch with the game on the line -- and he took some solace in that -- but it wasn't enough to wash away the disappointment.
"Yeah, it was fun," Hudson said. "I wish I had a little better results."
Michael Lananna is an associate reporter for MLB.com. This story was not subject to the approval of Major League Baseball or its clubs.