Overturned call helps Aroldis through ninth vs. Mets
With one out, NY attempts double steal, but Reds challenge safe call at third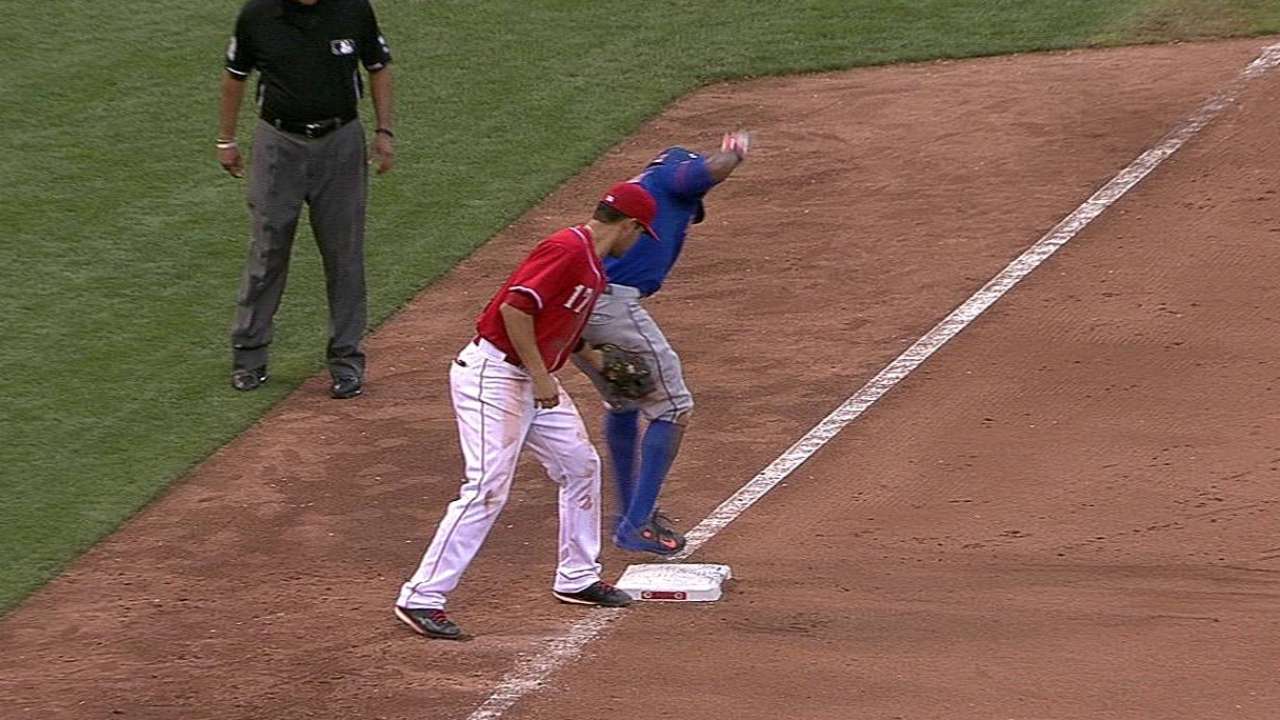 CINCINNATI -- Reds manager Bryan Price successfully challenged a safe call at third base in the ninth inning of Saturday's 2-1 Cincinnati victory over the Mets at Great American Ball Park.
With one out and runners at first and second, the Mets attempted a double steal with pinch-runner Eric Young, Jr. and Dilson Herrera. Young beat Reds catcher Brayan Pena's throw to third, and Young was initially called safe. Herrera moved to second.
Reds manager of video scouting Rob Coughlin noticed something that prompted Price's challenge.
"From the naked eye, you wouldn't have been able to tell that Young came off the bag," Price said. "And so Rob Coughlin immediately called, and I was able to get out there before we resumed play."
Third baseman Kristopher Negron kept the tag on Young as he tried to get his balance after popping up on the slide, and following a one-minute, 24-second review, the call was overturned. Young was ruled out because it was determined that his foot came off the bag while Negron was still tagging him.
"I tried to keep my foot on the spot as long as possible," Young said. "I don't know how long he kept the tag on or where he tagged me. You wouldn't think he'd keep the tag on that long. Tip your cap to him. It worked out for them."
With two outs and Herrera on second, Reds closer Aroldis Chapman walked Wilmer Flores, but struck out the next batter, pinch-hitter Eric Campbell, to end the game.
Manny Randhawa is an associate reporter for MLB.com. This story was not subject to the approval of Major League Baseball or its clubs.