Brewers drop finale to fall five behind Cards
Cards' four-run fourth helps send Crew to 11th loss in 12 games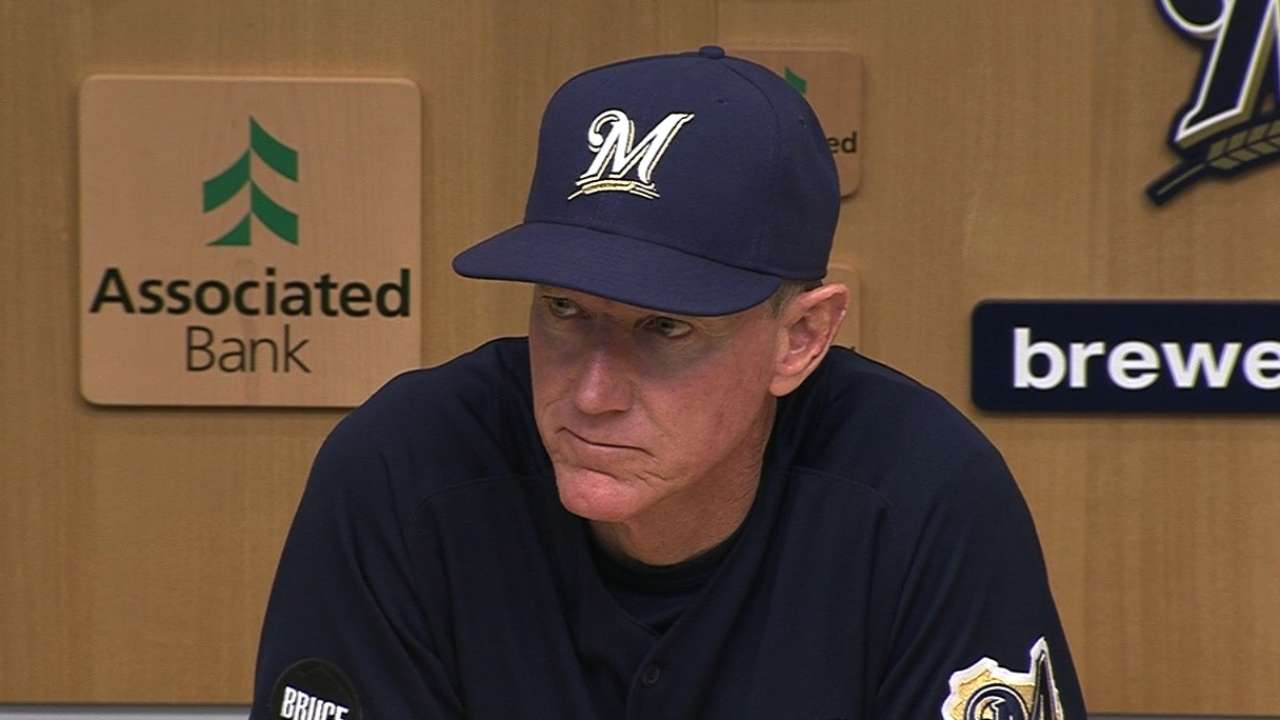 MILWAUKEE -- Manager Ron Roenicke called it a bad ballgame. Catcher Jonathan Lucroy called it a punch in the mouth. Right fielder Ryan Braun summed it up for 31,771 displeased Brewers fans when he called it "not any fun when we are playing like this."
After Sunday's 9-1 loss to Adam Wainwright and the Cardinals knocked Milwaukee out of the National League's playoff picture for the first time since the season's opening week, the Brewers have 19 games left to get it right.
"We worked so hard for the first [five] months of the season to put ourselves in a good position coming into this month," said Braun, who was critical of his own recent contributions. "This is when baseball is supposed to be fun, and it is not any fun when we are playing like this. We just need to find a way to create better energy."
Said Lucroy: "We got punched in the mouth today. It's about time we woke up from the little trance we've been in and move forward here."
Lately, the Brewers have been going backward. They have lost 11 of their last 12 games and 14 of 17, a stunning collapse considering it followed a three-game road sweep of the NL West-leading Dodgers. Before Sunday, the last time the Brewers weren't at least positioned for one of the NL's Wild Cards, they were 2-2 on April 4. Now, at 74-69, the Brewers are one-half game behind the Pirates, who reside in the second Wild Card position after finishing a weekend sweep of the same Cubs club that decisively swept the Brewers in the preceding series.
The Brewers are within five games of .500 for the first time since they were 7-2 on April 10, during the nine-game winning streak which propelled the sensational opening month and put them in command of the NL Central.
Roenicke and Co. have endured their share of hitting and bullpen issues since then. But the chief problem lately has been starting pitching -- especially in the most recent 12 games. In 10 of those contests, including Jimmy Nelson's start against St. Louis on Sunday, the Brewers trailed by multiple runs by the end of the fourth inning. In nine of the 12, the deficit was at least three runs. Eight times, the opponent has scored first, putting pressure on an offense that has been unable to respond.
Including Nelson's outing (five innings, four earned runs, two walks, three strikeouts and one costly throwing error on a pickoff attempt), Brewers starters are 1-10 with a 6.64 ERA over the team's last 12 games.
During that same span, the Brewers' offense has scored only 28 runs.
Milwaukee committed three errors on Sunday, including one that drew boos from the crowd when Gerardo Parra's throw back to the infield after an eighth-inning flyout bounced past both Scooter Gennett and Jean Segura.
"This is the inconsistency of why we can't put together some things," Roenicke said. "We've had some nice stretches. But when you need them -- and this was a game we needed to win, just like [Saturday] -- we come out and play a bad ballgame. It's hard. I watch the guys work and I watch the effort they put in, and then we play like this."
Brewers hitters were silenced on Sunday by Wainwright, who did not allow a run until Carlos Gomez delivered a pinch-hit single in the ninth inning. The St. Louis ace delivered a 100-pitch, seven-hit complete game to pick up his 17th win. Entering the day, Wainwright had appeared hittable of late, lasting six innings in each of his previous three starts and allowing 21 hits and 11 earned runs over those games.
That changed against the Brewers.
"We're not pitching, we are not playing good defense, we are not hitting," Braun said. "We have to find a way to do all of those things better. But ultimately, just the whole vibe, the mindset, the energy has to be better. We have to find a way to come out and be positive. We played [like that] earlier in the year -- just, I think, we enjoyed the game more. It was a lot of fun. We played free, we played loose, we played energetic, we played enthusiastic -- and we haven't done that at all over the last couple of weeks.
"Part of that is winning versus losing, but we have to find a way as a team to come out and have better energy -- regardless of how things are going. We can't go and change today's game or yesterday's game or the day before, we have to just focus on each day's game and find a way to win."
Nelson matched Wainwright with scoreless innings until the fourth, when the Cardinals scored four runs on four hits, a walk and Nelson's errant pickoff. The big hit belonged to hot-hitting center fielder Peter Bourjos, who capped a seven-pitch at-bat with a two-run triple that made it 4-0.
After one more inning, Nelson's day was done. He may be the odd man out if the Brewers return to a five-man starting rotation for the 19 games remaining on the schedule, though Roenicke was not willing to say so on Sunday.
"There's plenty of time left, but we better get it going," Roenicke said. "We can't keep saying this -- and 10 days from now, keep saying it. There is plenty of time. A good week right now puts you right where you want to be."
Adam McCalvy is a reporter for MLB.com. Read his blog, Brew Beat, and follow him on Twitter at @AdamMcCalvy. This story was not subject to the approval of Major League Baseball or its clubs.