Resurgent Wainwright stymies reeling Brewers
Ace's 17th win keeps Cards 4 1/2 up on Bucs, puts Crew in third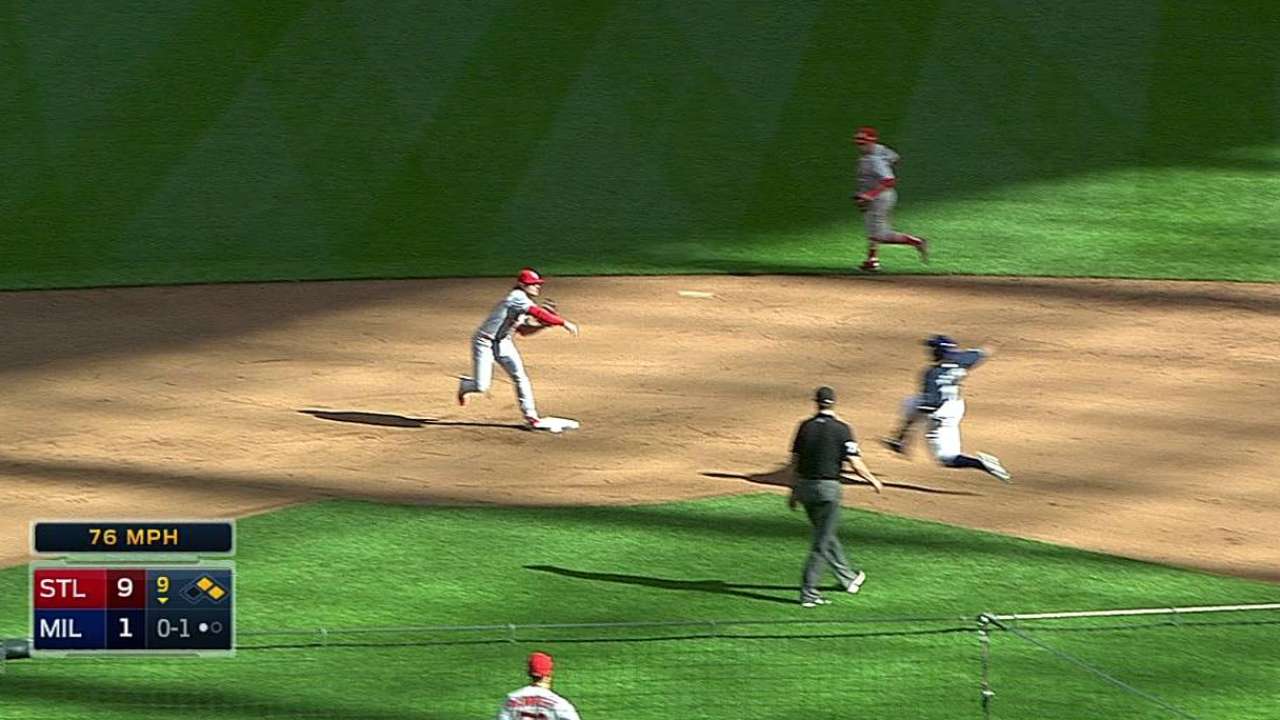 MILWAUKEE -- A week that was to provide the Cardinals an opportunity to assert themselves in the National League Central race may well be the one they point to in a few weeks as the seven-day stretch in which the division was won.
The Cardinals completed a week of games against the Pirates and Brewers with their sixth win on Sunday, this one a 9-1 victory behind a resurgent Adam Wainwright in front of 31,771 at Miller Park. The win sent the Cardinals into the final three weeks of the regular season with a 4 1/2-game lead over the Pirates, who leapfrogged the freefalling Brewers, who are now five games back after losing three of four to St. Louis. Just seven days ago, the Cardinals and Brewers had identical records.
Oh, and the Cards appear to have their ace back, too.
"It happens fast," Wainwright said. "We knew if we stayed positive and went out there every day with urgency, we would -- just like I've been trying for the last couple weeks -- we would click into place. We're in a good spot right now. We just have to continue to play every day like it's our last."
After weeks of insisting that he was close to emerging from a trying five-week stretch that he repeatedly described as "a grind," the veteran right-hander hushed any lingering concern about his condition with arguably his best start of the second half. The Brewers' ninth-inning run foiled Wainwright's bid for his third shutout of the season, but nevertheless he closed the complete game on his 100th pitch.
While this was Wainwright's ninth start of at least eight innings this season, it was his first since June. He was locked in on Sunday, as he had been in the first half.
"We needed our ace to step up and give us a big game, and that's exactly what he did," manager Mike Matheny said. "We didn't need to tell anybody that this was a big series for us. We wanted a big-game pitcher in there, and he's our guy."
Wainwright limited Milwaukee to five singles through eight innings before Scooter Gennett opened the ninth with a double. Gennett came around to score on a pinch-hit single by Carlos Gomez. Wainwright then drew a visit from Matheny after issuing his first walk of the afternoon.
Despite the Miller Park loudspeaker blaring "Hit the Road Jack," Matheny agreed to give Wainwright a chance to close it out, albeit with a short leash. Wainwright heeded the warning, using two pitches to induce his third double play and seal his 17th win. Efficiency helped Wainwright pitch as deep as he did. He completed three different innings on seven or fewer pitches.
"I just knew it was a matter of time," said Wainwright, who had a 5.28 ERA over his previous seven starts. "I think even last game, I gave up the late home run to make it a closer game. But I knew that was a good stepping stone. I knew that was probably ... going to be the last time I would have to grind for a while. And today, I was just very confident that I was going to do what I did."
Others were, too. After watching Wainwright's fastball and finish to his pitches during pregame warmups, pitching coach Derek Lilliquist remarked that it was going to be a good day for the staff ace. Catcher Yadier Molina also picked up on the positive indicators.
"He looked pretty good in the bullpen -- and we got a good feeling down there," Molina said. "I think he was more aggressive with everything. He hit his spots pretty good, got ahead in the count. He pitched well."
After going quietly against Brewers starter Jimmy Nelson during the first time through the order, the Cardinals' offense extended the right-hander in a four-run, 33-pitch fourth. Matt Adams contributed a sacrifice fly before Oscar Taveras and Peter Bourjos delivered run-scoring hits.
On a day when the Cardinals were without Matt Holliday (back soreness), the three starting outfielders combined for six hits, four runs and three RBIs. Taveras finished with the first three-hit game of his career.
"The pitchers and hitters are doing a really good job right now," said Peralta, who capped a day in which he tallied his 1,500th hit with a ninth-inning, two-run homer -- his 20th of the season. "When you mix it, that's when you win a lot of games."
The Brewers assisted matters with a three-error afternoon, as their decline continued with their 11th loss in 12 games. For the first time since the first week of the season, Milwaukee has been knocked out of playoff positioning. It prompted a postgame players-only meeting in the home clubhouse.
"We worked so hard for the first [five] months of the season to put ourselves in a good position coming into this month," said Brewers outfielder Ryan Braun. "This is when baseball is supposed to be fun, and it is not any fun when we are playing like this."
"We got punched in the mouth today," added first baseman Jonathan Lucroy. "It's about time we woke up from the little trance we've been in and move forward here."
As for the Cardinals, their ascent coincides with an ability to thrive in division games. With their 39-24 record, the Cardinals are the only one of the NL Central's three contending teams to boast a winning record against division opponents.
"You can't deny this time of year -- coming in here, to be able to do that, was a big deal for our club," Matheny said. "But I have too much respect for this game, and understand how quickly things can turn if you back off at all. I'm not going to let that happen. Now's the time that we have to keep the throttle down."
Jenifer Langosch is a reporter for MLB.com. Read her blog, By Gosh, It's Langosch, and follow her on Twitter @LangoschMLB. This story was not subject to the approval of Major League Baseball or its clubs.