Young starters may get opportunity in Rockies' rotation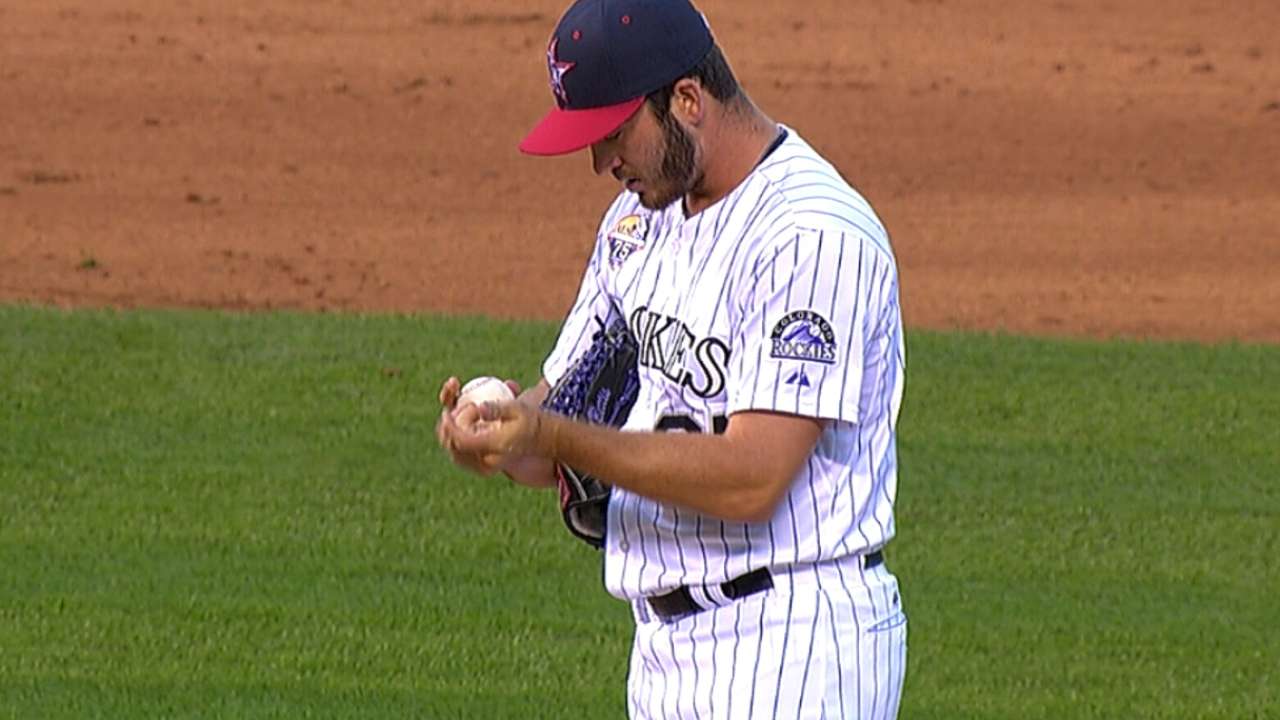 DENVER -- For large portions of the season, the Rockies have been without the 2014 Home Run Derby Captain, the 2013 National League batting champion and a two-time All-Star outfielder. But according to manager Walt Weiss, nothing has stung more than the fact that five of their starting pitchers have each missed at least two months.
"I think the toughest part of the season has been trying cover for starting pitching," Weiss said. "We've had to cover for about four-fifths of the rotation. So our depth there has really been tested."
With the Rockies nearing elimination, September seems like an ideal time to continue to test that pitching depth should the bad breaks carry over into next season.
One name to remember if the Rockies do go down that road is right-hander Chad Bettis.
After Bettis was torched for 25 earned runs in 24 2/3 relief innings with the Rockies this season, the organization optioned him to Triple-A to resume a starting role.
All his tests came back negative after Bettis was scratched from Monday's Triple-A start with a sore right shoulder and while he's currently not active, he is with the Rockies. Weiss has said Bettis has a chance to pitch for Colorado this season, but "not anytime real soon."
Bettis made five starts for Triple-A Colorado Springs since his demotion on July 29, surrendering 13 earned runs in 24 innings with 23 strikeouts to nine walks. Bettis' two most recent starts weren't sharp (11 runs, 8 2/3 innings) but before that, he twirled eight innings of three-hit ball on Aug. 16.
Weiss has also held firm to the belief that the Rockies aren't entirely done with their callups as Double-A Tulsa continues its playoff run.
With top prospect Jon Gray battling shoulder fatigue, right-hander Eddie Butler and left-hander Tyler Anderson are the top candidates on that roster if the Rockies want to get a look at more pitching.
Anderson isn't on the Rockies' 40-man roster so it would be a surprise if he got the call. But Butler is and he certainly has some innings to make up after missing a month and a half with right shoulder inflammation.
Butler was shut down with the injury following his Major League debut against the Dodgers on June 6. He took the loss in that outing, allowing six runs on 10 hits and three walks in 5 1/3 innings.
Butler also took the loss in Game 1 of Tulsa's five-game playoff series despite limiting Arkansas to two runs on six hits in five innings. Anderson got the ball in Game 2, taking a no-decision after allowing just two hits and one run over seven innings in Tulsa's 4-3 walk-off victory.
Tulsa has a chance to clinch the series and move on Saturday up 2-1, so the Rockies will have to wait a bit longer before a decision is made. If the Rockies don't go to a six-man rotation, the most likely man to be bumped from the rotation is left-hander Franklin Morales.
Morales owns a 5.46 ERA as he's jumped back and forth between a long relief and starting role for the Rockies this season. Butler, who already took Morales' rotation spot earlier this season, is 6-9 with a 3.58 ERA this season at Double-A Tulsa, with 63 strikeouts and 32 walks.
Cody Ulm is an associate reporter for MLB.com. This story was not subject to the approval of Major League Baseball or its clubs.