Trout closing in on rare feat for No. 2 hitters
Triple-digit RBIs difficult to reach from second spot in lineup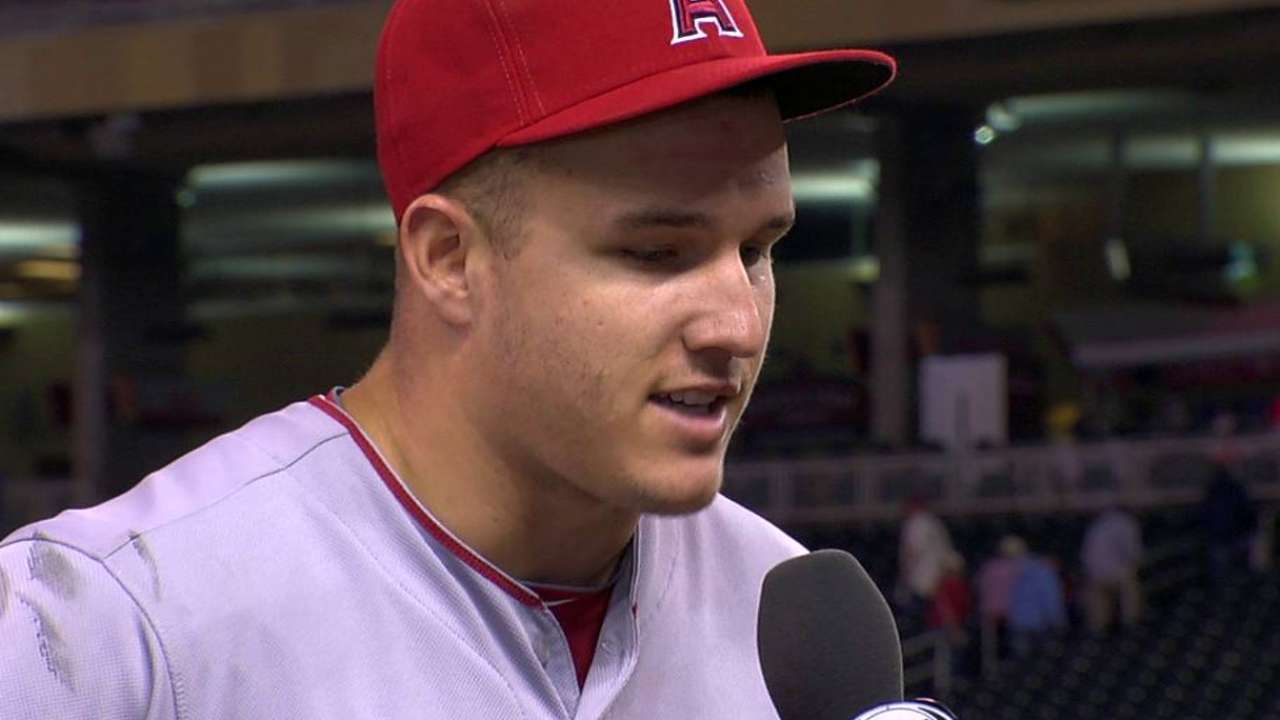 MINNEAPOLIS -- Mike Trout accomplished a neat milestone on Friday, becoming the youngest player in Angels history to drive in 100 RBIs in a season. But he's closing in on another, more-exclusive club: The 100-RBI mark from the No. 2 spot of the lineup.
Trout entered Saturday's game against the Twins with an American League-leading 100 RBIs collectively and 98 of them while batting second. Dating back to 1914, only eight players have driven in 100 runs from the No. 2 spot: Eddie Mathews, Jay Bell, Aaron Hill, Edgardo Alfonzo, Dwight Evans, Ryne Sandberg, Robin Yount and Alex Rodriguez (twice).
The reason for the rarity is two-fold: Guys who drive in triple-digit runs typically hit in the middle of the order, and a player's opportunities to drive in runs are limited while batting second.
Entering Saturday, 48 players had come to bat with runners in scoring position more often than Trout, who counters his limited RBI opportunities by posting a .980 OPS in that situation (17th-best in the Majors). By comparison, Albert Pujols, the Angels' everyday No. 3 hitter, ranks third in the Majors in plate appearances with runners in scoring position -- 180, which is 38 more than Trout -- and has posted a .643 OPS in that situation, leading to 84 RBIs.
How many more RBIs would Trout have if he batted third?
More, definitely -- but maybe not by much.
As Angels manager Mike Scioscia said: "If we had another Mike to put in front of Mike, you'd see a guy with 130 RBIs right now."
The Angels, of course, don't have another Trout. So it's not as if Trout would pick up Pujols' RBI opportunities, because Pujols' RBI opportunities are largely a product of Trout getting in scoring position so frequently. And part of the reason Scioscia has yet to move Trout to the No. 3 spot is because the skipper would struggle to find two consistent on-base threats to bat in front of Trout.
Scioscia feels like the No. 2 spot is his best compromise for Trout's abilities.
"Just the fact of moving him from first to second -- I know it doesn't sound like a lot, but it creates a lot more opportunities to hit with men on base," said Scioscia, who moved Trout out of the leadoff spot in April 2013. "There's no doubt this guy's a multidimensional player. He's not just a table-setter. I think eventually when he settles into the middle of the lineup and he has on-base [ability] in front of him, he'll have the potential to knock in 120 runs."
Trout is nonetheless doing a good job of taking advantage of the opportunities he gets, while closing in on a club that's about as exclusive as they come. Below is a look at the eight players who drove in triple-digit runs from the No. 2 spot, and the guy they mainly hit in front of that season:
• Mathews (114 in 1959 for the Braves): Hank Aaron
• Rodriguez (107 in 1996 and 114 in 1998 for the Mariners): Ken Griffey Jr.
• Bell (111 in 1999 for the D-backs): Luis Gonzalez
• Alfonzo (107 in 1999 for the Mets): John Olerud
• Hill (100 in 2009 for the Blue Jays): Adam Lind and Alex Rios
• Evans (100 in 1984 for the Red Sox): Jim Rice
• Sandberg (100 in 1990 for the Cubs): Mark Grace
• Robin Yount (100 in 1982 for the Brewers): Cecil Cooper
Alden Gonzalez is a reporter for MLB.com. Read his blog, Gonzo and "The Show", and follow him on Twitter @Alden_Gonzalez. This story was not subject to the approval of Major League Baseball or its clubs.