Yelich's first full season one for the books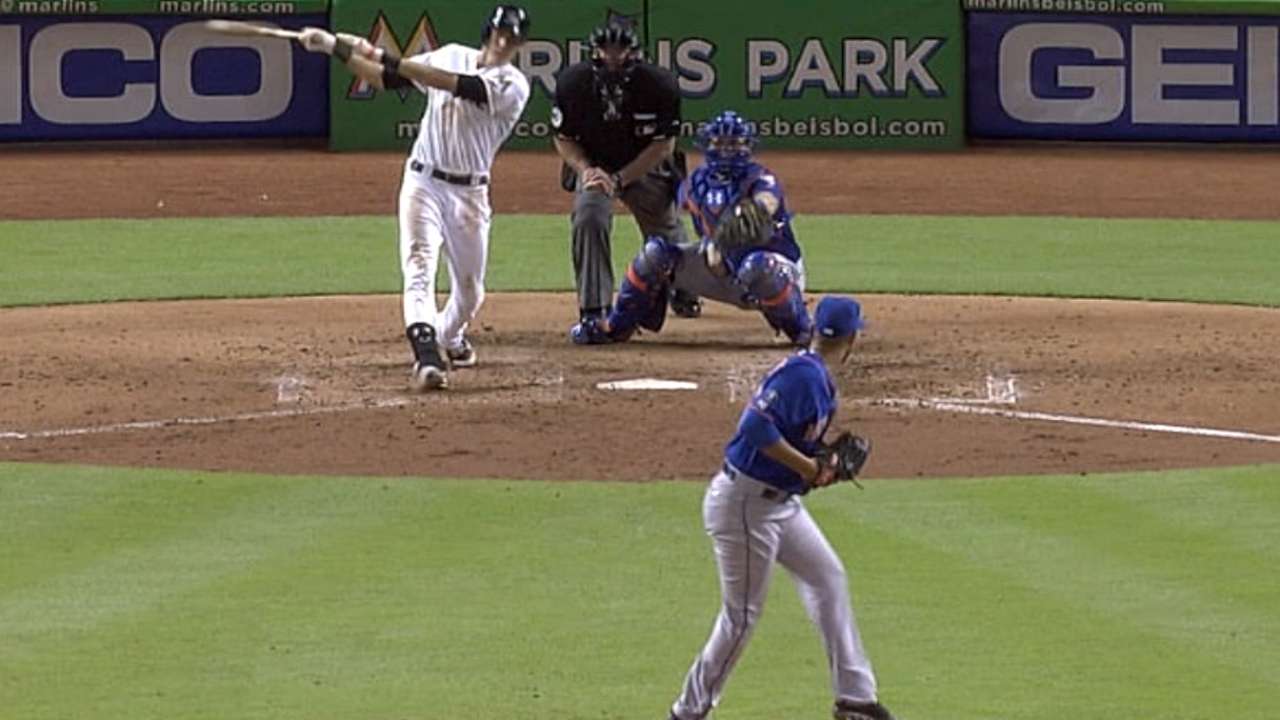 MIAMI -- At the pace he is going, Christian Yelich has a chance to finish with one of the best batting averages by a Marlins player in his first full season in the big leagues. The 22-year-old left fielder/leadoff hitter is flirting with finishing at .300.
A year ago, Yelich was promoted from Double-A to Miami in July, and he had enough service time that he no longer is a rookie. But the former No. 1 Draft pick ranks with Hanley Ramirez (.292), Miguel Cabrera (.294), Luis Castillo (.302) and Jeff Conine (.292) when it comes to batting average in his first full MLB season.
Yelich is batting .293, and closing in on the elusive .300 mark.
"You think about how consistent he's been over the last four or five months," manager Mike Redmond said. "He's had a great year. He's led off the entire year. Especially since the All-Star Break, you've seen this guy come into his own.
"The pulling of the ball and the power are all things that will continue to come as he gets more and more confident, and more and more comfortable at the plate. But it's definitely in there."
Chris Coghlan batted .321 when he won the National League Rookie of the Year award in 2009. But Coghlan wasn't on the Opening Day roster. He was called up in May.
Castillo broke in with the Marlins in 1996, and played in parts of the '97 and '98 seasons before he played regularly in '99, when he finished at .302.
Ramirez was the N.L. Rookie of the Year in 2006, also his first full season. He had two at-bats with the Red Sox in '05.
Cabrera debuted in June of '03, but he wasn't on an Opening Day roster until '04, when he ended up at .294.
Conine saw limited action in '90 and '92 with the Royals, before he played in 162 games with the Marlins in '93.
At the end of the season. Yelich will more closely analyze his production. But he notes that his .217 average in May hurt his overall numbers.
He bounced back with averages of .279 (June), .308 (July) and .339 (August).
"Really, this is your first time through and you're seeing a lot of guys for the first time," Yelich said. "Before, you don't really know what they do. What kind of stuff they have, or how they're going to come after you. The more you get to face them, the more you form an approach against them and kind of understand how you're going to try to attack them."
Joe Frisaro is a reporter for MLB.com. He writes a blog, called The Fish Pond. Follow him on Twitter @JoeFrisaro. This story was not subject to the approval of Major League Baseball or its clubs.