Stubbs saves the day with walk-off single in 12th
Bullpen loses lead late, but Rockies rally to take series from Padres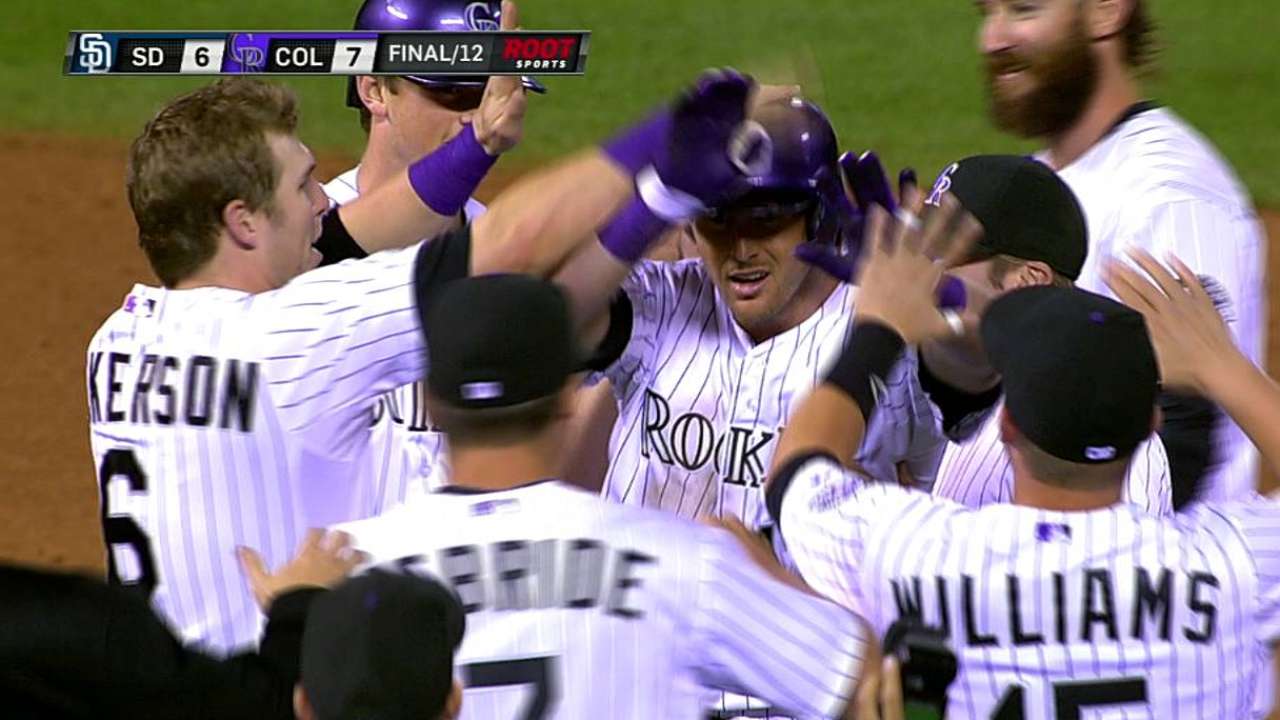 DENVER -- Nearly five hours into Saturday's game, Drew Stubbs didn't know if his eyes were deceiving him.
With the game-winning run on third in the 12th, the Padres had decided to go to a five-man infield, leaving left field empty. It was the first time Stubbs had faced such a setup, but it didn't stop him from delivering the game-winning single in the Rockies' 7-6, 12-inning win Saturday.
Stubbs' heroics were set up by DJ LeMahieu's double down the line off right-hander Jesse Hahn's first offering of the 12th. A Charlie Culberson sacrifice bunt and an intentional walk to Charlie Blackmon later, Stubbs found himself staring at three infielders on the left and two on the right.
"I think that in that situation all you try to do is get a pitch that's elevated," Stubbs said. "Whatever it takes, just try to get it to the outfield grass. He threw me three straight breaking balls. The one that I hit was a little further away from the first two, kind of up and in. I didn't get it up in the air like I wanted to, but I hit it well enough to find the hole."
And when he found that hole, he redeemed a night's worth of blown leads and missed opportunities.
The Rockies twice held a four-run advantage over the Padres and when Jorge De La Rosa left in the sixth, he was in line for a victory with the team leading, 6-3.
Tommy Kahnle was the first to make it interesting when he served up a two-run, pinch-hit homer to Cory Spangenberg in the seventh, cutting it to a 6-5 game.
After Yohan Flande and Adam Ottavino cleaned up that inning, Ottavino came back on for the eighth and ran into some trouble.
Culberson mishandled Yangervis Solarte's ground ball to put the leadoff runner on with a single. A walk and a force out later, Ottavino found himself with runners on the corners before Seth Smith's single tied the game and ended his night.
That score would hold until the 12th when Stubbs' sharp ground ball put an end to the chess game that is extra-innings baseball in expanded roster season.
"These games like this in September are always strange because there's so many bench players," manager Walt Weiss said. "It's tough to get matchups because you just keep firing pinch-hitters. So it's a little weird that way and those games can last a long time in September."
The Rockies had plenty of chances to call it a night sooner, but ended up stranding 15 while batting 3-for-12 with runners in scoring position. Of course, it certainly didn't look like it was going to be that way when Joe Wieland was on the mound.
Making his first start in 28 months following Tommy John surgery and a series of setbacks, Wieland was chased early behind the Rockies' relentless offensive effort.
Catcher Michael McKenry plated two of the four runs Wieland would allow in 2 1/3 innings; first on a solo shot in the second and then on an RBI-single in the third inning.
Following up Justin Morneau's two-run blast in the same inning, McKenry's second RBI came after Wieland's throwing error on a pickoff attempt allowed Corey Dickerson to take third from first. Wieland's forgettable return ended shortly after Dickerson touched home on McKenry's base knock with the Rockies up 4-0 on seven hits and two walks.
Staked a four-run cushion, De La Rosa allowed runs in the fourth and fifth innings, including a solo shot from Tommy Medica that cut the Padres' deficit to 4-2.
LeMahieu's bloop single down the right-field line built the Rockies' lead back up to four in the fifth.
But the Padres continued to pick on De La Rosa in the next inning, scoring another on Jedd Gyorko's double before De La Rosa was pulled with two on and two out..
In De La Rosa's first start since signing a two-year, $25 million extension with the club earlier in the week, Weiss didn't like what he was seeing from De La Rosa toward the end.
"I felt like he was laboring there in that inning," Weiss said. "He took a ball off his elbow earlier in the game. I thought that might have been a factor too, so that's what went into that decision."
De La Rosa surrendered three runs on six hits and a walk in 5 2/3 innings. It was only the second time in his last 14 starts that he hasn't given the Rockies at least six innings.
Cody Ulm is an associate reporter for MLB.com.
This story was not subject to the approval of Major League Baseball or its clubs.