End of Smyly's season is in sight
Southpaw is on the threshold of reaching his innings limit for 2014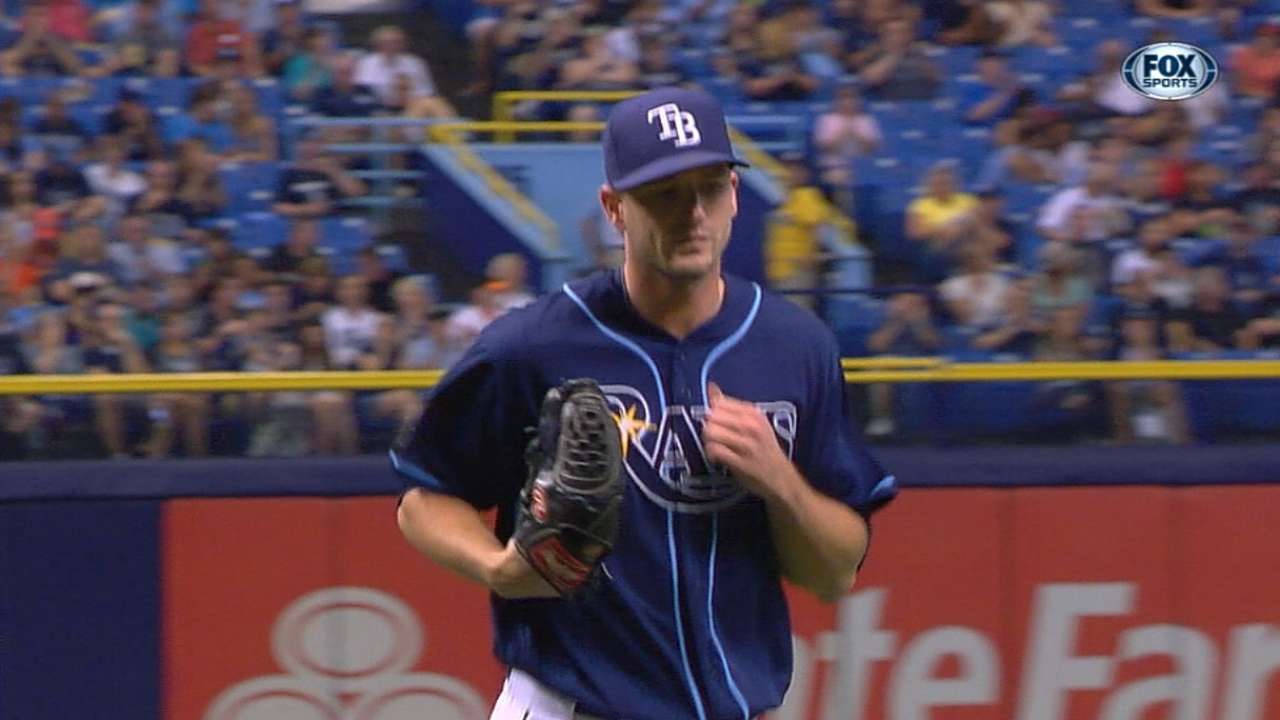 ST. PETERSBURG -- Drew Smyly's six strong innings against the Orioles on Saturday at Tropicana Field contributed significantly to the Rays' 3-2 walk-off win. But in the bigger picture, they brought him that much closer to the end of his 2014 campaign.
Smyly reached 153 innings pitched during Saturday's start, and because of his young age and fairly low previous career high in innings pitched, the Rays want to limit the left-hander to between 150 and 160 innings this season.
"We have to sit down and converse," Tampa Bay manager Joe Maddon said after the game. "He's right on the edge."
The decision will be a joint one -- made by parties including Maddon and Rays executive vice president of baseball operations Andrew Friedman.
"I understand it completely," Smyly said after his start on Saturday. "You've just got to be careful. I know I'm young, so hopefully I've got a lot more years to play."
Maddon said the team will decide whether Smyly gets another start by the pitcher's next workout day, which will be on Tuesday since the club has an off-day on Monday.
"We're just trying to take it one game at a time," Smyly said. "Whether it's the last one or one more, who knows. But I just keep trying to finish strong."
Smyly has made seven starts for Tampa Bay since he was acquired from the Tigers at the July 31 non-waiver Trade Deadline. He has a 1.70 ERA over those outings, better than any other pitcher in Rays history in his first seven starts with the team.
"Outstanding," Maddon said, summarizing Smyly's time with the Rays. "Really something to look forward to in the future."
This season might not be over quite yet. When Smyly exited after the sixth inning, he had only thrown 96 pitches. Taking him out then might have just bought him one more game.
"I'm just trying to conserve him right there, hopefully to get him another start," Maddon said. "We'll see how this all plays out. We're going to have to have a conversation."
David Adler is an associate reporter for MLB.com. This story was not subject to the approval of Major League Baseball or its clubs.