MLB.com Columnist
Barry M. Bloom
Jeter plans to play in final games at Fenway Park
Sitting out after conclusion of home schedule goes against captain's persona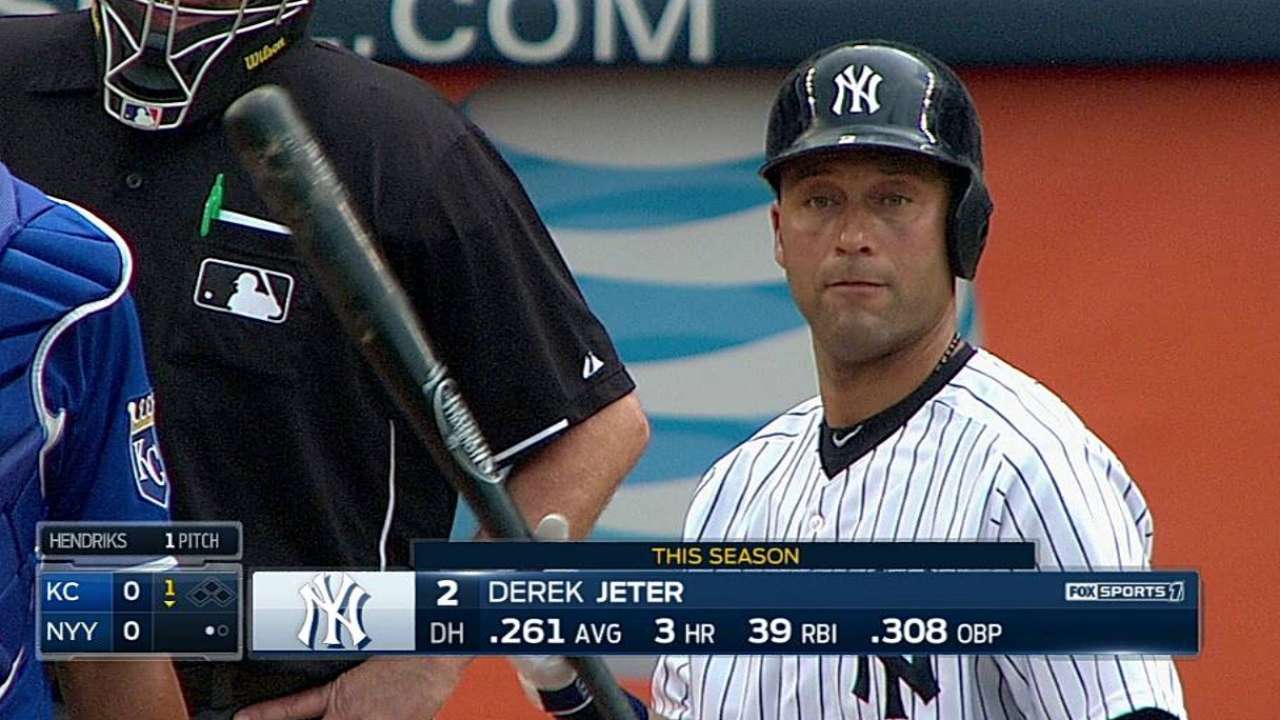 NEW YORK -- With "Derek Jeter Day" slated for Sunday at Yankee Stadium, let's get a few housekeeping items out of the way. Despite any speculation to the contrary, Jeter undoubtedly will play in the regular season's final three-game series Sept. 26-28 at Boston's Fenway Park regardless of whether the Yankees are still vying for a playoff spot.
"I don't deal in hypotheticals," Jeter said on Saturday before the Yankees played the Royals in the Bronx. "But I can tell you this: My job is to play every day. And my job right now is to get ready to play today. I don't even know what day it is."
That dovetailed well with a comment Jeter made to Boston Globe columnist Dan Shaughnessy earlier this week when asked whether he'd play in Boston if the Yanks had already been eliminated from the playoffs.
Jeter also told Shaughnessy that he doesn't deal in hypotheticals. So if he's healthy, would he play?
"Why would I not?" Jeter responded.
The Yankees' home schedule ends with a 7:05 p.m. ET game against the Orioles on Thursday, Sept. 25, creating the conjecture. Additionally, Mariano Rivera pitched in his final game before retirement on Sept. 26, 2013, the last home game of the season. He then skipped the season-ending three-game series at Houston.
But Rivera was a closer and Jeter is an everyday player. Skipping games would be antithetical to Jeter's entire persona. He is the captain, after all, and the greatest shortstop in Yanks history. Ultimately, Jeter will have the rest of his life to relax off the field.
"I understood what Mariano did last year," said Brendan Ryan, Jeter's understudy at short this season. "I totally back him for that. He even apologized to the Astros' fans. Even if Jeter hits a walk-off grand slam in his final game here, I'd be really surprised if he didn't play [in Boston]. I don't think there are any plans but that."
Ryan has been wrapped up in another story that has been part of Jeter's final days in uniform.
There has been some speculation that as the Yankees struggle to stay in contention for an American League Wild Card berth, Ryan would be a better defensive choice than Jeter on a daily basis. Jeter has struggled lately at the plate. He went into Saturday's game batting .261, 49 points below his lifetime average of .310. Manager Joe Girardi played Ryan at short and used Jeter as the designated hitter in the second game of the three-game set against the Royals.
The choices for Girardi are few. Ryan went into the game hitting .213. Stephen Drew, a lefty-swinging option who has played 20 games at second base and nine times at short since a July 31 non-waiver Trade Deadline trade with Boston, was slumping at .138 with the Yanks.
Ryan, a personable guy, literally burst out laughing when asked about the talk that he should be playing instead of Jeter.
"I don't hear too much of it. We keep our heads out of that stuff. None of that matters," Ryan said. "I'm grateful for every opportunity. I've watched every day how much [Jeter] invests in his craft and cares about winning, how much it still matters after 20 years. That's special. It's been a blast working with him, taking ground balls with him every day. It's something I'll cherish."
The reality is that the Yankees still have a better chance of winning every day with Jeter in the lineup. Those who cite defensive metrics have long said that Jeter is a below-average shortstop. But then there are plays like this: In the eighth inning of Friday night's 1-0 loss to Kansas City, Jeter ranged into the hole between third and short and backhanded a grounder hit by Alcides Escobar. Fading toward third base, Jeter made a strong throw off his back foot to nip the speedy runner. He hardly looked 40 years old.
All of that is far from abstract. Even less abstract is that with only 22 games left to go after Saturday, fans are clamoring to see No. 2 at least one last time before his single digit becomes the last the Yanks retire and place in Monument Park. Ten of those games are on the road in Baltimore, Tampa Bay and Boston, while 12 are at Yankee Stadium, including that four-game final home series Sept. 22-25 against the Orioles.
Girardi's dilemma is to balance Jeter's health and welfare with his club's run at a playoff spot. Jeter, it should be reminded, missed all but 17 games of the 2013 season after breaking a bone in his left foot during Game 1 of the 2012 AL Championship Series against Detroit.
"You have to balance his health and productivity is what you have to balance," Girardi said on Saturday. "We're in a situation where we've had some days off that are built in, which have helped. I've been pretty steadfast. A lot of times when I give him a day, it's a day game after a night game. I don't play him more than five or six days in a row, and I'll continue to do that."
Jeter has played in 126 games this season. And Girardi wouldn't speculate about how many of the final 22 will showcase Jeter.
"I don't know," Girardi said. "Players, you have to see how they feel on a day-to-day basis. I mean, you never know."
And that takes us back to Boston.
Barry M. Bloom is a national reporter for MLB.com and writes an MLBlog, Boomskie on Baseball. Follow @boomskie on Twitter. This story was not subject to the approval of Major League Baseball or its clubs.