Replay-aided win brings Braves into Wild Card tie
Review turns Gattis triple into go-ahead homer in 10th inning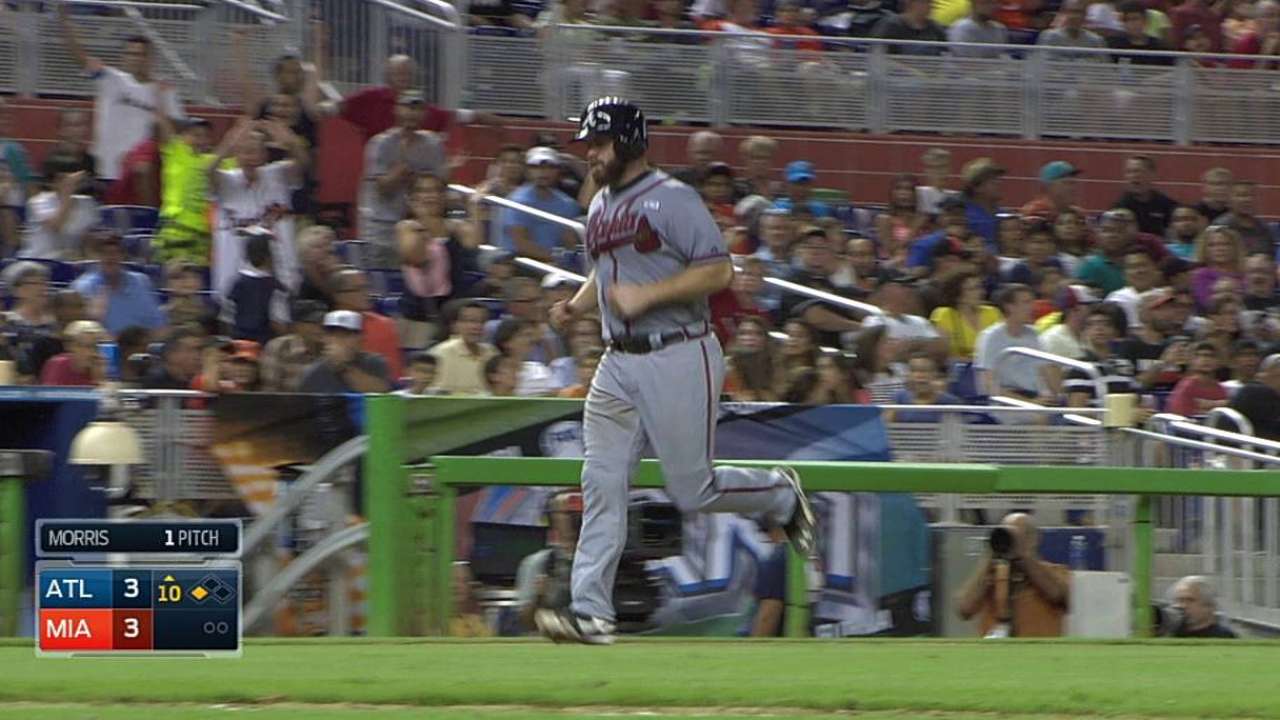 ATLANTA -- If the Braves are fortunate enough to earn a spot in the postseason, they may fondly remember what occurred on Saturday night, when Evan Gattis used his tremendous power to ensure he and his teammates would not add to their recent woes with what would have been a demoralizing and potentially crippling loss.
After Alex Wood's latest gem was squandered during a two-run eighth inning at Marlins Park, the Braves claimed a 4-3, 10-inning victory courtesy of the home run Gattis was awarded after a replay review. Gattis' leadoff shot added to the success he has had against the Marlins and also bumped the Braves into playoff position with a Brewers loss.
"You have a really, really good feeling when he comes up in those situations," Braves right-handed reliever David Carpenter said of Gattis. "He's Paul Bunyan with a bat."
Though he was hitless in his only four previous at-bats against Marlins reliever Bryan Morris, Gattis aggressively hacked at a first-pitch fastball and then raced out of the batter's box after seeing the ball hit off the padding of the left-center field wall and bounce back into to play. As he raced to third base with what appeared to be a triple, the umpires prepared for a review that showed the ball hit above the yellow line that sits just below the large outfield statue.
"[Gattis] and [Giancarlo] Stanton are the only ones that can hit it out of that part of the ballpark," Braves manager Fredi Gonzalez said. "I think four of the five at-bats [tonight] were really solid at-bats. I don't think [Morris] made a mistake. I think he just got a ball he could handle and he hit it out of the ballpark. He's that strong."
The Marlins are certainly well aware of the strength possessed by Gattis, who has hit five of his 22 home runs against the Marlins. Four of those five homers have been game-winners. The burly catcher hit his only walkoff home run in the 10th inning of an April 21 win over the Marlins. But this latest shot was more reminiscent of the ninth-inning home run that he hit off the statue in Miami against Steve Cishek on June 1.
"I hadn't seen the guy before," said Gattis, forgetting his four previous at-bats against Morris. "I kind of got fooled a little bit. Luckily, I was in a good position to hit."
The Braves moved within six games of the Nationals in the National League East. More importantly, they put themselves back into a tie for the NL's second Wild Card spot after the Brewers lost to the Cardinals on Saturday night.
"It doesn't get any better than that when our backs are against the wall, fighting for one of those Wild Card spots," Wood said. "It's nice to be playing for something. It kind of brings everybody together."
Holding a two-run lead that he had helped create, Wood was lifted after he walked Christian Yelich to begin the eighth inning. This prompted the entry of Jordan Walden, who walked Donovan Solano and then induced a Giancarlo Stanton grounder that Freddie Freeman fumbled before getting an out at first base. Freeman's inability to get an out at second base set the stage for Casey McGehee to follow with a game-tying two-run single to center.
Instead of allowing one run or fewer for the fifth time in his past eight starts, Wood was charged with two earned runs on six hits in seven-plus innings. This outing conjured memories of his Aug. 20 start during which he blanked the Pirates through the first seven innings and then saw an eighth-inning leadoff walk lead him to hand the ball to Walden, who also squandered a two-run lead that night in Pittsburgh.
Before completing a perfect ninth that ended with him making a nifty tag that was awarded with a replay review, Carpenter cleaned Walden's mess by stranding a runner at third base to end the eighth inning.
"When you walk the first two batters of the eighth inning, you're asking for trouble," Gonzalez said. "But Carp did a nice job of getting out of that inning."
Though he surrendered three consecutive two-out singles in the fourth inning, Wood limited his damage to just one run that inning and was in complete command entering the eighth. But while his mound effort was impressive, he might better remember this as the night he delivered a two-run single to center immediately after Nathan Eovaldi had intentionally walked B.J. Upton with two outs in the fourth inning.
The soft opposite-field liner accounted for the first two career RBIs for Wood, who had notched two hits in the 54 at-bats he had compiled dating back to last year.
"When we get down to this point of the season, they're all big," Carpenter said. "We're just trying to take it one game at a time, one inning at a time and one pitch at a time. Guys are really coming together. We're grinding on the mound and grinding with our at-bats. That's what it's all about."
Mark Bowman is a reporter for MLB.com. This story was not subject to the approval of Major League Baseball or its clubs.