Marlins on wrong side of replays, can't gain in race
Braves catcher Gattis fells Miami once more; Eovaldi fans seven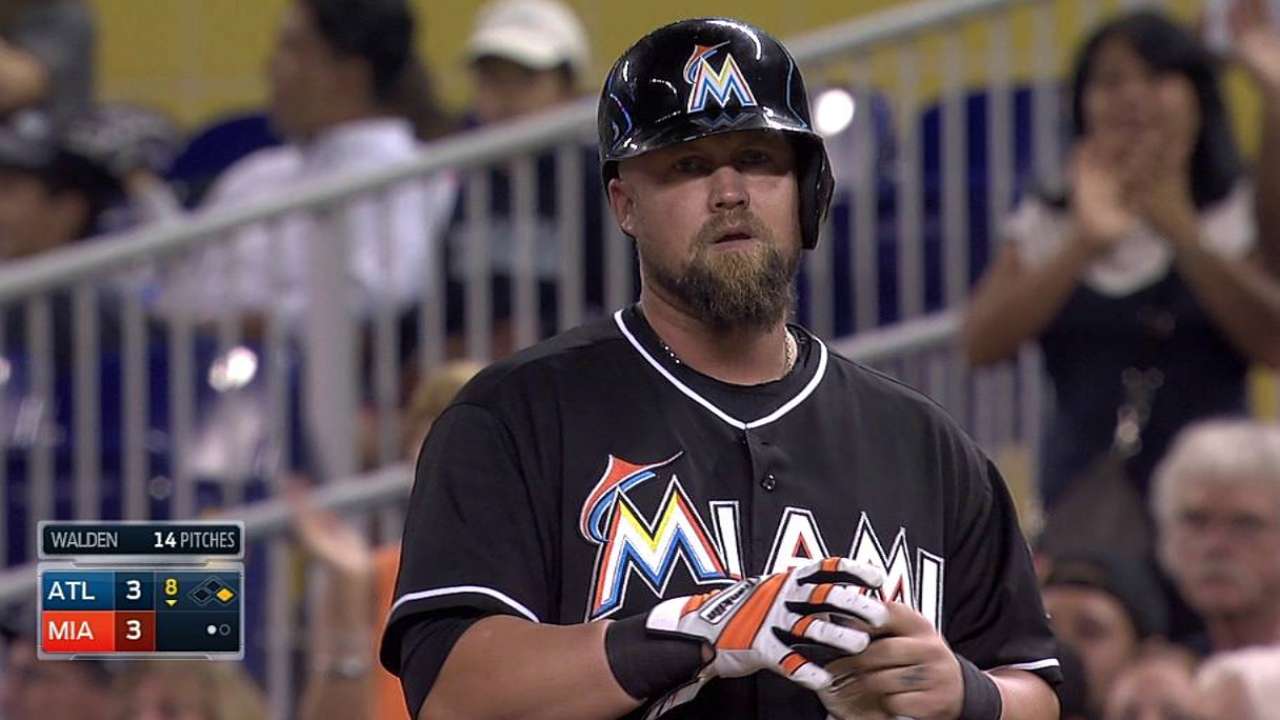 MIAMI -- Most of Saturday night, Miami pitchers found a way to work their way out of jams. But in the 10th inning, not even the big dimensions of Marlins Park could contain Evan Gattis.
Gattis blasted Bryan Morris' first pitch over the yellow stripe in center field to lift the Braves to a 4-3 win over the Marlins and even the three-game series. With a Cardinals victory over the Brewers, the Marlins remained five games back of the second National League Wild Card spot.
On a night the Braves left 10 on base, Gattis' homer proved too much for Miami to overcome. It was the catcher's fifth homer and ninth RBI of the season against the Marlins, highs in both categories for Gattis against any opponent.
Gattis has hit three game-winning homers off the Marlins this year, including June 1 off Steve Cishek and Aug. 31 off Nathan Eovaldi.
"Tip your cap to him," Marlins catcher Jeff Mathis said. "He got some good wood on a few balls and was able to get a couple of hits early. Right there, he got on the ball. It was a little up in the zone, and he hit it out."
Initially, Gattis' drive was ruled a triple because the ball deflected back onto the field. But an umpire review revealed the ball hit the green wall above the yellow stripe for a home run.
"I hadn't seen the guy before," Gattis said of Morris. "I kind of got fooled a little bit. Luckily, I was in a good position to hit."
The setback prevented the Marlins from winning back-to-back games for the first time since they took three straight from Aug. 16-19. Miami is now 9-11 in extra inning games, and 32-23 in one-run contests.
"It's frustrating to lose this game," Eovaldi said. "We need to win this series. We'll come back tomorrow, and come out swinging."
Miami had gained momentum after rallying with two runs to tie it at 3 in the eighth inning. And in the ninth inning, Cishek executed some necessary pitches to strand Jason Heyward on third base with two outs.
Heyward singled to open the ninth inning, and he was advanced to second on a bunt and moved to third on Freddie Freeman's groundout. But Cishek ended the threat by striking out Justin Upton.
Miami, however, couldn't get much going off lefty Alex Wood, who gave up two runs on six hits in seven-plus innings.
"Offensively we were pretty quiet," manager Mike Redmond said. "Again, Wood kept us in check. We weren't able to get much going at all."
The game featured a rematch of starters from Aug. 31 at Turner Field when Atlanta won, 1-0, on Gattis' homer. Wood struck out 12 that afternoon in eight innings, while Eovaldi allowed one run in 6 2/3 innings.
In 6 1/3 innings on Saturday, Eovaldi scattered eight hits, struck out seven, walked one and hit a batter.
Wood was in line for the win before the Marlins scored twice in the eighth inning and rallied to tie on Casey McGehee's two-run single off Jordan Walden. Jeff Baker drove in the Marlins' first run with a single in the fourth inning.
The Braves were making a three-run fourth inning stand until the eighth inning. Andrelton Simmons delivered a run-scoring single in the fourth, and with the bases loaded, Wood lined a two-run single to center. The Atlanta pitcher entered the at-bat 2-for-34 on the season with no career RBIs.
Miami challenged the second run at the plate to see if Simmons indeed scored or was tagged out by Mathis, who collected Marcell Ozuna's throw from center. It was a close call whether Simmons' foot was on the plate before he was tagged. After a review of 2-minutes, 29-seconds, the call stood.
"From what they're saying, and what I came back and looked at, it looked like he could have been out," Mathis said. "But, they've got more eyes up there, and they're looking at it, too. So, you don't know. Just a bang-bang play."
Joe Frisaro is a reporter for MLB.com. He writes a blog, called The Fish Pond. Follow him on Twitter @JoeFrisaro. This story was not subject to the approval of Major League Baseball or its clubs.