McCann has 'awesome experience' in first MLB start
Tigers prospect catches for Price, takes hacks against Bumgarner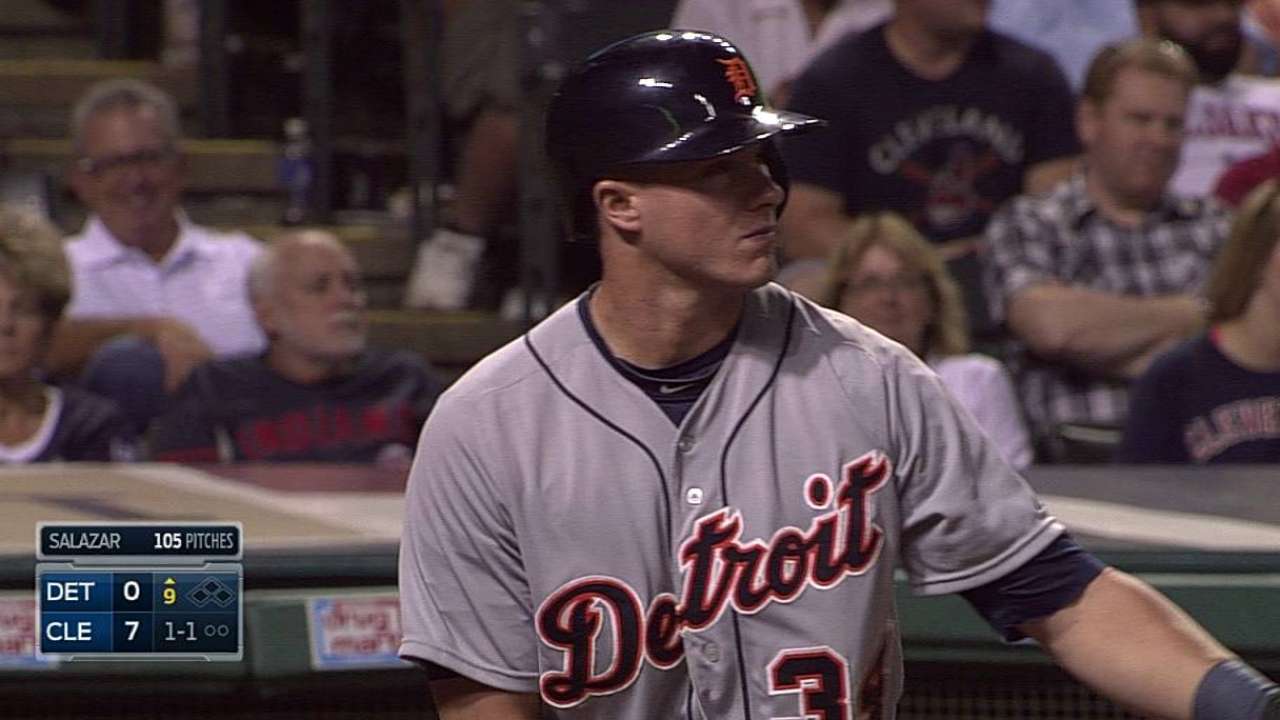 DETROIT -- Part of the work that earned James McCann his reputation for strong game management as a Tigers catching prospect was a notebook he kept on Triple-A hitters at Toledo and a mental database he kept on pitchers. He was a long way off the notes Saturday at Comerica Park, but he didn't exactly need a lot of research.
McCann's first Major League start had him catching former Cy Young winner David Price and hitting against Giants All-Star Madison Bumgarner. No notes were required.
"Words can't describe it," McCann said afterwards. "Seems like just yesterday I was in college watching [Price] pitch on TV, and today I'm out there catching him. It was an awesome experience."
For most of the crowd at Comerica Park, it was the first real glimpse of the former Tigers top pick projected by many as Detroit's future behind the plate. For McCann, it was the first go-around in the process of preparing for, catching and calling a Major League game.
"He did a great job, man," said Tigers slugger and still occasional catcher Victor Martinez. "I thought he did great, especially for the kind of game we played today. From here on, every pitch is important, every at-bat. I think for him being a rookie, first time starting with a pitcher like David, I think he did a great job, handled himself great behind the plate."
McCann, ranked as the Tigers' No. 13 prospect, caught the full game, exiting only for pinch-hitter Alex Avila in the bottom of the ninth. He fell one out shy of catching a complete game for Price, albeit in defeat. He and Price got that far after an adjustment following five consecutive first-inning hits.
"They're a very aggressive team," McCann said. "We started moving the ball in and out and keeping the ball down in the zone and letting them make quick outs."
Price threw 24 pitches, 19 of them strikes, over eight batters in the first inning, but gave up four runs on five hits. He gave up four hits over the next 7 2/3 innings, though one was a Buster Posey solo homer that ended up being the difference in the 5-4 loss.
It was one game, and it didn't include a stolen-base attempt, but it lived up to the scouting report on McCann.
"McCann's got a reputation as being very good behind the plate and taking a lot of pride in calling a game," Tigers manager Brad Ausmus said.
That said, Ausmus has been hesitant to play McCann much as a September callup, because he doesn't have that firsthand knowledge. Price's knowledge of what he wants to throw played a role in Ausmus' choice, as did the left-hander on the mound for the opposing side.
McCann went hitless, but he wasn't overmatched. He lined out to left field and flied out to right in his first two at-bats against Bumgarner, both early in the count, before hitting a sixth-inning line drive that second baseman Joe Panik robbed with a diving catch.
"Man, off the bat I thought I had my first knock," McCann said. "But it's the game."
Jason Beck is a reporter for MLB.com. Read Beck's Blog and follow him on Twitter @beckjason. This story was not subject to the approval of Major League Baseball or its clubs.