Holt sits after leaving Friday's game with dizziness
Red Sox utility man available off bench; Betts moves to leadoff spot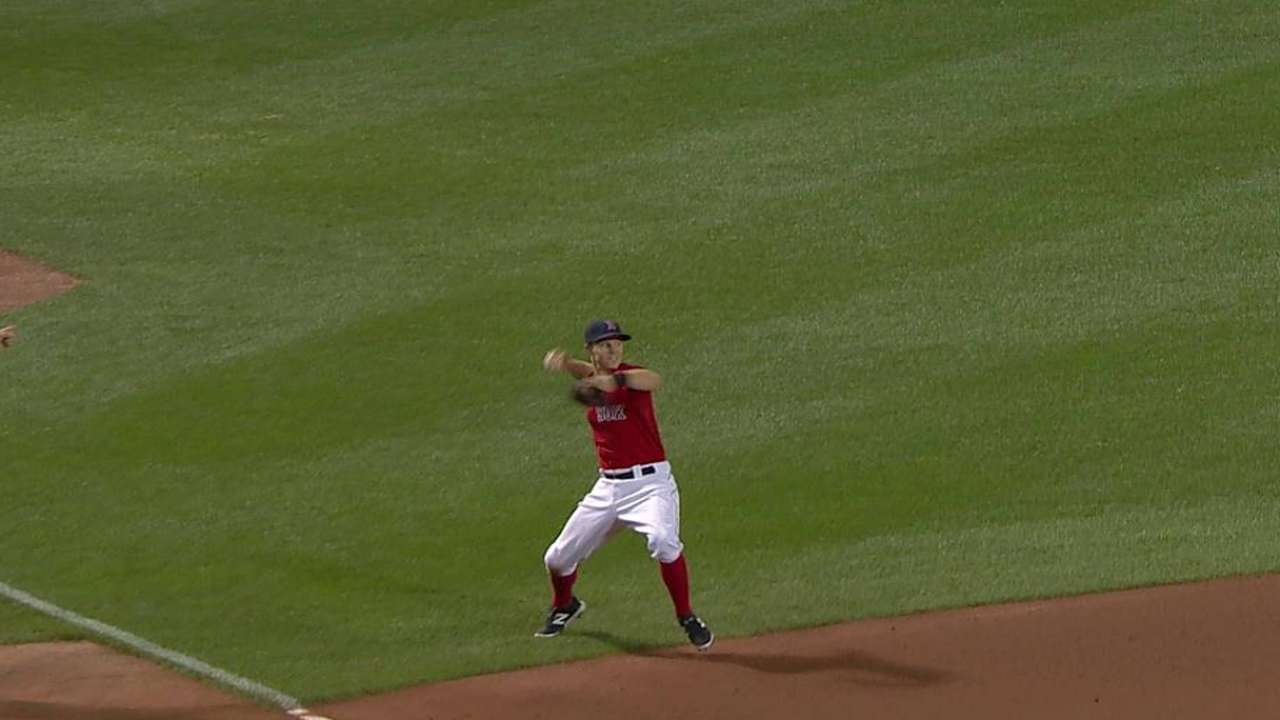 BOSTON --- Red Sox utility man Brock Holt wasn't in the starting lineup Saturday night after leaving Friday night's game against the Blue Jays with dizziness in the 10th inning. Manager John Farrell said Holt would be available off the bench, but against Toronto lefty J.A. Happ, it made sense to give the left-handed-hitting Holt a day off while he's recovering from a minor illness.
Holt has appeared in all but one game since he became the club's leadoff hitter May 23. This was the second time in that 95-game span that he hasn't started.
Center fielder Mookie Betts batted first in Holt's place.
Betts led off Monday against the Rays, while Holt slid to the two-hole. With Dustin Pedroia sidelined for much of the past week with a concussion, Betts hit second four times and first once, going 8-for-22 over five games.
The 21-year-old rookie has shown potential as a top-of-the-order bat through his first 31 games. He's slashed .280/.353/.449, and has a 9.2 percent walk rate. His .69 walk-to-strikeout ratio ranks 46th among Major Leaguers with at least 100 plate appearances.
According to Fangraphs, Betts has swung at just 17.7 percent of pitches outside the strike zone, the lowest mark of any hitter with at least 100 plate appearances. His 35.3 percent swing-rate is the second-lowest, showing he's comfortable working counts to get on base.
"He not only manages at-bats, but he stays in the strike zone very well," Farrell said. "We've seen pitchers try to pitch him in, but he's got the bat speed to turn on some balls, some breaking balls going the other way."
Betts also has good speed and instincts on the bases. In Friday's 9-8 win, he scored from first on a Xander Bogaerts' double to right-center field to tie the game in the eighth. Betts has stolen four bases and been caught once.
"That's where I try to affect the game the most," Betts said. "Just getting on base and causing havoc."
Farrell said Betts is "a guy we'd like to see at the top of the order" moving forward, although the manager added that he'll have to see how things play out in the team's outfield from now until the start of next season.
Worth noting
• Farrell said the club will limit Rubby De La Rosa's innings inside a given start so he won't be overworked. The righty, who will start Sunday's series finale, has thrown 148 innings between Triple-A Pawtucket and Boston. De La Rosa, 25, threw 110 1/3 innings in 2010 as a Minor Leaguer with the Dodgers, his previous career high.
• According to the Elias Sports Bureau, Friday night's win was the first time since 1988 that Boston won a game in which it trailed by two or more runs in extra innings.
Steven Petrella is an associate reporter for MLB.com. This story was not subject to the approval of Major League Baseball or its clubs.