Injured Konerko: I'll finish on the field
Retiring first baseman recovering from fracture in left hand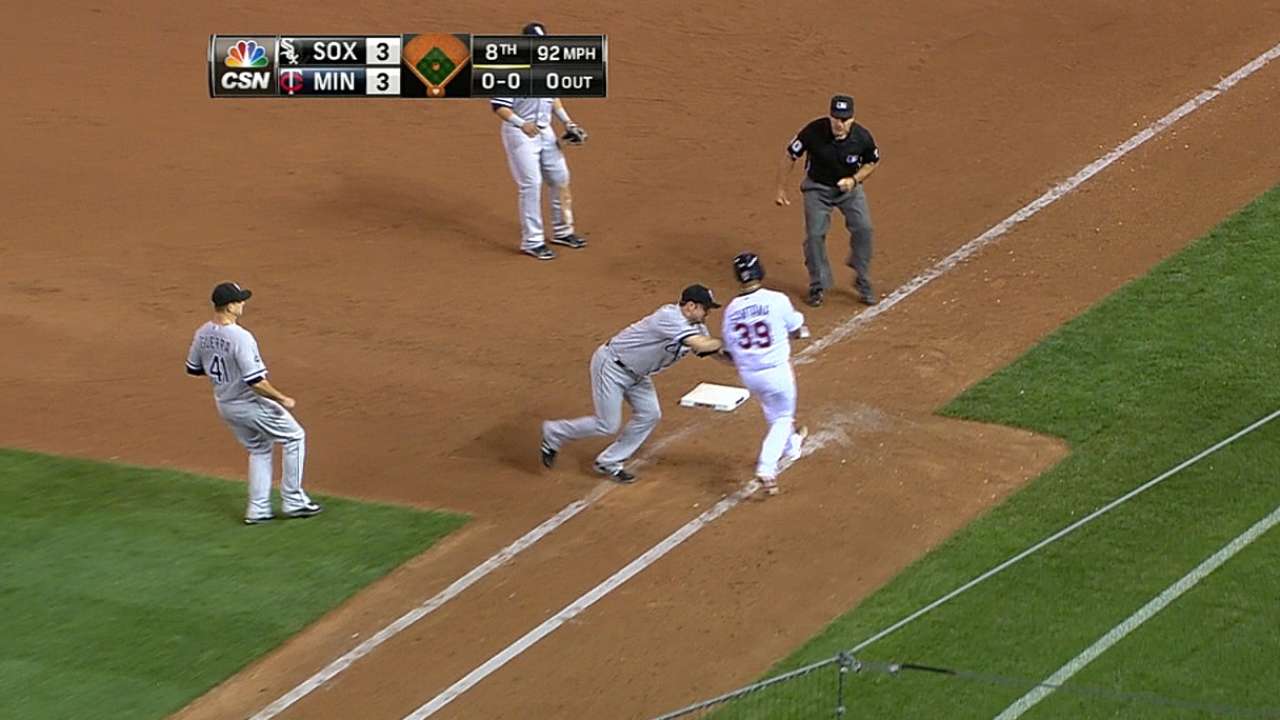 CLEVELAND -- If there was any doubt whether Paul Konerko will play again during the final month of his 16-year career with the White Sox, the captain erased it on Saturday.
"I'll finish on the field, one way or another," Konerko said about the fracture of a sesamoid bone in his left hand. "I don't care if I go up there and take three pitches and strike out. I'll finish on the field.
"Listen, it really doesn't matter as far as if I wound up playing three games instead of five. Does it really matter? I'm not sure it's a huge deal in the grand scheme of things. But I guess the alternative is just sitting all day and doing nothing. I would rather go out and play when I can play."
Konerko believes the fracture took place while tagging out Danny Santana at first on a bunt play in the eighth inning of Tuesday's 6-3 victory in 10 innings at Target Field. After getting extensive treatment from White Sox head athletic trainer Herm Schneider over the past two days, the swelling in the injured area has gone down.
A worst-case scenario for the captain's return would be the final four games of the season at home against the Royals, which includes Paul Konerko Day on Saturday, Sept. 27. Konerko won't play in the upcoming four-game set against Oakland but would like to return against the Twins next weekend at home. He certainly intends to be on the field at some point during an ensuing nine-game road trip to Kansas City, St. Petersburg and Detroit.
"It's still very tender, but not quite as tender. Compared to where it was yesterday, I'm definitely using it a little more today," Konerko said. "I still can't kind of make a fist or straighten up. The whole thing with this is if there is that fracture of that little bone, the bone just doesn't heal in three to five days. It's a matter of what that little bone matters when I squeeze the glove, swing a bat, hit a ball, that kind of stuff."
"He's headed in the right direction compared to the last couple of days," said White Sox manager Robin Ventura. "You want to let it heal first as much as you can before he goes back out there."
Cleveland honored Konerko prior to Saturday's contest, with Konerko's 48 homers and 177 RBIs against the Indians leaving him as the active leader in both of those categories. Indians president Mark Shapiro and first-base coach Sandy Alomar Jr., a former teammate of Konerko, presented the music enthusiast with a Gibson Les Paul guitar after a video tribute was played.
Battling this injury to get back on the field will make these final games a little more meaningful for Konerko, as he certainly didn't expect the fracture to happen. As far as those final games having more meaning in the scheme of his career, Konerko won't know what he'll feel until those actual final few.
"You kind of break it down to your simplest thing. Just going out and playing a game," Konerko said. "You know you are not going to be able to play games anymore. So you kind of just have fun and make it about, 'I'm going to go out for nine innings and play hard.'
"When you are playing during your career and all that, you are always looking ahead. You are building on to something. You are always looking into the future of what you are going to be and what you are going to do as a player. This whole year, every time I've touched the field, you know you are not going after anything anymore. You are doing it for the love of the game. This month, it's even heightened more."
Scott Merkin is a reporter for MLB.com. Read his blog, Merk's Works, and follow him on Twitter @scottmerkin. This story was not subject to the approval of Major League Baseball or its clubs.