Streak ends at five as A's rally in ninth inning
Qualls allows game-tying double and walk-off single for blown save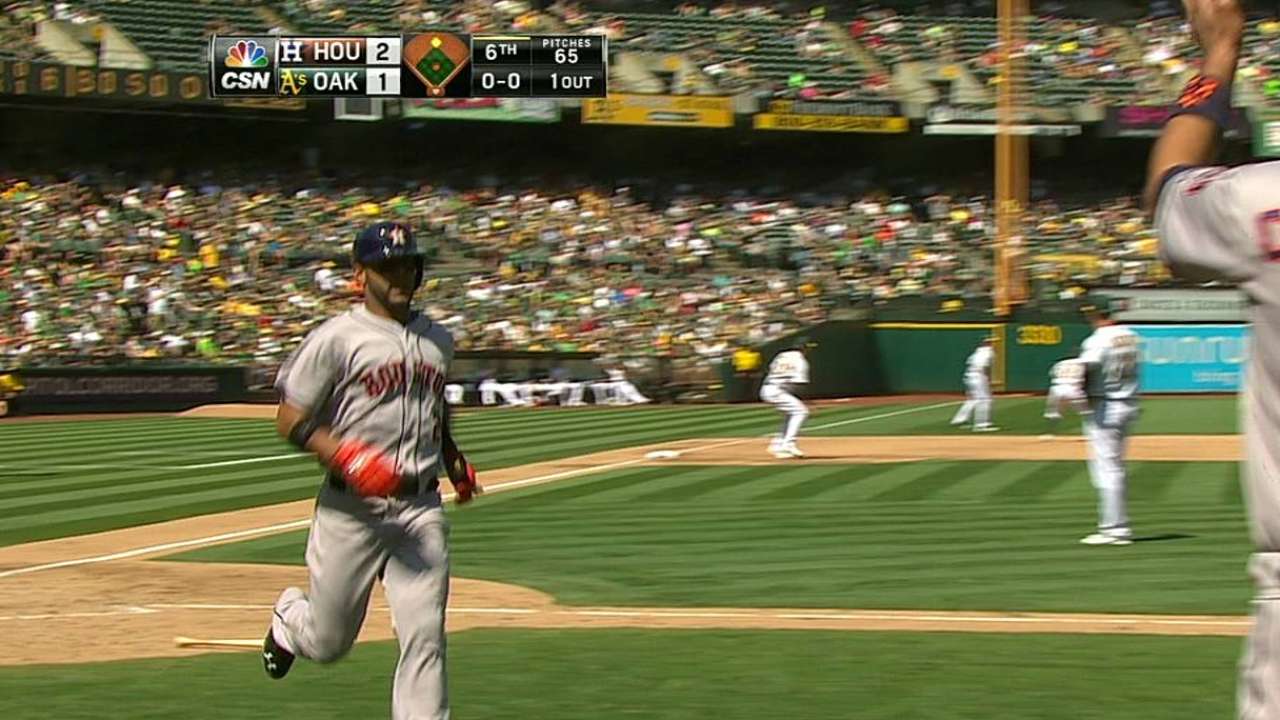 OAKLAND -- The ninth inning continues to be a nightmare for Astros closer Chad Qualls when it comes to the A's.
Qualls suffered his fourth blown save of the season against the A's when Jed Lowrie rolled an RBI single into left field to score a sliding Josh Reddick from second base and lift Oakland to a 4-3 walk-off win over the Astros on Saturday afternoon at O.co Coliseum.
The A's scored three runs in the ninth to snap the Astros' five-game winning streak. In six appearances against Oakland this year, Qualls is 0-4 with a 27.00 ERA. He's allowed 16 hits and 12 runs in four innings.
"It's been happening all year, and I'm tired of it," Qualls said. "Four of my five losses are against them, four of my five blown saves are against them. I'm over it. There's nothing really to write. In the words of Pedro Martinez, 'In 2014 the Oakland A's are my daddy.' What do you want me to do?"
The Astros rolled into the ninth with a 3-1 lead and starting pitcher Scott Feldman three outs away from his second consecutive complete game. He gave up a leadoff single to Josh Donaldson and a one-out hit to catcher Derek Norris, who rolled a single up the middle past shortstop Jonathan Villar.
Qualls, who wasn't used in a save situation Friday in part because of his struggles against Oakland, came on in relief and gave up a game-tying two-run double to straightaway center off the bat of Reddick. Lowrie followed with a grounder into left field, and Reddick slid home safely just ahead of Alex Presley's throw from the outfield.
"We've had success off [Qualls] in the past, so you get that sense of urgency when he comes in the game and you feel like you're going to do something special again," Reddick said. "He's gotta be thinking about it as well."
The loss was the first in four games for Astros interim manager Tom Lawless.
"Any time you go into the ninth winning 3-1 it's tough when they come back and win the ballgame, but that's baseball," he said. "You put your best out there and take your chances. Scotty did an outstanding job. He got the ground ball in the ninth inning for the double play. It just happened to find the hole, and it wasn't at anybody. If it's at somebody, it's a 6-4-3 double play and game over. We win."
Feldman was 1-6 with an 8.60 ERA in 12 games (seven starts) in Oakland prior to allowing three runs (two earned) and seven hits in 8 1/3 innings Saturday. He said he paid a visit to his 88-year-old maternal grandfather, John Wynne, in nearby San Leandro prior to the game, which he joked will now become a tradition.
"That was really it," he said. "I was pitching pretty good, felt pretty good and got a couple of singles there, ground balls, but they found some holes at the end. But Reddick obviously got the big hit. What can you do? It's one of those things, a tough one lose."
A's starter Scott Kazmir rolled through the Astros for five no-hit innings, retiring 15 of the first 16 batters he faced until Carlos Corporan led off the sixth with a bloop single. Villar beat out a bunt single, and Robbie Grossman followed with a sacrifice bunt to move the runners to second and third.
"As good as Mr. Kazmir was today, we had opportunities to scratch and claw for a couple of runs," Lawless said. "We got one run [in the seventh] and we didn't even get a hit. That put us in a position in the ninth. If we don't do those things we may not even be in that position, being up 3-1. We're going to continue to do that when the opportunities show themselves, and we'll take our chances in the eighth or ninth innings."
That bunts in the sixth set the stage for Jose Altuve, who shot a two-run double down the left-field line to give the Astros a 2-1 lead. The hit extended Altuve's hitting streak to a career-high 13 games and gave him 197 hits, putting him 13 shy of Craig Biggio's single-season club record.
"You never say you've got it in the bag, but you feel pretty confident when it's the end of the game and you've got a 3-1 lead," Lawless said. "That's baseball. Nothing is ever written in stone. You would like it to be, but it's not."
Brian McTaggart is a reporter for MLB.com and writes an MLBlog, Tag's Lines. Follow @brianmctaggart on Twitter. This story was not subject to the approval of Major League Baseball or its clubs.