Finnegan tosses two perfect innings in MLB debut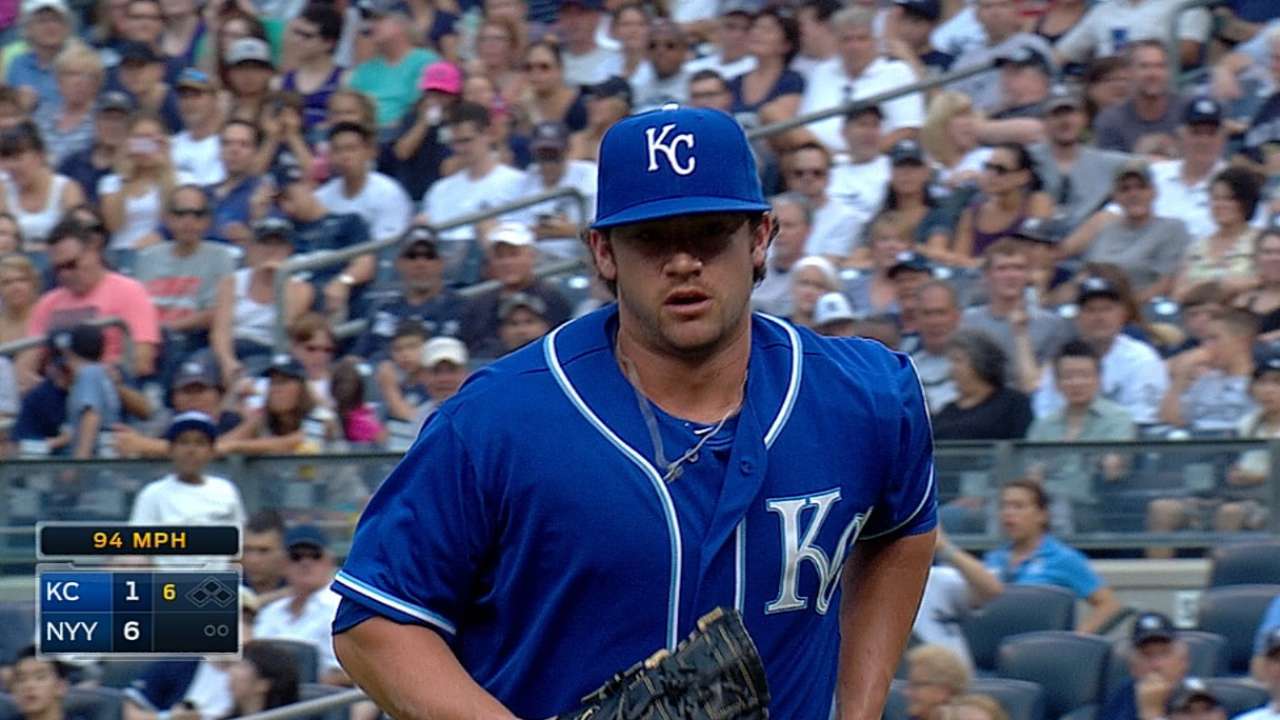 NEW YORK -- Rookie lefty Brandon Finnegan began his day expecting another relaxing view from the Yankee Stadium bullpen. He ended his day with 100 text messages, two game-used baseballs in his locker and two perfect innings after making his Major League debut.
The circumstances surrounding his first big league action weren't ideal, considering left-hander Danny Duffy had to exit with shoulder soreness after throwing just one pitch in the Royals' 6-2 loss. But Finnegan, the club's first-round pick in the 2014 First-Year Player Draft, didn't let a rare opportunity go to waste.
Finnegan entered in the sixth inning and, after a few deep breaths while taking in his surroundings, ended his first frame by striking out Jacoby Ellsbury and then, the player he idolized as a kid, Derek Jeter.
"I could definitely tell a difference when Derek Jeter walked to the plate," said Finnegan. "It was a different feeling when he got to the plate.
"I didn't have to look to know who it was. It's kind of hard not to hear it in a place like this when that guy walks up to the plate. Usually I can tone out the fans, and I did that all night. But as soon as he walked to the plate, that's the only time I heard the fans, when they called his name out."
Finnegan, 21, was selected 17th overall from Texas Christian University in June, and he's listed as the Royals' No. 6 prospect.
He posted a 2.04 ERA with 134 strikeouts in 105 2/3 innings in his junior season for TCU, which qualified for the College World Series.
Still, nothing could have prepared him for Saturday's moment.
"To make his Major league debut in Yankee Stadium, to strike out Ellsbury, who is tough to strike out, to strike out Jeter, who is tough to strike out, and to get through two innings against a pretty good hitting club, I thought he threw great," said manager Ned Yost.
For Finnegan, it was all the more exciting considering Sunday's celebration for the Yankees captain.
"Getting to face him was an honor," said Finnegan. "But striking him out made the day a little sweeter."
Jake Kring-Schreifels is an associate reporter for MLB.com. This story was not subject to the approval of Major League Baseball or its clubs.