Rangers shut down Darvish for season
No tear in ace's elbow ligament, but late-September return deemed too risky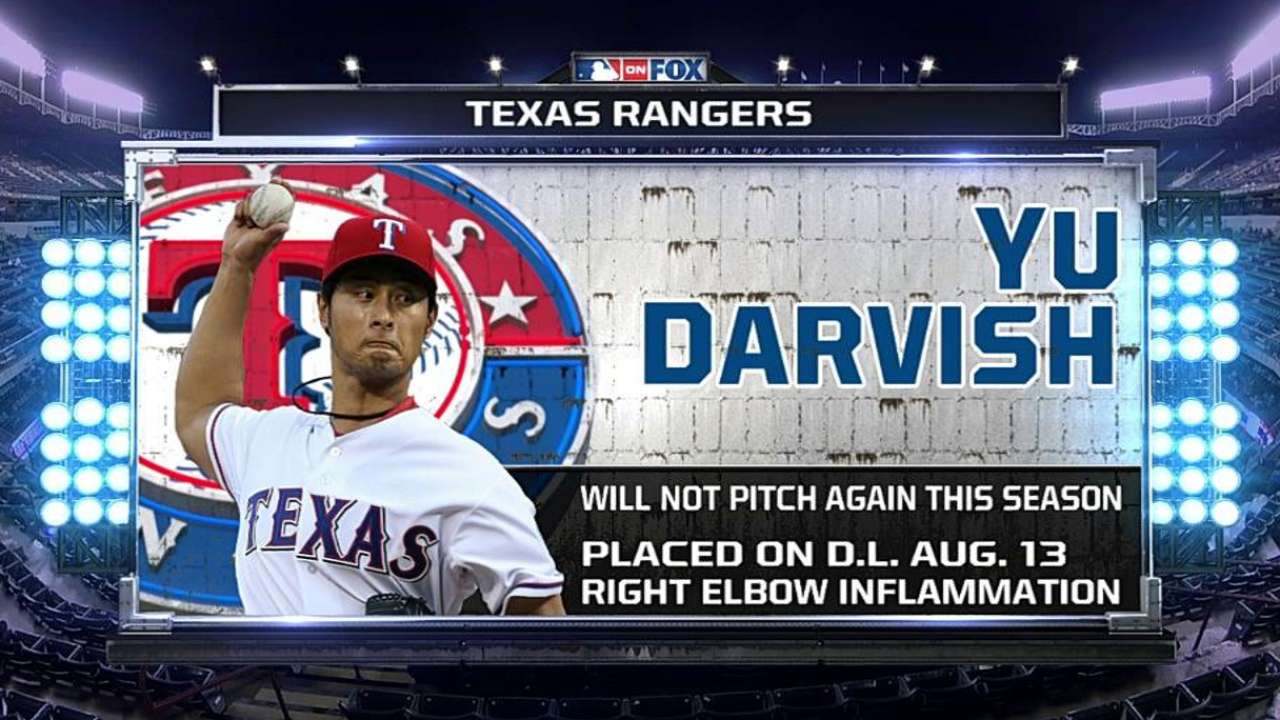 ARLINGTON -- The Rangers have made it official: Yu Darvish will not pitch again this season.
Darvish was placed on the disabled list on Aug. 13 due to mild inflammation in his right elbow. The ace right-hander is close to being fully recovered, but he has not begun a throwing program and the Rangers have decided not to push him to pitch again this season.
"It's kind of one of those deals -- if we wanted to be aggressive and push it, we could get him back the last week," general manager Jon Daniels said. "But we don't see any value in that. There is a lot more risk to it."
Darvish, who said when he went on the disabled list last month that he was concerned about his long-term future, did not contest the decision.
"I have to go by what the doctors and the trainers say, so it is what it is," Darvish said. "Since I haven't picked up a ball I can't really tell, but I think it's getting much better."
Darvish said he is still disappointed that his season was cut short. His last start was on Aug. 9 against the Astros.
"My job is to throw throughout the season so I'm disappointed I wasn't able to complete my job," Darvish said.
Darvish will wait another week or so before he starts throwing again. The Rangers would like to see him at least throw on the side before he returns to Japan in the offseason.
"Just so he feels good and we feel good that he is asymptomatic," Daniels said.
Darvish's condition has been described as mild inflammation, but it is around the ulnar collateral ligament. Daniels said there is no tear in the ligament, which would mean the dreaded Tommy John surgery. But it also means the Rangers don't want to take any chances as long as there is inflammation.
"That's part of why we're doing it the way we're doing it," Daniels said. "He's too important to rush back for one or two more starts."
"I'm glad we detected it at an early stage," Darvish said. "If I had continued to throw, it would have been more severe."
Darvish said he is not going to change anything in his conditioning program. But he will have a full off-season to do his normal program. Last winter, Darvish was dealing with a nerve issue in his right hip and had to spend much of the off-season in rehabilitation rather than in his normal conditioning program.
"Next season will be a different season," Darvish said. "Forget about this and look forward to the 2015 season."
Darvish ended up making 22 starts for the Rangers this season and finished 10-7 with a 3.06 ERA. Even without having pitched for almost a month, he is still seventh in the American League with 182 strikeouts.
T.R. Sullivan is a reporter for MLB.com. Read his blog, Postcards from Elysian Fields, and follow him on Twitter @Sullivan_Ranger. This story was not subject to the approval of Major League Baseball or its clubs.