Cueto's brilliance continues to be a bright spot
Despite Reds' tough second half, ace notches 17th win with Heisey's help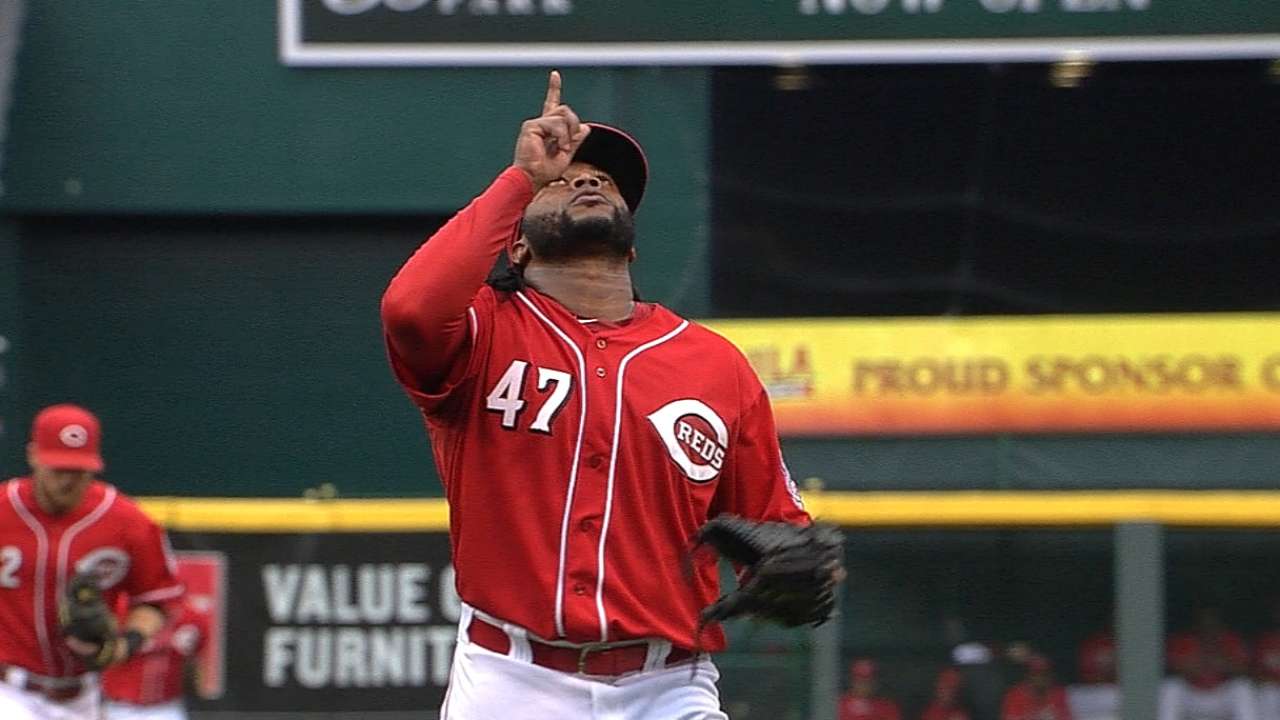 CINCINNATI -- For his second straight start, Johnny Cueto needed some late-inning help to notch a win, despite turning in a typically dominant performance. And for the second straight start, he got that help from the same teammate.
Chris Heisey hit a pinch-hit, go-ahead home run in the seventh inning to back another stellar Cueto outing as the Reds beat the Mets, 2-1, and snapped a four-game losing streak at Great American Ball Park on Saturday afternoon.
Heisey's 378-foot shot to left against New York starter Dillon Gee was his eighth homer of the year and fourth of the pinch-hit variety, which leads the Majors. It was also his 10th career pinch-hit homer.
"I was just up there hunting the fastball, and today I got one right where I wanted it and was able to put a good swing on it and hit a line-drive home run," Heisey said.
Heisey came through in the clutch for Cueto on Aug. 31 at Pittsburgh, when he homered twice to provide all of Cincinnati's offense in the contest. His first was a two-run blast that tied the game in the fifth, and the second was a solo homer that gave Cincinnati a 3-2 lead in the ninth.
"Lately, yeah," Heisey said when asked about his ability to come through for Cueto. "The last few times, I guess. The thing with Johnny is he's such a great competitor. … He finds a way to keep us in the ballgame every time, even when he doesn't have his best stuff or command. He just competes."
Cueto had some trouble early on in Saturday's game, allowing two singles in the first, but with the aid of a strikeout-caught stealing double play, he escaped the frame. In the second, however, the Mets broke through for their only run. Travis d'Arnaud hit a leadoff double and scored one out later on a Dilson Herrera single.
"They hit me really well [in the first two innings]," Cueto said through interpreter Tomas Vera. "My sinker was really working well, but they made the adjustment, and they were able to make contact really well. So they made an adjustment, and I had to make an adjustment at the same time."
Cueto adjusted and settled in after the next batter, Wilmer Flores, doubled. Cueto retired the next 13 Mets hitters in order before walking Lucas Duda with two outs in the sixth. Following another d'Arnaud double and a walk to Curtis Granderson, Cueto struck out Herrera to escape the bases-loaded jam.
"That was the game plan," Cueto said of pitching around Granderson to get to Herrera. "I specifically wanted to face that hitter so I could strike him out and get out of the inning."
The All-Star right-hander went seven innings, allowing one run on six hits while walking two and striking out eight to earn his 17th win, tying him with the Dodgers' Clayton Kershaw and the Giants' Madison Bumgarner for the Major League lead.
The Reds tied the game in the sixth on a solo homer by Todd Frazier, his 25th of the season and third in seven games. He hit three home runs in 37 games prior to that.
"I went on a stretch like that last year," Frazier said. "There's no real answer to it. Last year I was struggling, too, but this year I was getting hits. You gotta take the hits when you can. Anybody with 25 or more home runs, I think it's a good season so far."
Jumbo Diaz came on in the eighth and struck out Matt den Dekker and David Wright before giving way to closer Aroldis Chapman, who struck out Duda to end the inning.
Chapman had trouble finding the strike zone in the ninth. With one out, Granderson singled and was replaced by pinch-runner Eric Young Jr. Young stole second and Chapman walked Herrera. With Flores at the plate, the Mets tried a double steal, and Young was initially called safe at third.
That's when Reds manager of video scouting, Rob Coughlin, noticed something that prompted a manager's challenge.
"From the naked eye, you wouldn't have been able to tell that Young came off the bag," Price said. "And so Rob Coughlin immediately called, and I was able to get out there before we resumed play. And Kris Negron keeping the tag on the runner made that play."
Following a one-minute, 24-second review, the call was overturned and Young was ruled out.
Chapman walked Flores, but struck out pinch-hitter Eric Campbell to end the game, picking up his 30th save of the season.
In the midst of a disappointing second half of the season, the Reds continue to look for bright spots as they head toward the offseason. One of them is Cueto's continued excellence. He has a chance at 20 wins, and he can thank Heisey for helping him get Nos. 16 and 17.
"Him doing it twice makes me happy," Cueto said. "He helped me get my victory.
"I will do my best to get to 20. God willing, I would love to get to 20."
Manny Randhawa is an associate reporter for MLB.com. This story was not subject to the approval of Major League Baseball or its clubs.