Braun fighting through hand pain to stay in lineup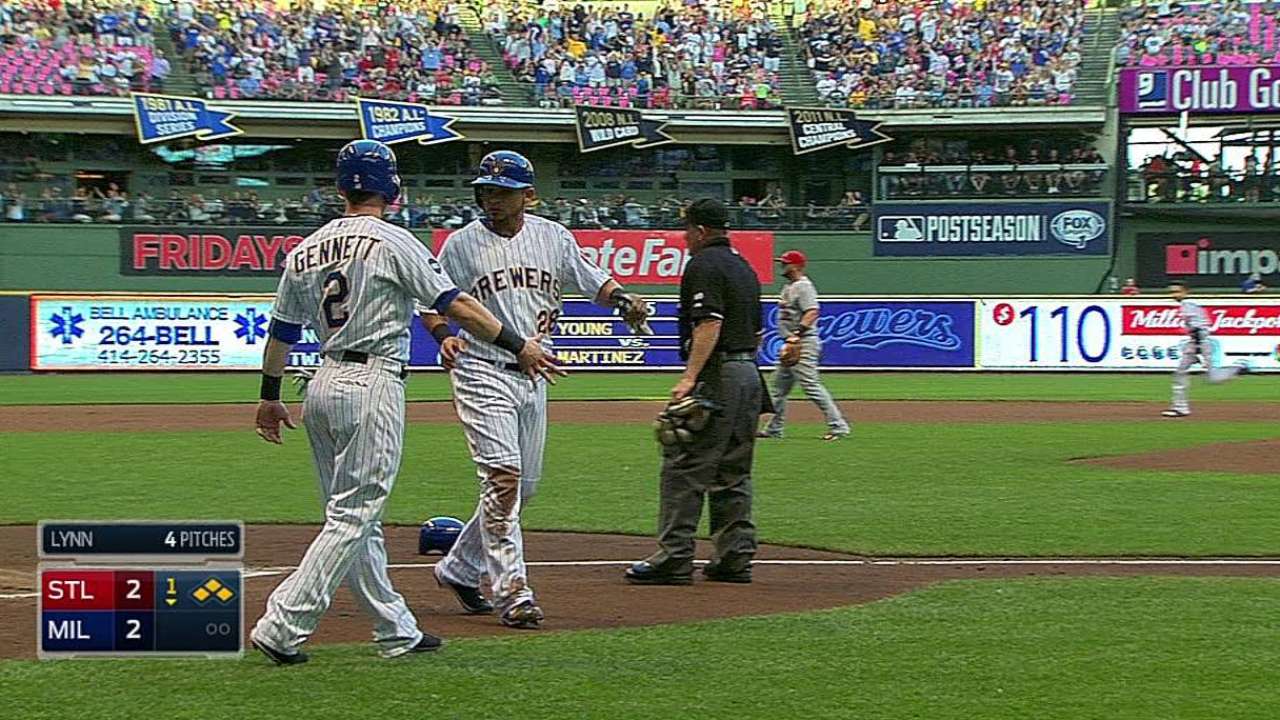 MILWAUKEE -- The events of Saturday afternoon at Miller Park were representative of the continued dilemma for Ryan Braun and the Brewers. Braun was initially out of the lineup with a flare-up of the right hand injury that has pained him all season. Then, after an acceptable round of batting practice, Braun was back in.
All season long, Braun has thus tight-roped. Not completely healthy, but healthy enough to play.
"It is either putting him back out there again and letting him fight through a game, or trying to get it right," manager Ron Roenicke said before batting practice. "He needs to help us this last month. We need to see the Braun that we are used to seeing. Just getting through games, I don't know if that's the way to do it. We need him in the third spot [in the batting order]. That's all there is to it."
As of Saturday afternoon, Braun was only one game removed from a two-day absence due to the birth of a baby daughter. He was 1-for-4 on Friday night, the lone hit a single that dropped in front of Cardinals left fielder Matt Holliday, and had a nearly identical outing on Saturday.
Again, Braun was 1-for-4 with a single that fell in front of Holliday and produced, with the help of two errors, two Brewers runs. Braun also grounded into a double play after the Brewers put two runners aboard to start the fifth inning, one of a number of outs that stung as Milwaukee hitters went 2-for-12 with runners in scoring position in a 5-3 loss.
Considering the nagging nature of his hand injury, caused by an inflamed nerve at the base of Braun's right thumb, he has been reasonably productive. Braun entered Saturday batting .275 with 18 home runs and 77 RBIs -- nine more RBIs than current club runner-up Khris Davis. Braun's .804 OPS was fourth on the team and 20th among National Leaguers with enough at-bats to qualify for the batting title.
The problem is that Braun set a high standard prior to a 2013 season cut short by a PED suspension. His OPS this season is more than 100 points below his career mark, and his current pace for 21 home runs and 88 RBIs would be career lows for a full season.
Braun's production has particularly dropped since the All-Star break. In his first 42 games since a layoff that team officials hoped would help, Braun batted .233 with a .697 OPS.
The Brewers' athletic training staff has worked closely with Braun this season to manage the pain, with periods of success. But when Braun is hurting, it is evident to Roenicke.
"It's not always about how he hits the ball, but just the swings," Roenicke said. "I know when he's right. You can see it. Everything is timed up right, the head is right on it. When he's not, he's trying to cheat. He opens up quicker and you aren't seeing the same things."
Last month, in his last extended conversation about the matter, Braun said that he was still evaluating options to address the injury during the offseason. A range of procedures remain under consideration.
"At this point, my only focus is dealing with it the best we can, managing it," Braun said. "The trainers have been great. We're trying to stay on the field and compete the best I can.
"Like I've said many times, we all deal with challenges physically, and this game is all about making adjustments. We all have different ailments, especially as you get to this point in the season. This is a unique and challenging one, because at times it really alters the way I hold the bat, the way I swing, my approach and some different things. It's frustrating, but I try to deal with it the best I can."
Adam McCalvy is a reporter for MLB.com. Read his blog, Brew Beat, and follow him on Twitter at @AdamMcCalvy. This story was not subject to the approval of Major League Baseball or its clubs.