Brewers lose ground as Lohse takes loss vs. Cards
Milwaukee falls four back in NL Central after righty's rough outing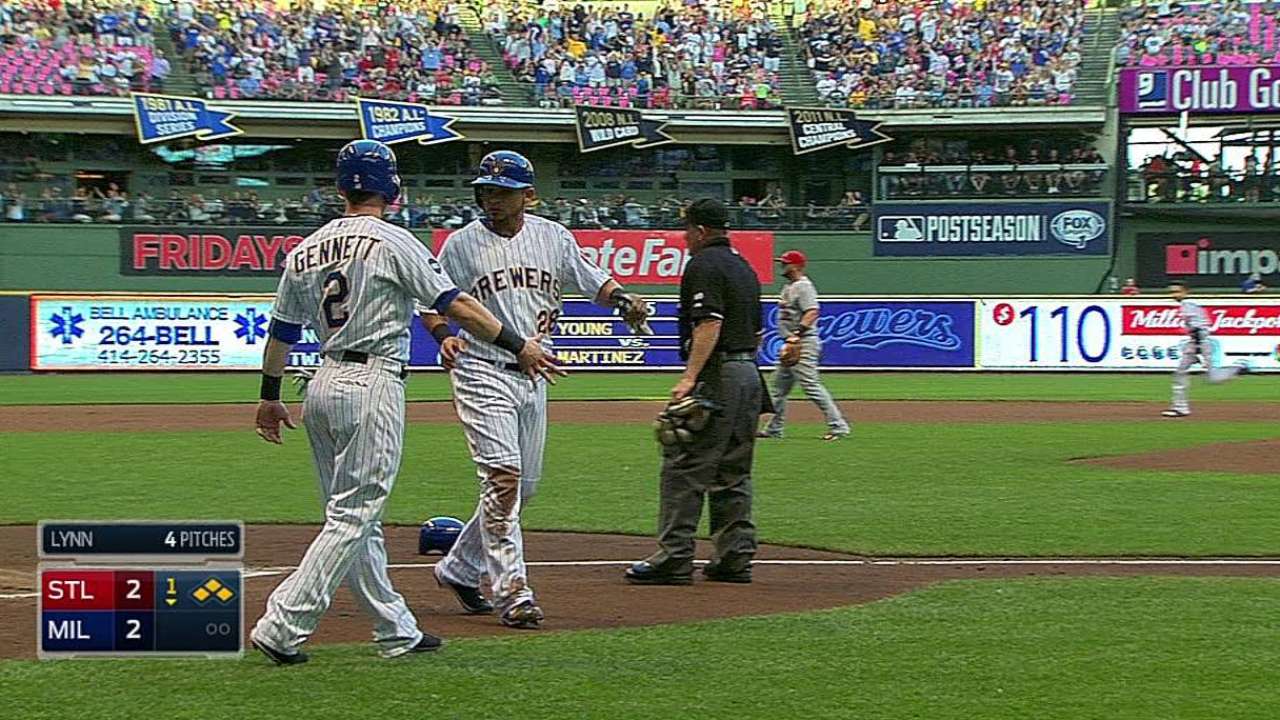 MILWAUKEE -- A week that began with the Brewers riding a 150-day wave atop the National League Central ended Saturday night with the club on the brink of third place.
Friday's uplifting victory proved but a one-day reprieve from Milwaukee's late-season slide, which resumed with a 5-3 loss to the Cardinals at Miller Park. Brewers pitchers retired the final 17 men they faced, limited the Cardinals to only four hits and saw St. Louis commit three errors in the first inning, yet Milwaukee still lost for the 10th time in 11 games and the 13th time in 16 games to fall four games behind the first-place Cardinals and to within one-half game of the third-place Pirates.
At 74-68, the Brewers will enter Sunday's showdown with Adam Wainwright tied with the Braves in the race for the NL's second Wild Card. Pittsburgh is one-half game behind. The Marlins, who arrive at Miller Park on Monday to start another important four-game series, are five games behind the Brewers and Braves.
The Brewers have 20 games left on the schedule, and when a reporter suggested Saturday night to losing pitcher Kyle Lohse that time was running short, Lohse answered assertively.
"That's your opinion," he said. "I think we have a lot of games left. We need to break it down one at a time and situation by situation. I put us in a hole, but we kept battling back and had opportunities. It just didn't come through today.
"The worst thing we can do is look at it like we only have 20 games left; we have to look at it as we have a game tomorrow and we have to come out and do the best we can to execute when we have opportunities. That's the way it is."
Milwaukee relievers delivered five scoreless innings and catcher Jonathan Lucroy added two more doubles to set a Major League record, but the Brewers were unable to overcome another frustrating start for the veteran Lohse, who has not been sharp since skipping a start last month to heal a sprained ankle.
In his three outings since returning to the mound, Lohse has surrendered 13 earned runs, 17 hits and eight walks in 15 2/3 innings, including his four-inning, five-run performance against the Cardinals.
Most of that damage came on two swings.
Slumping Cardinals first baseman Matt Adams hit a down-and-away curveball for a two-run home run in the first inning, and Oscar Taveras hit a low changeup for a two-run homer in the Cards' three-run fourth.
"The two home runs that were hit, I didn't think they were bad pitches," Brewers manager Ron Roenicke said. "But more concerning are the ones guys are getting on base on. The walks, leadoff walks -- [that is] not like Kyle. He hits the pitcher [Lance Lynn] when he's got two strikes on him -- that's not Kyle. That's more concerning than the home runs."
Lohse sprained his right ankle on Aug. 2 in St. Louis and made two subsequent starts unable to properly drive off the pitcher's mound before taking 11 days off to heal. Might he be paying a price now for the mechanical compromise he made then?
"It's hard to say," Lohse said. "There are flashes when it's feeling good. [Mentally] it's tough. That's why we do what we do. I'm sticking with it and doing the things I have to do. I just have to execute a lot better."
"He's a 'feel' guy, and he's lost his feel right now," Lucroy said. "We've got to get him back on track."
The Brewers never led, though they played the early innings in a 2-2 tie after Cardinals defenders committed three errors behind Lynn in the first inning. Two of the runs scored on Ryan Braun's RBI single to left fielder Matt Holliday, who bobbled the baseball for one error before throwing wildly for another.
Lucroy doubled and scored in the sixth inning as part of a two-double night. With his 48th and 49th doubles this season, Lucroy set a single-season Major League record for a primary catcher. He entered the day tied with Ivan Rodriguez, who hit 47 doubles (45 as a catcher) for the Rangers in 1996.
But meaningful hits mostly remained elusive. The Brewers went 2-for-12 with runners in scoring position in the game and are 5-for-26 in the series. Braun, who was originally out of the lineup because of pain in his troublesome right hand, finished 1-for-4, including a double play in the fifth after the Brewers had put the first two runners on base.
"We're still giving it everything we've got," Lucroy said. "That was a good game. Yeah, we hate losing, obviously, but we had runners on throughout the night tonight and we couldn't get that one knockout-punch hit."
It won't get any easier Sunday against Wainwright, who owns a 2.52 ERA in 21 career starts against Milwaukee despite a loss last month.
"To beat them here [ensures] that we're coming out of here with a split no matter what, and we have our ace on the mound tomorrow," Lynn said. "That was a good win for us tonight."
Adam McCalvy is a reporter for MLB.com. Read his blog, Brew Beat, and follow him on Twitter at @AdamMcCalvy. This story was not subject to the approval of Major League Baseball or its clubs.