Betances closing in on Mo's club K's record for relievers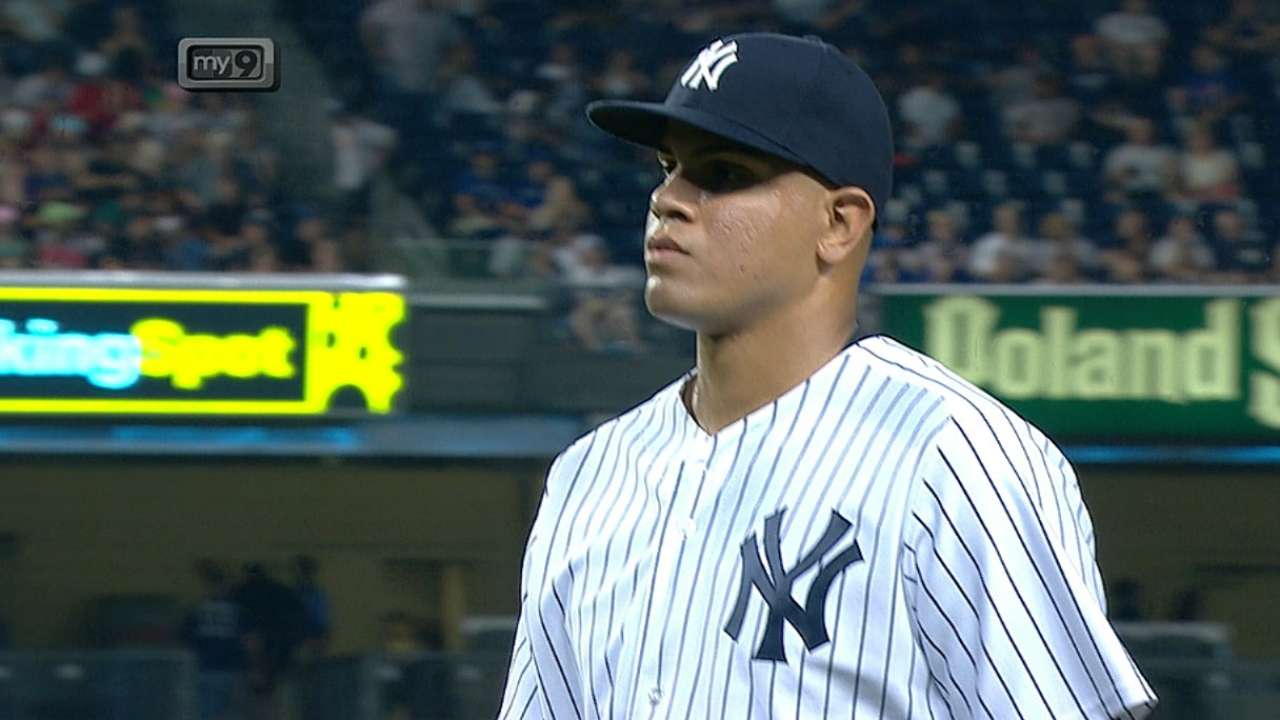 NEW YORK -- With a pair of strikeouts in the eighth inning of Friday's 1-0 loss to the Royals, Dellin Betances (124 K's) surpassed Goose Gossage (122) for the second-most strikeouts by a reliever in one season in Yankees history.
With 23 games left in the Yankees' season including Saturday, Betances will almost certainly pass Mariano Rivera's single-season club record of 130 strikeouts in 1996.
Just how dominant has Betances been?
"Look at the names," manager Joe Girardi said. "We always knew that the potential was there. And for him to burst on the scene, I mean, when you look at his numbers this year at the end of this year, they're going to be similar to Mo's in '96."
Rivera finished third in the American League Cy Young Award voting in 1996, accumulating his 130 strikeouts in 107 2/3 innings while allowing 73 hits with a 2.09 ERA and a 1.88 FIP -- fielding independent pitching, which measures ERA of the pitcher and strips out the role of defense, luck and sequencing. The next season Rivera went on to become the Yankees' closer.
Entering Saturday, Betances has posted a 1.43 ERA and a 1.65 FIP with 124 strikeouts in 82 innings while allowing just 41 hits.
"It's definitely special," Betances said. "It's been a special year for me, especially after a lot of things that happened in the last couple of years, to be here. It's been all worth the wait."
Betances had spent the past few years in the Minors trying to become a starter, but injuries and ineffectiveness hindered his progress. This season, he responded to make his first All-Star Game.
Girardi is still careful with how he uses Betances, who has thrown more innings than any other reliever this year, never throwing him three consecutive days and monitoring him when he throws multiple innings.
"It's something that we worry about," Girardi said. "We spend time researching it and looking at things and what pitchers have done in the past and what he's done in the past. ... The big thing was we hadn't seen him back-to-back very often. And that was the thing that was probably new for him this year more than anything."
Jamal Collier is an associate reporter for MLB.com. This story was not subject to the approval of Major League Baseball or its clubs.