Gee solid in seven, but Cueto cools Mets' bats
Right-hander fans six, gives up two runs; offense misses key chances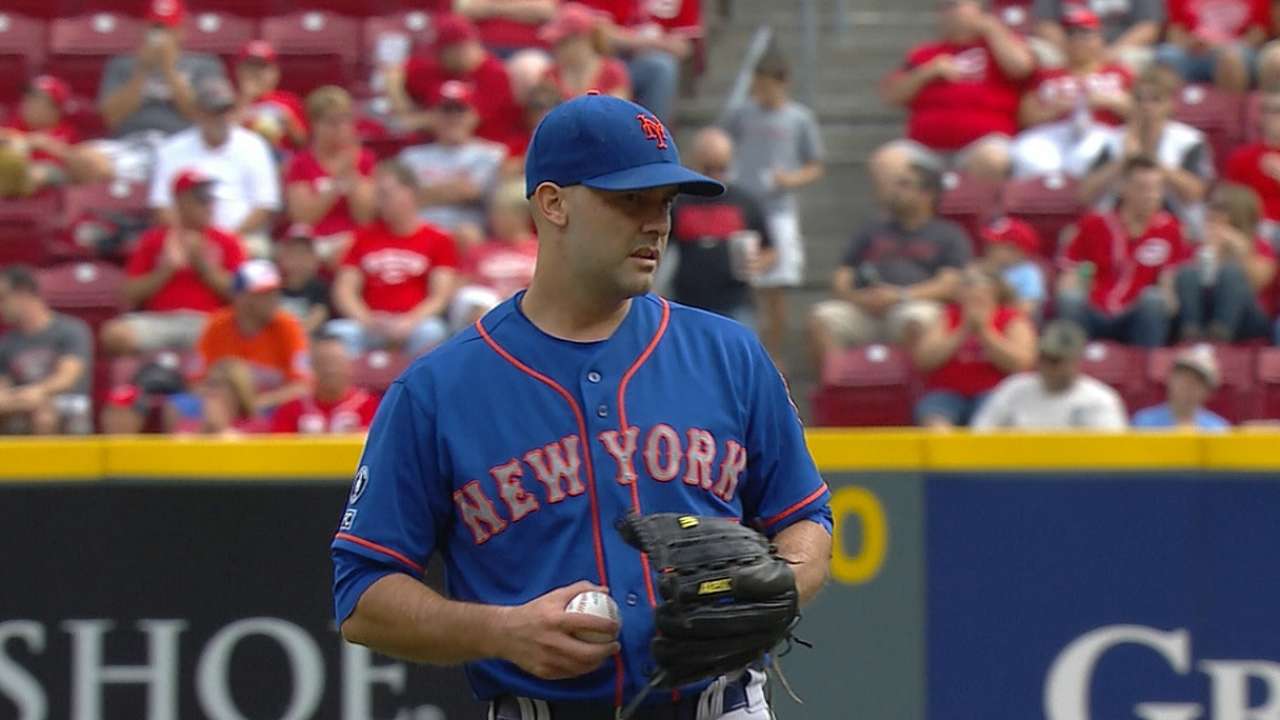 CINCINNATI -- Friday, the Mets packed a ton of hits into nine innings. Saturday, batting was back to business as usual.
New York wasn't able to take advantage of early struggles by Cincinnati ace Johnny Cueto and wasn't able to score late, either, as the Reds rallied for a 2-1 victory at Great American Ball Park. Home runs by Todd Frazier and Chris Heisey off Dillon Gee (6-7) in the sixth and seventh innings helped the Reds snap New York's three-game win streak and even the series.
The flow of Saturday's game was much closer to what was expected than Friday's 14-5 New York win that saw the Mets roll up 18 hits. After all, the Reds came into Saturday hitting .219 since the All-Star break -- the lowest mark in baseball -- and the Mets weren't much better (.223). New York managed seven hits Saturday, but left eight on base.
The Mets still had a shot to win or tie in the ninth inning, but were denied by an overturned call and a 103-mph fastball.
Dilson Herrera and Eric Young Jr. were on first and second base, respectively, with one out and Wilmer Flores batting against Cincinnati closer Aroldis Chapman. Mets manager Terry Collins called for the double steal on the second pitch to Flores and both runners were initially called safe. When Young popped up, however, he stumbled and his foot came off the bag for just long enough to be out. Reds third baseman Kristopher Negron kept the tag on Young the entire time.
Cincinnati manager Bryan Price asked for a review of the call, and it was overturned.
"I tried to keep my foot on the spot as long as possible," Young said. "I don't know how long [Negron] kept [the tag] on or where he tagged me. You wouldn't think he'd leave the tag on that long. Tip your cap to him. It worked out for them."
"It certainly took some steam out," Collins said. "It was rather disappointing."
Collins said that if a more experienced player than the 20-year-old Herrera had been at second, he might have called for the double steal a second time after Chapman walked Flores to put two runners on base again.
Pinch-hitter Eric Campbell, batting .289 against lefties, came to the plate next. Chapman struck Campbell out on four pitches, the final one clocked at 103 mph.
Gee pitched well enough to win, but was victimized by two home runs.
"The pitch to Frazier was a first-pitch slider that he went out and got," Gee said. "Sometimes you have to tip your cap. The only pitch I'm still thinking about is the one to Heisey. I got a little on the fence. I should have thrown a pitch with conviction, and I didn't do that."
Mets catcher Travis d'Arnaud said there was no disagreement with Gee about the first pitch to Heisey.
"We were trying to go inside, but it ended up over the plate," d'Arnaud said. "It was just the location. It was right down the middle."
"I was just up there hunting the fastball, and today I got one right where I wanted it and was able to put a good swing on it and hit a line-drive home run," Heisey said.
The Mets opened the scoring with a run off Cueto (17-8) in the second inning. Herrera's hit to shallow center scored d'Arnaud, who had led off with a double off the center-field wall.
It appeared New York had a chance to knock out Cueto early when the Reds' All-Star right-hander threw 40 pitches during the first two innings. Gee's second-inning flyout, however, was the first in a string of 13 consecutive Mets Cueto retired. He also fanned Herrera with the bases loaded to end the sixth.
"We had some opportunities where we didn't push anything across," Collins said. "When you look at Cueto's numbers, he's got those numbers because he's really good."
Andy Call is a contributor to MLB.com. This story was not subject to the approval of Major League Baseball or its clubs.