Homers help Cards extend Central lead over Brewers
Division cushion four games after Adams, Taveras hit two-run shots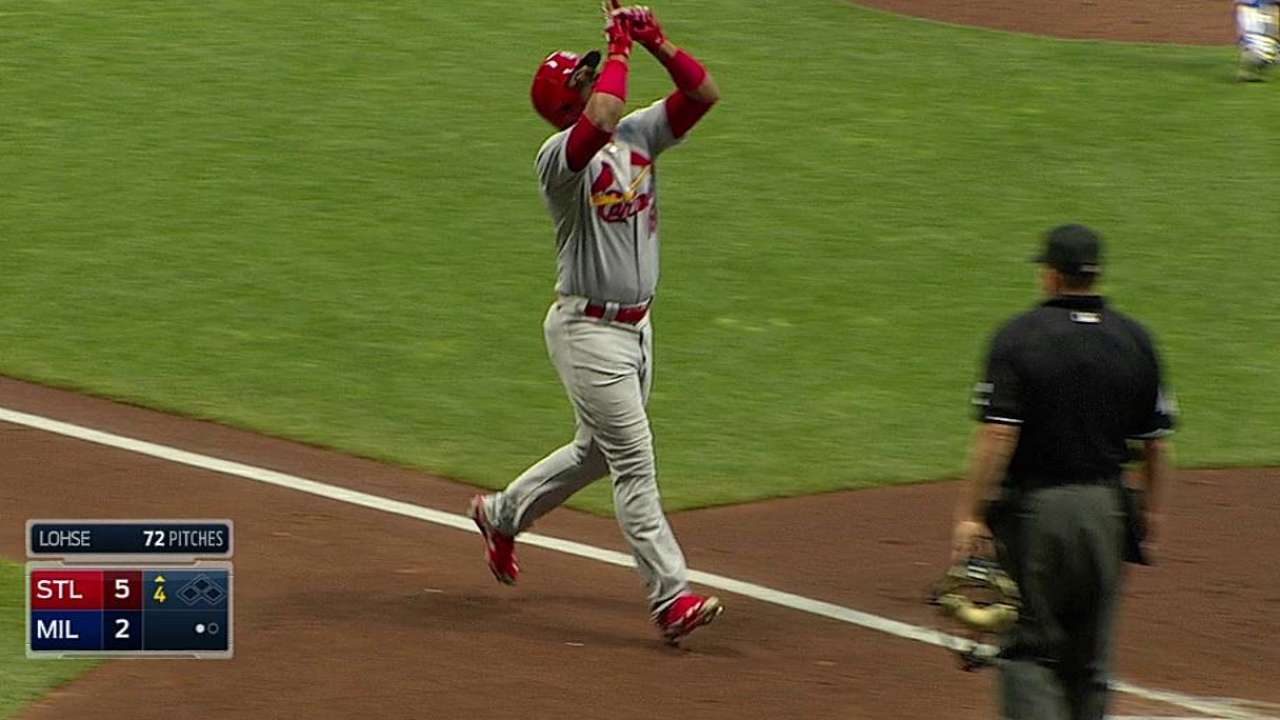 MILWAUKEE -- Matt Adams returned to the starting lineup fresh from two days off, and Oscar Taveras joined with some appropriately channeled anxiousness to prove he deserved less time on the bench. The pair also showed up on Saturday night with game-changing pop.
Two-run homers by Adams and Taveras helped the Cardinals lessen the consequence of a three-error first inning and reward Lance Lynn for a gritty six-inning start in a 5-3 win over the Brewers. The victory, coming in front of 39,042 at Miller Park, put another game of separation between the two division contenders, with the Cardinals' National League Central lead now at four with 20 games left on the regular-season schedule.
"To beat them here [ensures] that we're coming out of here with a split no matter what," said Lynn, the only NL pitcher with three consecutive 15-win seasons. "And we have our ace on the mound tomorrow."
Adams, who tweaked his left oblique on a swing Wednesday, returned to the field with a literal bang. After hitting towering drives during batting practice, Adams took Brewers starter Kyle Lohse deep on a 1-2 pitch with Matt Carpenter aboard in the first.
"We needed him today as long as he wasn't going to hurt himself," manager Mike Matheny said. "He was putting on a show today in BP, so you could tell he could feel it. I was hoping it would translate, and it did."
The homer, Adams' 14th of the season, was also his eighth in 25 career games against the Brewers. It came, too, on the end of a 5-for-44 skid that seemed to necessitate a bit of rest even separate from the oblique issue.
"This late in the season, a few mental days off will do anybody good," Adams said. "But I wanted to be out there playing with my teammates, so it felt good being back out there today."
A defensively sloppy bottom half of the inning allowed Milwaukee to pull even, but the Cardinals answered back by knocking Lohse around again in the fourth. After Kolten Wong drilled a run-scoring double, Taveras, making his first start since Monday, connected for his third home run of the season.
Taveras' inclusion in the lineup was prompted by the rookie's impressive pinch-hit appearance a day earlier and also was part of Matheny's interest in keeping the rookie from getting stale. Taveras, eager to build off Friday's at-bat and recent changes to his swing, took advantage.
"It has been a little hard, but I understand what the team is looking for," Taveras, speaking through a translator, said of the recent cut in playing time. "I'm going to keep working hard, and when I get those opportunities, I'll give the best for the team. I'm going to keep working and hope to see positive things."
Lohse wouldn't pitch beyond the fourth.
"It's four pitches," the former St. Louis starter said afterward. "I don't get a curveball in the dirt [to Adams]. I don't bury a slider to [Jhonny] Peralta. I don't get the fastball up to Wong. And I don't get the changeup away to Taveras."
Taveras' blast provided a three-run cushion for Lynn, who had to work around errors and his midgame command issues to become the NL's sixth 15-game winner. His defense made a mess of the first inning, with leadoff hitter Scooter Gennett reaching on Adams' fielding error and Matt Holliday turning a routine single by Ryan Braun into a two-run, three-base advance.
Holliday was charged with a fielding and throwing error on the play. Ironically, the Cardinals' last three-error inning also had been at Miller Park and came in the first inning of a July 18, 2012 game.
"When you look up and you throw five, six pitches and there are three errors on the board and two runs," Lynn noted, "that's not exactly what you game-planned for to start the game."
But Lynn didn't buckle, continuing to show that those swelling innings are a thing of his past.
"I think he's starting to see the benefits of having a consistent approach on the mound, regardless of what happens," Matheny said. "Overall, I thought he just did ... almost what you would expect a veteran pitcher to do."
Holliday helped Lynn out of further trouble as he threw out Braun trying to score from third on a flyout. It took a review of the play at the plate to secure the double play for St. Louis. Lynn followed by striking out five of the next six batters he faced.
The Brewers adopted a more-patient approach beginning in the fourth, which led to four walks within a seven-batter frame. Lynn also hit one during that stretch. But he worked out of one bases-loaded jam in which Lohse was pulled for a pinch-hitter, and then killed a fifth-inning stirring with a double play.
"The whole night was kind of a grind," Lynn said. "They were able to foul a bunch of pitches off and keep getting me into deep counts. You're going to have those nights, and when you come out of those nights on top, it makes it that much better."
Lynn, who allowed a run on a pair of sixth-inning doubles, needed 114 pitches to solidify his fifth consecutive six-inning start. Behind him, Sam Freeman, Carlos Martinez and Trevor Rosenthal offered stellar relief, which was necessary since the Cardinals' offense went hitless after Taveras' home run.
Jenifer Langosch is a reporter for MLB.com. Read her blog, By Gosh, It's Langosch, and follow her on Twitter @LangoschMLB. This story was not subject to the approval of Major League Baseball or its clubs.