Aviles starting to feel normal after concussion symptoms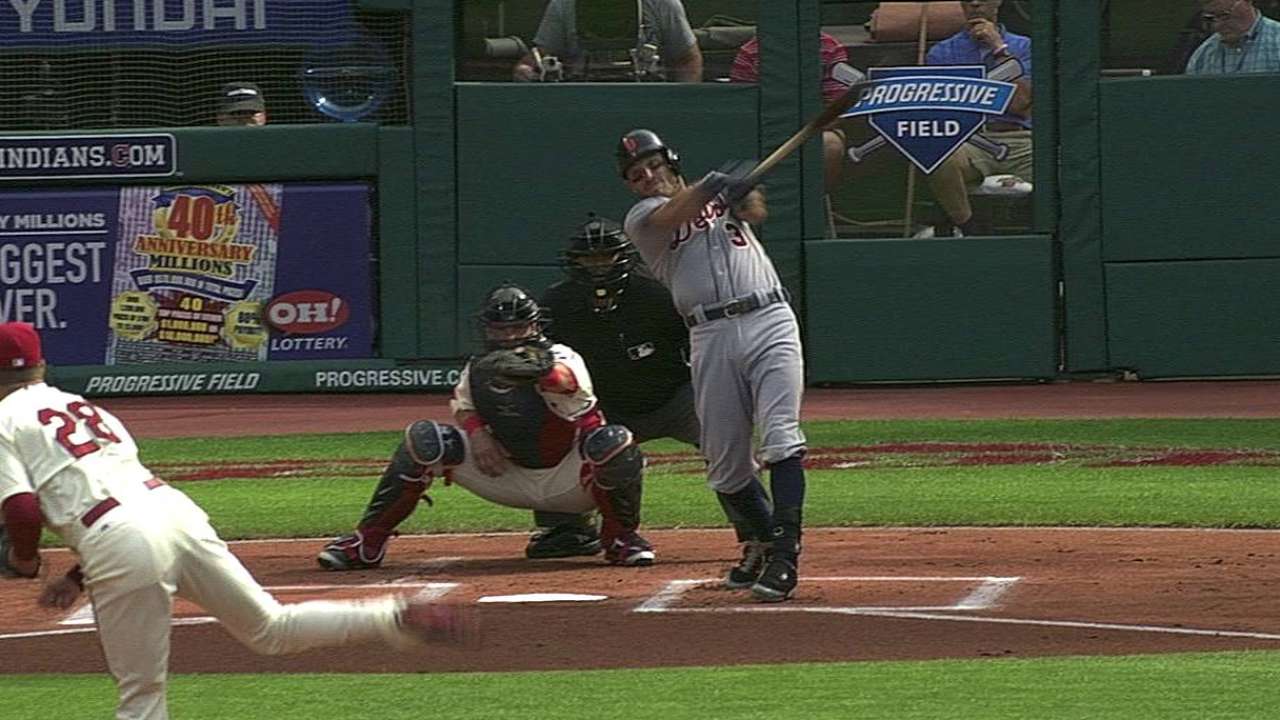 CLEVELAND -- When Mike Aviles is in the Indians' clubhouse, it is hard not to notice. The veteran utility man is constantly overflowing with energy, serves as the resident jokester and can often be heard giving any number of his teammates a hard time.
Over the past few days, Cleveland's locker room has been noticeably quiet in light of Aviles' absence because of concussion-like symptoms. Prior to Saturday's game, Aviles was back in the clubhouse, watching college football and acting more like his typical self in the hours leading up to the Tribe's tilt with the White Sox.
"I think he's a little perkier," Indians manager Terry Francona said. "Those first few days, he kind of looked under the weather. Again, he'll just start to pass milestones or tests along the way, and when he gets clearance, we'll get him back doing baseball stuff."
Francona noted that Aviles was cleared to join his teammates in the dugout for roughly three innings of Friday night's game against Chicago. The utility man might be allowed to do the same for Saturday's contest with the prospect of resuming some normal activities over the next few days.
Aviles has been sidelined since leaving Monday's game, during which he hit his head on a first-inning dive attempt in right field against the Tigers. Aviles stayed in the game for three innings, but then exited with what was initially described as whiplash. By Wednesday, Francona noted that Aviles was dealing with concussion symptoms and needed to go through baseball's protocol.
"The biggest thing is he's starting to improve," Francona said. "It hit him pretty hard. I don't think that's ever happened for him. Sometimes, guys don't really know what to expect. It's not a really good feeling."
Through 97 games this season, Aviles has hit .245 with five home runs and 33 RBIs.
Quote to note
"Unfortunately, he's not here. I've got to carry the Ohio State flag myself right now."
-- Indians outfielder J.B. Shuck, on the injured Nick Swisher, who is also a product of Ohio State University
Smoke signals
• Francona has been thrilled with rookie Jose Ramirez's contributions out of the second spot of the team's lineup. Entering Saturday, the shortstop had a .317/.364/.415 slash line with seven extra-base hits, seven sacrifice bunts, seven RBIs and 11 runs scored through 21 games as Cleveland's No. 2 hitter.
"He can steal a base. He can move a runner. He can handle the bat." Francona said. "It's more, if you have to manufacture [a run], he's a good guy to do it, because he can do multiple things."
• On Monday, Indians right fielder David Murphy was activated from the disabled list (following a bout with a right oblique strain) and delivered a walk-off single in his first at-bat back with the team in a 2-1, 10-inning win over Chicago. Francona noted that Murphy will likely get his first start back with the Indians on Sunday against the White Sox.
• Cleveland's win on Friday marked the club's American League-leading 11th walk-off victory. Dating back to 1988, the Indians' record for walk-offs in one season is 12 (accomplished in 1995 and 2011). Eight different Tribe players have had a walk-off hit this season.
• With a 4-2 loss to Triple-A Durham on Saturday, Triple-A Columbus' season came to a close. The Clippers, who went 79-65 in the regular season to reach the International League playoffs, lost the semifinal matchup three games to one.
Jordan Bastian is a reporter for MLB.com. Read his blog, Major League Bastian, and follow him on Twitter @MLBastian. This story was not subject to the approval of Major League Baseball or its clubs.