Duffy exits with shoulder soreness after one pitch
Royals left-hander will head back to Kansas City to undergo MRI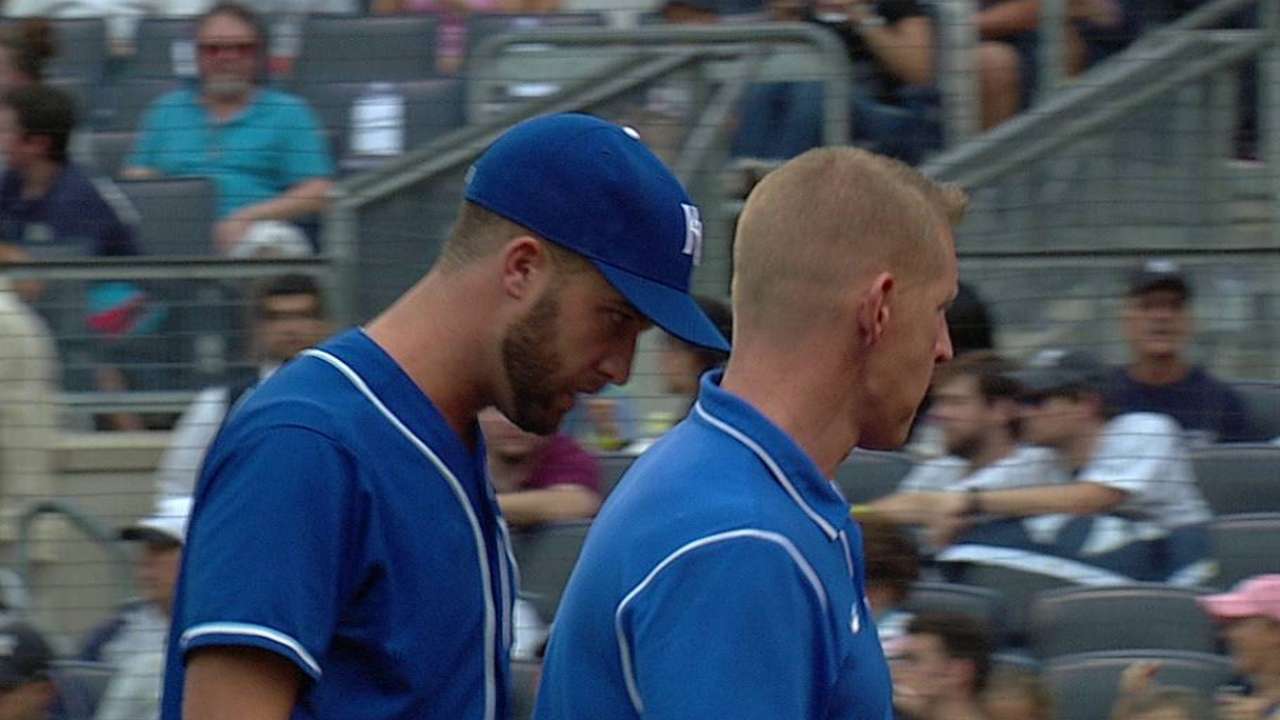 NEW YORK -- After throwing just one pitch to Yankees leadoff hitter Jacoby Ellsbury, Royals left-hander Danny Duffy exited Saturday's eventual 6-2 loss to the Yankees at the Stadium with left shoulder soreness.
Duffy came up grimacing, and catcher Salvador Perez motioned for manager Ned Yost and the Royals' trainers to check on him. After a brief visit, Duffy exited and was relieved by recent callup Liam Hendriks.
"He just had some shoulder tightness in the front," said Yost. "He warmed up OK, he didn't say anything, he went and threw the first pitch. He didn't feel like a pop or anything. It just was real tight, a little bit sore he said. I'm not pushing it."
"It took a little longer to loosen up today than it normally does," said Duffy, who will head to Kansas City on Sunday for an MRI. "At this point in the season, there's always something going on."
The bullpen had a difficult time handling the rest of the game and, between Hendriks and Casey Coleman, allowed six runs in the first five innings.
"I feel terrible that we cashed a lot of our bullpen today, but I know the guys have a lot of fight in them and they're going to come back and make it happen tomorrow," said Duffy.
"It's painful, but I have a good feeling about it," Duffy said of his shoulder. "I don't think this is going to end my season. I know that I'm important to this team, and I'm going to do everything I can to get back out there as soon as possible."
Still, Duffy's optimism seemed trumped by his disappointment after the game, again having to answer questions about an injury after he thought his Tommy John surgery in 2012 might be the last of his arm issues.
Since starting the season in the bullpen, Duffy entered the rotation in May and has been strong since, posting an 8-11 record with a 2.42 ERA over 141 1/3 innings.
"It's not what I want to do, but it's what is necessary," said Duffy of his impending trip home. "I'm just very lucky to have the people who I have in my corner on and off the field. I'm very lucky to have the support system that I do."
Jake Kring-Schreifels is an associate reporter for MLB.com. This story was not subject to the approval of Major League Baseball or its clubs.