Mariners rally, up lead for second AL Wild Card spot
Seager's HR ignites rally; Seattle leads Detroit by 1 1/2 games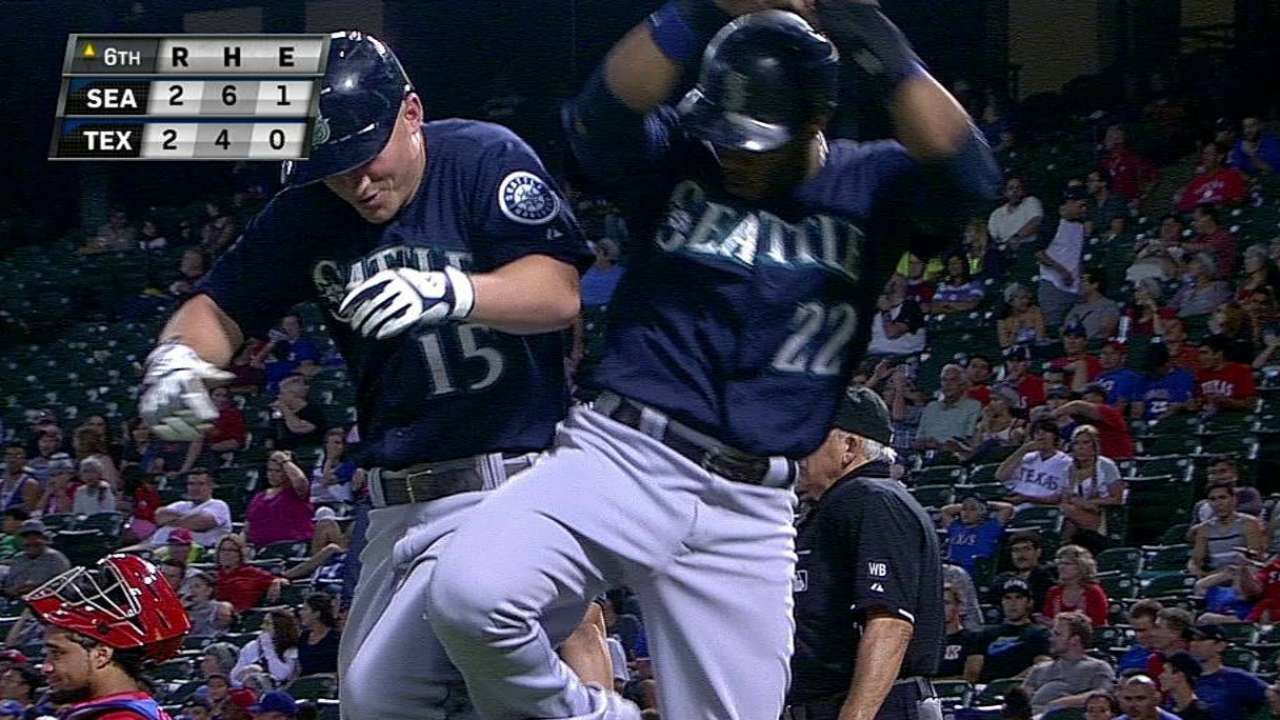 ARLINGTON -- Five minutes before midnight Saturday, Mariners third baseman Kyle Seager surpassed his career high in homers and RBIs and drove a dagger into the hearts of the Rangers yet again.
In the sixth inning of a rain-delayed game, Seager hit a crucial two-run home run that tied the game. Then, early Sunday morning in the eighth inning, he moved the winning run from first to third on the way to a 4-2 victory over Texas.
"There's a lot of people out there that say they don't believe in 'clutch,' but he's pretty special," manager Lloyd McClendon said of Seager. "It's a nice feeling having him at the plate with the game on the line."
Seager went 3-for-5, and his final hit set up Kendrys Morales' go-ahead single.
The first pitch was delayed 3 hours, 13 minutes. The final out was recorded at 1:18 a.m. Sunday.
Seager's sixth-inning homer off starter Nick Martinez was his fifth in 18 games this season against Texas. He has hit 13 homers against the Rangers -- the most against any team in his four-year career. He is now a .332 (84-for-253) hitter against the Rangers.
"He has had quite the hot streak against us this year," Martinez said. "Not to take anything away from him but a lot of the hits and home runs have been off mistakes. He has hit some good pitches, but he has capitalized on some mistakes."
Seager's shot was also his 23rd homer of the season, one more than his previous high set last year, and his 87th and 88th RBIs (he had 86 in 2012).
Seager hit just .172 in the final month of the season last year after hitting .194 in August. This year, however, he is hitting .277 in August and September.
"I know what I did wrong at the end of last year," Seager said of the difference between his performance down the stretch last season and this year. "It's just part of the learning process."
One major difference between September 2013 and this month for Seager is that his team is in playoff contention now.
The victory moved the Mariners, winners of five in row and six of seven, to 1 1/2 games ahead of Detroit for the second AL Wild Card berth.
"This is fun, this is how it's supposed to be," Seager said. "We know what we have here, it's been a lot of fun and it's good that we're playing the way we are. It'll be a fun last couple of weeks."
With a win Sunday afternoon, the Mariners could close out a four-game sweep of the Rangers, who dropped their eighth consecutive game early Sunday morning.
"I don't think the attitude ever changes for us as far as coming in here, 'It's the Rangers, we'll be fine, we'll just give it a half-effort,'" said Logan Morrison, who drove in Morales for the game's final run. "I don't think that ever happens. Just being locked in, focusing on every pitch no matter who we're playing, focusing on every ground ball, things like that. We've done a good job of that here and we've got to get one more."
Seager's shot spared Mariners starter Chris Young from facing a potential hard-luck loss; Young had fallen behind 2-0 on two unearned runs in the fourth inning. Young left after five innings, but his outing was a significant improvement on his past two starts, when he threw a total of 4 1/3 innings.
Young allowed only those two unearned runs on four hits and three walks (one intentional). He struck out six and held the Rangers hitless in their first nine at-bats with men in scoring position.
"I certainly wasn't very satisfied with my previous start and I wanted to contribute to a win and the guys picked me up," Young said. "It was a good overall effort, especially on a tough night when we had to wait awhile to play."
In the eighth against Texas reliever Neal Cotts, Chris Denorfia drew a leadoff walk and Seager ripped a single through the hole on the right side to move Denorfia to third. Morales, who belted a pair of two-run homers Friday night, then gave the Mariners the lead with a single to left.
Danny Farquhar earned the victory for the Mariners by pitching scoreless seventh and eighth innings. Fernando Rodney pitched a perfect ninth and got his American League-leading 43rd save more than six hours after the game should have started.
"It was worth the wait," McClendon said.
Dave Sessions is a contributor to MLB.com. This story was not subject to the approval of Major League Baseball or its clubs.