Buchholz continues impressive stretch, contains Jays
Righty allows two runs over 6 1/3, while offense delivers early support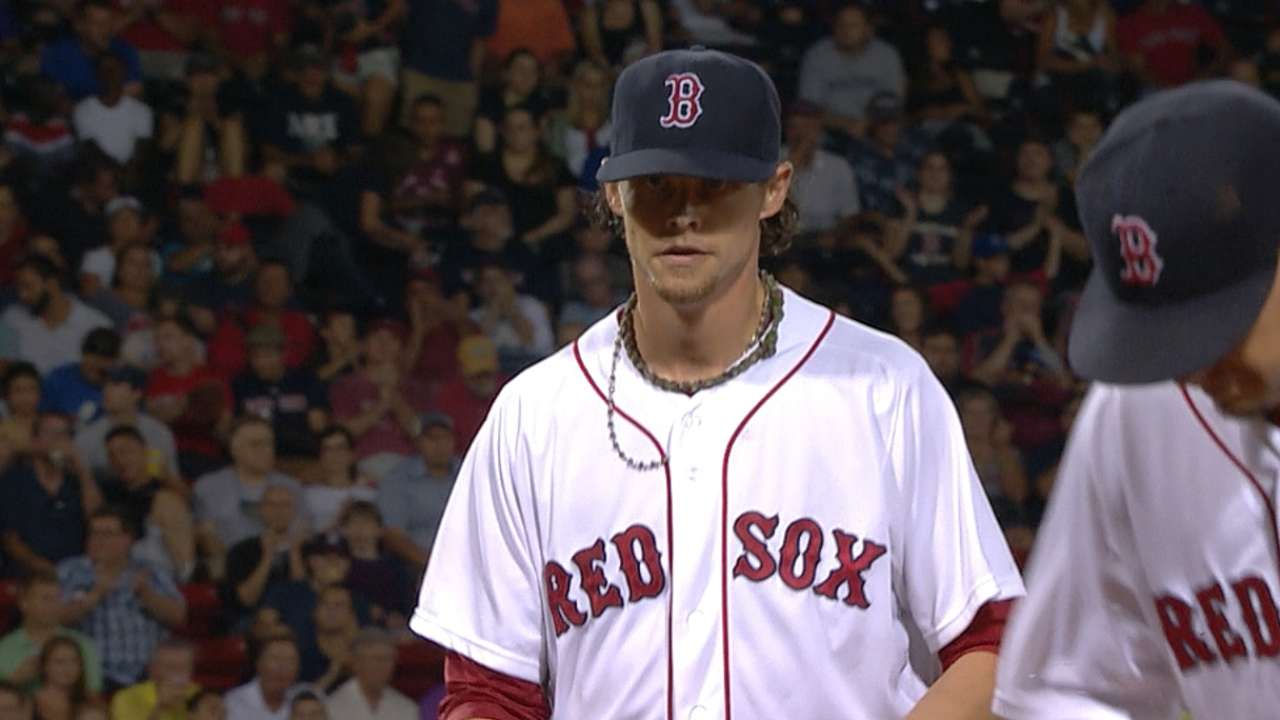 BOSTON -- Clay Buchholz may finally be starting to round into form. And while that won't mean much to the 2014 Red Sox because of how they've played through the first five months of the season, his continued success will be paramount to how the club will fare in 2015.
On Saturday night, Buchholz was strong once again in a 4-3 victory over the Blue Jays at Fenway Park. For the first time all season, the righty has made three consecutive quality starts.
"At some point in the game, I'm using each and every one of my pitches in an effective way," Buchholz said. "Regardless of it being two pitches in one inning to get outs, I'm using them and I have confidence in them."
Buchholz tossed a three-hit shutout against the Rays on Sunday and followed it up with more of the same Saturday. Following a one-hour, 12-minute weather delay, Buchholz surrendered a run on two hits and walk in the first. But he retired 12 of the next 13 batters.
On the night, Buchholz gave up two runs on four hits over 6 1/3 innings. He walked two, hit a batter and fanned five. The 30-year-old, who figures to be at the top of the Red Sox rotation next year, has posted a 3.22 ERA and 3.50 K/BB ratio over his last six starts.
After going 12-1 with a 1.74 ERA in 2013, Buchholz has a 5.29 ERA over 24 starts this season. But things have turned for him lately.
"He looks like the old Buchholz," Toronto manager John Gibbons said. "His last time in Toronto and again tonight, early on when he was struggling, he was missing and leaving a lot of balls in the middle of the plate and we were taking advantage of it. Now, he's living on the corners better. He's a good pitcher. He goes through ruts like anybody else, but he looks like the old guy now."
In the sixth, Buchholz gave up a leadoff double and a walk, but dialed up a 1-6-3 double play and then a flyout to hold Boston's three-run edge. The next frame, though, he hit Danny Valencia and after recording an out, exited for Craig Breslow. Colby Rasmus took the lefty deep down the right-field line to bring Toronto within one run.
Burke Badenhop and Drake Britton held Toronto scoreless for the next two innings. The Blue Jays put runners on first and second in the eighth, but Red Sox center fielder Mookie Betts made a diving catch coming in on a Kevin Pillar popup to end the inning. Edward Mujica got the game's final two outs to record his first save since temporarily taking over for Koji Uehara as Boston's closer.
"The opportunity is there," said Mujica, who saved 37 games with the Cardinals last season. "This is a big opportunity for me to go out there and show what I can do."
Boston's offense wasn't explosive by any means -- not like the nine-run outburst Friday that featured a pair of multi-run comebacks -- but it got the job done. After dropping their first six games at home to Toronto earlier in the year, the Red Sox have taken the last two.
Boston scored once in each of the first four innings. Betts hit his first career triple to start Boston's night, then scored on a Dustin Pedroia groundout. In the second, Will Middlebrooks lined a single to left to bring in Mike Napoli, who then exited because of illness.
David Ortiz lumbered home from first on a Yoenis Cespedes double to right in the third. Christian Vazquez knocked in Middlebrooks with a double high off the Green Monster the next inning. Middlebrooks went 1-for-3 with a walk, but made solid contact in all three at-bats and nearly clubbed an opposite-field homer in the sixth, but Jose Bautista made the catch up against the wall.
"Any time we get production out of that bottom third of the order, regardless of who is in those slots, we're likely to be in for a good night offensively," Red Sox manager Farrell said. "The last two nights have been that for us.
"Will is swinging the bat -- he came out of a tough series in New York -- and to bounce back and swing the bat like he has coming off the bench [Friday] night and tonight, it's encouraging."
Blue Jays starter J.A. Happ took the loss, allowing seven hits and four runs over six innings, walking three while fanning five.
Steven Petrella is an associate reporter for MLB.com. This story was not subject to the approval of Major League Baseball or its clubs.