Blue Jays' Wild Card aspirations take another hit
Toronto falls six back of Seattle as Happ scuffles early at Fenway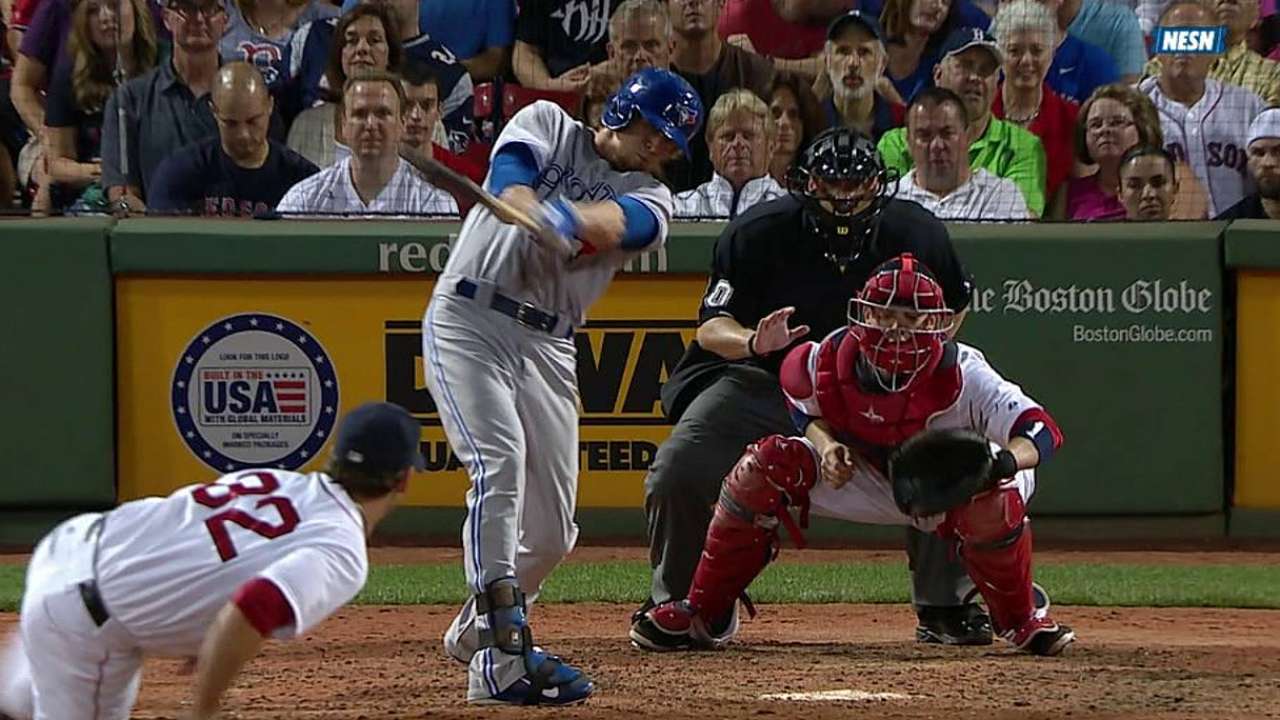 BOSTON -- The Blue Jays arrived at Fenway Park for this weekend series with the intention of rejoining the mix for the second American League Wild Card spot, but instead they are now teetering on the verge of elimination.
Toronto was riding a five-game winning streak when the series began Friday night, but a pair of losses has made the uphill challenge even more daunting. Time is quickly running out and Saturday night's 4-3 loss to the Red Sox makes that even more apparent.
Left-hander J.A. Happ surrendered four runs and the Blue Jays' late-inning comeback was too little, too late. The previous success against Boston is a distant memory and now the question is whether the club has anything left in the tank.
"Have to consider the time of the year, we're still in this thing, but we're hanging on by a thread," Blue Jays manager John Gibbons said. "They've been two close ballgames that could have gone either way, but we just came up short."
The back-to-back losses have dropped the Blue Jays to six games back of Seattle for the second Wild Card spot. That's difficult enough to overcome, but then there's also the fact that the Yankees, Indians and Tigers are also ahead of Toronto in the standings.
If the margin for error was small before, it's microscopic now. That's what makes the past two nights so frustrating for an organization that seemed to have a seven-game winning streak within its grasp only to come up short when it mattered the most.
The blame for Friday night's game was on the bullpen after the Blue Jays were unable to hold onto a pair of late-inning leads. Saturday night, it was an inability to come through with a key hit despite multiple opportunities in the waning moments.
"We can't lose too many more, that's for sure," Gibbons said. "But they're all different, every day's a new day."
Happ struggled early, and while he eventually recovered and got through six innings, the damage had been done. He allowed one run in each of the first four innings as he battled early control problems and surrendered a lot of hard-hit balls.
In the first, it was a leadoff triple by Mookie Betts that led to Boston's first run. Three singles in the second brought another run in with Will Middlebrooks getting the RBI. Yoenis Cespedes and Christian Vazquez followed in each of the next two innings with RBI doubles as Boston took a 4-1 lead.
Happ bounced back, but the offense struggled to follow suit. The 31-year-old has lost four of his past five decisions, but has a respectable 4.25 ERA for a fifth starter over that span. He has pitched at least six innings in all but one of his last seven outings, but hasn't received a lot of run support.
"I wasn't sharp in the first inning, but after that I actually felt like I was making pitches and they did a good job of putting the bat on the ball," Happ said. "Maybe I have to kind of rethink the game plan going on. You feel like you're executing, not getting the results, try to figure out what's going on. We'll definitely take a look and see if we have to change something."
Toronto started off with one run in the first on an RBI double by Dioner Navarro. From there, the Blue Jays weren't able to get anything going against right-hander Clay Buchholz, who was dominant for most of the night.
Buchholz retired 12 batters in a row during a stretch from the second until the sixth. He was removed with one out in the seventh after he allowed four hits and two walks while striking out five.
There was a little bit of hope for the Blue Jays after Buchholz left the game. Pinch-hitter Colby Rasmus greeted left-hander Craig Breslow with a two-run homer just inside Pesky's Pole down the right-field line to bring the Blue Jays within one.
Toronto then had the tying run on second during the eighth and ninth, but both times came up short. In the eighth, Betts made a diving play in center field to end the inning, and in the ninth, Juan Francisco, who hadn't received an at-bat since Aug. 27, hit a weak grounder to first base as the game came to an end.
"On any given night, it's either they get you or you get them," Buchholz said. "That's sort of how it's been when I faced them. There's no remedy to them, I don't think. You have to pitch careful to them and sometimes careful leads to mistakes."
Gregor Chisholm is a reporter for MLB.com. Read his blog, North of the Border, and follow him on Twitter @gregorMLB. This story was not subject to the approval of Major League Baseball or its clubs.