Doolittle encouraged by flat-ground session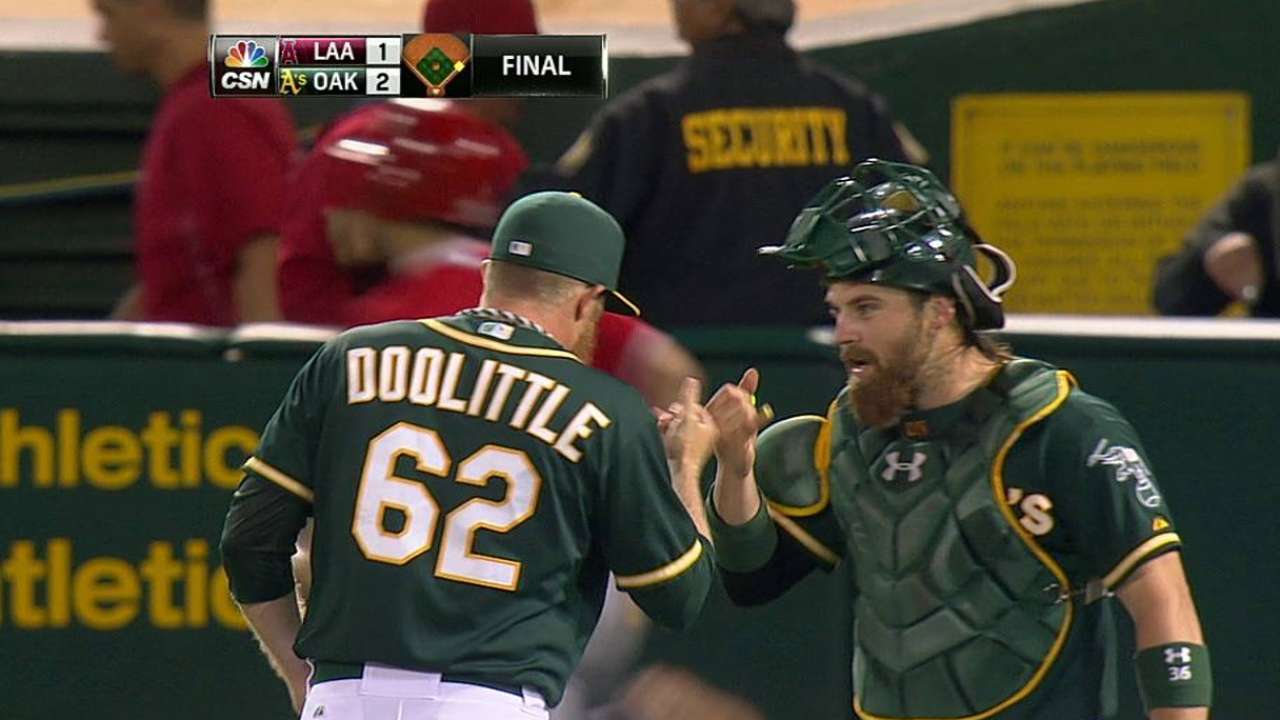 OAKLAND -- The A's can use all the good news they can get these days, and Sean Doolittle provided just that with an encouraging flat-ground session Saturday morning.
Oakland's closer, rehabbing a right intercostal strain, used all of his pitches in the 20-pitch session, and he is now scheduled to throw a regular bullpen Monday in Chicago, where the A's will play a four-game set with the White Sox. Barring any setbacks, he could be activated from the disabled list by the end of the week.
The A's have had just one save situation in the 14 days Doolittle has been sidelined, but his impending availability is significant for a club trying to get back on track.
"When you're watching in the bullpen sometimes, it can feel helpless when your role isn't coming up consistently, because you're spectating and trying to do any voodoo magic in the bullpen to get something going," said Doolittle. "But when you're on the disabled list, it's a whole different level of feeling helpless and dying to contribute on some level. It's obviously something I've been thinking about, and I've been doing everything I can to get back."
On the DL since Aug. 24, Doolittle received a cortisone shot shortly thereafter and has progressed at a rather quick pace since. On Saturday he was throwing free and easy, noting, "The ball had good carry on it, seems to be coming out clean like it normally does.
"I'm very encouraged," he said. "After they read the MRI and having talked to some other guys, I started to get a handle on what the injury exactly was and heard different guys on this team who have had it in the past and how long it's taken some of them. I was a little nervous, but I got the cortisone injection and, within a couple days, I really started to see some improvement and every day I came in I was able to do more things, and the flexibility was getting better.
"That kept me in a good spot mentally, knowing I was seeing improvement every day."
Worth noting
• Stephen Vogt, already out for the entire Astros series because of a left ankle sprain, is also expected to miss the White Sox series next week. He could potentially rejoin the A's in Seattle on Friday, depending on his progress.
• John Jaso (seven-day concussion DL) will travel with the team to Chicago on Sunday evening and potentially be available to DH or pinch-hit at some point next week. He's progressing so well that he's catching bullpen sessions, though he's not expected to catch in games upon his return.
Jane Lee is a reporter for MLB.com. This story was not subject to the approval of Major League Baseball or its clubs.