Giants hold off Tigers, keep pace with Dodgers
Four-run first inning enough despite Bumgarner's early wobble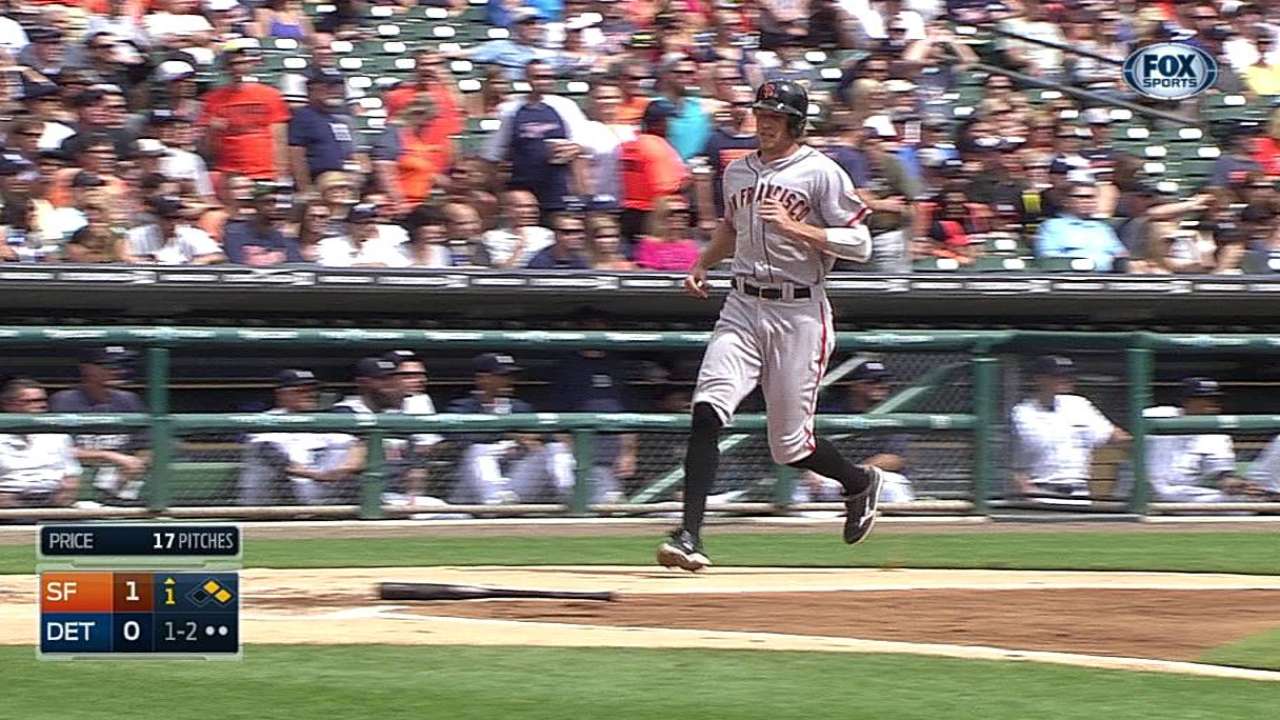 DETROIT -- Two of the best left-handed pitchers in baseball started Saturday's matinee at Comerica Park, and it was evident from the first inning that neither had his best stuff.
The showdown between Madison Bumgarner and David Price didn't meet the hype surrounding the pitching matchup, as they combined to allow six first-inning runs. The Giants staked Bumgarner to a four-run lead before he even trotted out to the mound for the first time, and San Francisco defeated Detroit once again, 5-4.
"Didn't quite come as advertised with these two," Giants manager Bruce Bochy said.
Both southpaws settled in after the rocky first inning, though Bumgarner had to find new ways to get batters out. For the first time in his career, he didn't record a single strikeout. He retired nine of the last 11 batters he faced, exiting after six innings and exactly 100 pitches.
Bumgarner picked up his 17th win, which is tied for the most in the Majors with the Dodgers' Clayton Kershaw. It was perhaps his most satisfying yet.
"That's a gratifying win when you're not on your game to still grind it out," he said.
This was by no means vintage Bumgarner. Bochy said Bumgarner needed to make an early adjustment with the Tigers making solid contact. From then on, he used his secondary pitches a bit more liberally and also focused on using both sides of the plate instead of leaving pitches over the middle like he had been doing early.
"That's part of the growth of a pitcher -- learning how to pitch when you're not quite as sharp," Bochy said. "You go out there 10 times, you're only going to have your best stuff maybe half the time. I thought he did a nice job of it."
Price pitched at home for the first time since the Yankees racked up nine straight hits off him, plating eight runs. Saturday afternoon went better -- it couldn't be much worse -- but the Giants took their licks early.
With two outs in the first, five straight San Francisco batsmen recorded hits, including a two-run double in the right-center-field gap for Andrew Susac. The rookie showed no fear batting against the 2012 American League Cy Young Award winner.
"To be scared up there, that's not my approach," said Susac, who is hitting .286. "I'll give the pitcher credit where it's due. But I'm going to be confident."
Joaquin Arias followed by doubling Susac home -- the fourth run of the opening frame. Price persevered, throwing 8 2/3 innings.
The Tigers played long ball off Bumgarner to climb back into the game. Miguel Cabrera lined a two-run homer into the bullpen in the bottom of the first to cut the Detroit deficit in half. Victor Martinez followed with his 30th home run, a solo shot. It was just the third time this season Bumgarner allowed multiple home runs in a start.
Buster Posey, who entered Saturday hitting .484 in his last 14 games, pushed the Giants' lead back to a pair of runs with a solo home run to left in the fifth. The blast was his first in Detroit since the clinching game of the 2012 World Series.
Cabrera went deep off Sergio Romo, who struck out Cabrera to end that Fall Classic, to lead off the eighth. Bochy said he wasn't really thinking about the history between the two when he called for his former closer in the eighth.
"He got a slider there that probably didn't break as well as Romo wanted," Bochy said. "He's a good hitter. You make a mistake with these guys, there's a good chance it could leave the park."
Santiago Casilla ensured that would be as close as the Tigers would come, though, retiring them in order in the ninth to end the game.
The Giants' win kept them two games back of the Dodgers, who won on Saturday night, and it pushed their lead for the first NL Wild Card to four games.
Matt Slovin is an associate reporter for MLB.com. This story was not subject to the approval of Major League Baseball or its clubs.