Yanks honor Jeter; watch free on MLB.TV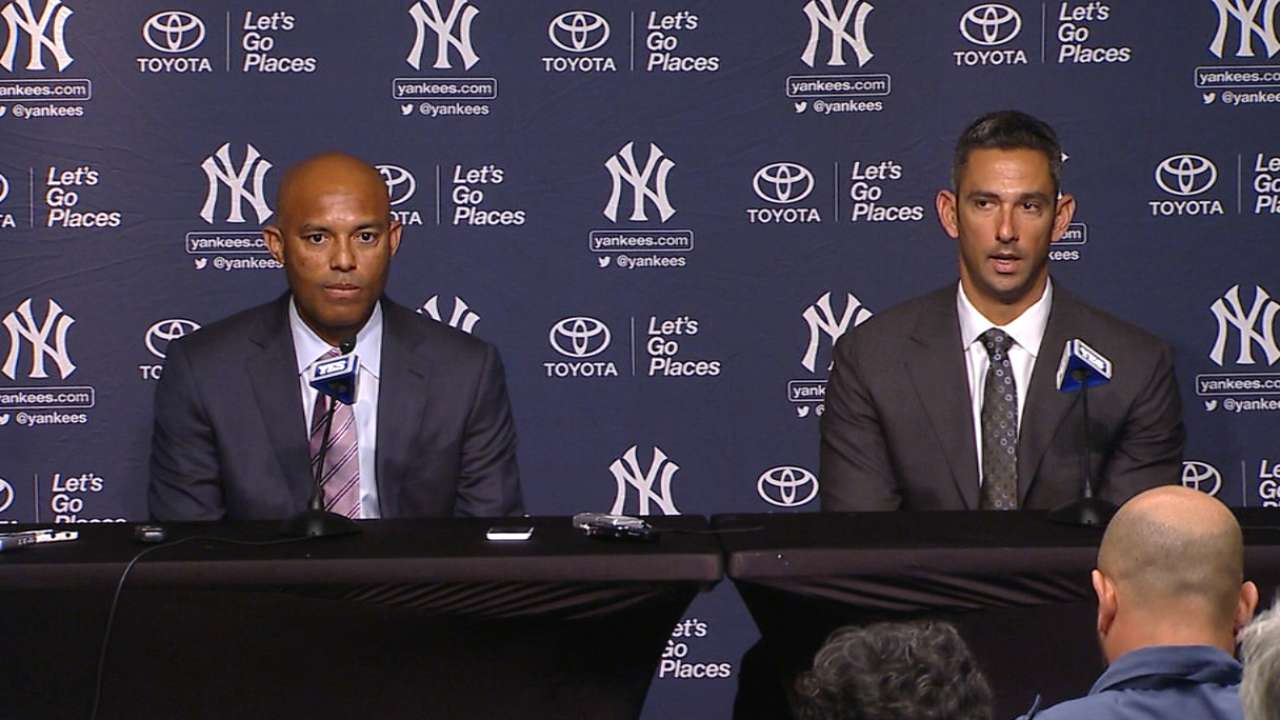 NEW YORK -- Derek Jeter said he had not been told any details about Sunday's ceremonies for "Derek Jeter Day" at Yankee Stadium. He was not sure what time he is supposed to arrive or the guests who are coming.
And he certainly has not thought about what the day, which can be seen out of market on MLB.TV's Free Game of the Day, will be like. It started with a host of his friends and former teammates, including Joe Torre, Paul O'Neill and Tino Martinez, addressing the media. Afterward, an on-field ceremony horing the Captain began.
That is the unusual thing about being an active everyday player through this season-long retirement tour. The ceremonies in the Bronx usually honor retired players. Even Mariano Rivera last year had around eight innings to sit in the bullpen. Jeter usually has about 15 minutes before he sprints onto the field to shortstop.
And of course, Jeter's main focus is trying to extend his career into another October. The Yankees entered Saturday's game against the Royals 4 1/2 games behind the Mariners for the second American League Wild Card spot with 23 games left to play.
As Jeter sat at his locker prior to the game, he motioned at the calendar hanging at the extra locker to the left of him with the team schedule that serves as a constant reminder that his career is winding down.
"For me as a player, it's still odd because I'm trying not to think about that the end is getting closer," Jeter said. "But constantly being reminded of it and asked about it, you can't help but think about it a little bit."
Jeter said he will likely not allow himself to think about the ceremony until he is driving toward the stadium on Sunday. He does not plan to speak to any of his old teammates or manager Joe Torre, who was honored a few weeks ago at Yankee Stadium, about what to expect.
Jeter also did not offer much of an opinion on the commemorative patch the Yankees will wear on the left sleeve of their uniform and cap in honor of his final season starting on Sunday and for every game until the end of 2014 season.
"Anything that's done for me, I appreciate. I don't expect it," he said. "I don't expect anything to be done for me."
Jeter will not even prepare a speech to give to what will almost certainly be a sold-out crowd, but he rarely does more than prepare a few talking points. He only thought of a few talking points in advance of his speech at the last game at the old Yankee Stadium, preferring to let the situation dictate what he said.
"I think you just let it happen, but I don't know," Jeter said. "I'm really trying not to think about it, because right now I'm trying to get ready for this game today."
Jamal Collier is an associate reporter for MLB.com. This story was not subject to the approval of Major League Baseball or its clubs.