Time not on Starlin's side for 2014 return
Shortstop's high ankle sprain could take at least four weeks to heal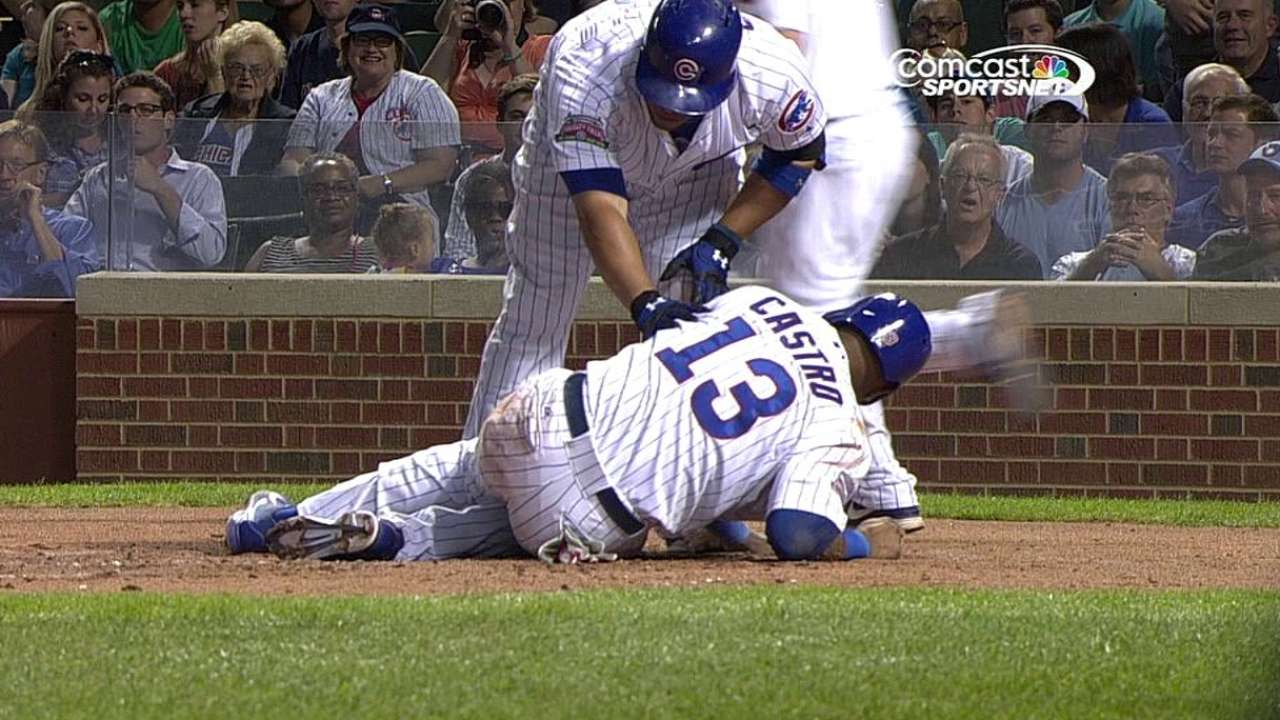 CHICAGO -- Starlin Castro, sidelined with a sprained left ankle, has told Cubs manager Rick Renteria that he plans on coming back before the season ends. Unfortunately for the shortstop, he has only three weeks to do so.
Castro suffered the high ankle sprain on Tuesday after an awkward slide into home plate. He wanted to stay in the game, but Renteria said no, and an MRI on Castro's ankle revealed the injury.
General manager Jed Hoyer said the prognosis is four weeks to recover. There aren't four weeks left.
"I would have to refer to him to determine if he's going to be able to come back," Renteria said Saturday of Castro. "He's the one trying to work through it.
"Are we going to put any of our players in a position to potentially hurt them in the long run? No, we're not going to do that," Renteria said. "Right now, we're very conservative in where we think he's going to be. A high ankle sprain is a pretty significant injury. Everybody heals differently. We have to take it one day at a time. We have to let the process continue to go through in terms of healing and gaining some strength."
The same is true for Anthony Rizzo, who came out of the Aug. 26 game with lower back tightness and has not played since. However, the prognosis for Rizzo is more encouraging. The first baseman could return after the Cubs' next road trip to Toronto and Pittsburgh.
Carrie Muskat is a reporter for MLB.com. She writes a blog, Muskat Ramblings, and you can follow her on Twitter @CarrieMuskat. This story was not subject to the approval of Major League Baseball or its clubs.