Price: Hamilton playing Gold Glove-worthy center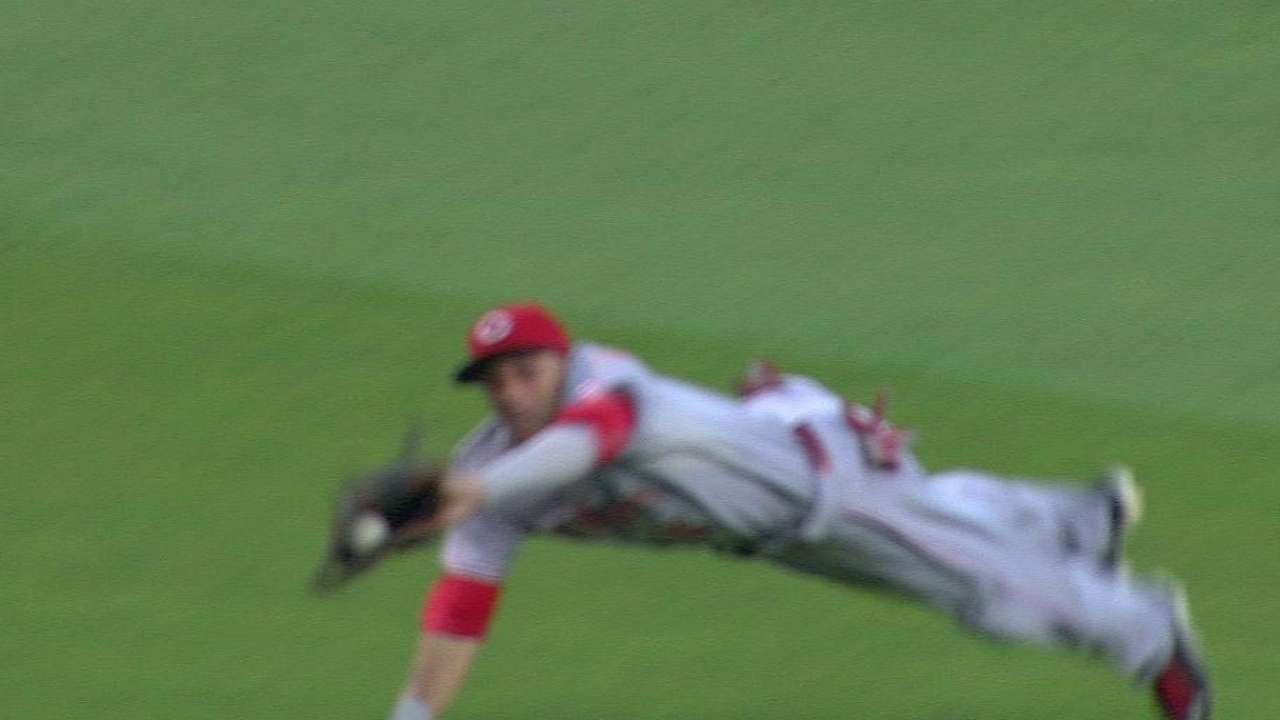 CINCINNATI -- Billy Hamilton appears to be the leading candidate for the National League Rookie of the Year Award. But his manager thinks the 23-year-old center fielder is also deserving of another high honor.
"I certainly hope and would expect him to get more than just some acknowledgment; I would expect him to win the award for Gold Glove," Bryan Price said.
Hamilton entered play on Saturday leading NL rookies in RBIs, multihit games, runs, hits, total bases, doubles, stolen bases and extra-base hits. But his defense has been exemplary as well. Hamilton went into Saturday's contest against the Mets with the highest fielding percentage among NL center fielders (.997) and having committed one error in 1,074 innings. He also led all NL center fielders in assists with nine.
Hamilton was second in the league behind only the Mets' Juan Lagares in defensive runs saved according to FanGraphs.com, with nine, and his penchant for making spectacular, highlight-reel plays certainly enhances his candidacy.
For someone who had never played center field as a professional before last year, Hamilton has put together quite a defensive resume.
"It's instinctive play," Price said. "[Hamilton has] played the position for such a short period of time, you really have to look at it as instincts; there's only so much you can do over the course of Spring Training and pregame to elevate the quality of a guy's defense.
"And he works hard at it; if you notice before the game, before he hits, he's taking balls off the bat every day, going gap to gap, going up against the wall. He's playing balls off the bat in batting practice every single day."
Hamilton would love to win the award.
"Even Brandon [Phillips] said out of the blue a couple days ago, 'I've seen a bunch of outfielders, but you could get a Gold Glove this year,'" Hamilton said. "I wasn't even thinking about it -- coming from him, a guy that's won Gold Gloves and knows what it takes to be a Gold Glover.
"It would mean a lot. Especially coming from shortstop, where I played [in the Minors], and then they tell you to move to the outfield -- it's like, whatever it takes me to get to the big leagues faster. It would mean a lot. Center field is a tough position."
Hamilton was heralded for his speed on the basepaths long before he made his Major League debut in 2013. But along with his 55 steals this season, he's proven himself as one of the best defensive center fielders in the game.
"I haven't seen anybody better," Price said. "And I'm throwing the bias out."
Manny Randhawa is an associate reporter for MLB.com. This story was not subject to the approval of Major League Baseball or its clubs.