Royals fall to Yanks after losing Duffy to injury
Hendriks replaces lefty after one pitch; KC maintains two-game lead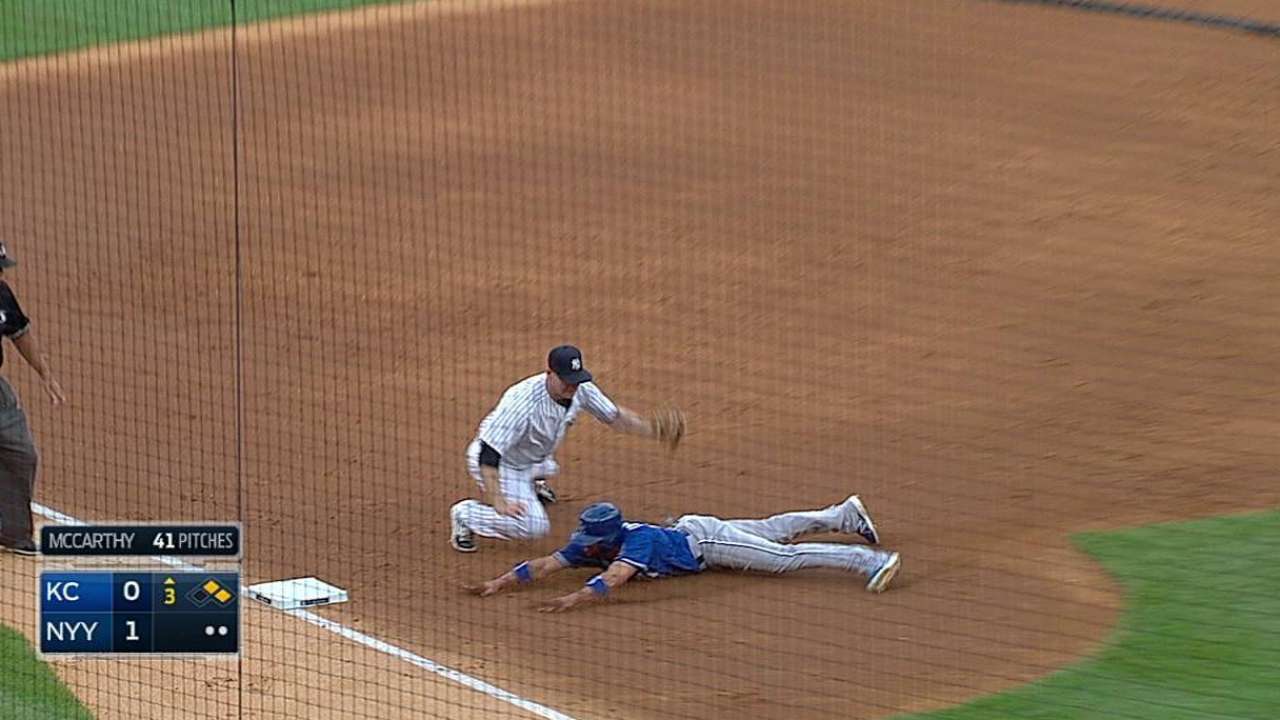 NEW YORK -- The Royals got away with a slumbering offense Friday night thanks in large part to their starting pitcher, James Shields, who recorded all but two outs in a dominant scoreless outing against the Yankees. But Saturday afternoon at Yankee Stadium, the offense was exposed.
That was largely because left-handed starter Danny Duffy's first pitch of the day to Jacoby Ellsbury was also his last, an ominous sign that resulted in his untimely exit, eventually leading to the Royals' disappointing 6-2 loss to the Yankees.
Despite snapping their four-game winning streak, the first-place Royals remained two games ahead of the Tigers in the American League Central thanks to Detroit's loss to the Giants.
Duffy immediately grimaced once he let go of the pitch and, after a quick visit with manager Ned Yost and the team trainer, exited the game with left shoulder soreness.
"He warmed up OK, he didn't say anything, he went and threw the first pitch," said Yost. "He didn't feel like a pop or anything. It just was real tight, a little bit sore. I'm not pushing it."
"It just tightened to a point that I just felt like I had a vice grip on my shoulder," said Duffy. "I feel terrible that we cashed a lot of our bullpen today."
The injury forced in reliever Liam Hendriks -- a recent September callup -- who couldn't keep the Yankees' bats as silent as Shields had, surrendering four runs (three earned) in his four innings, missing location in the middle of the plate that led to strings of extra-base hits.
"He was erratic in the zone today I would say, not out of the zone," said Yost. "He threw a number of pitches that ended up middle-middle that ended up getting hit. But he's going to come at you."
That early support was all New York needed, as the Royals' lumber remained dormant, this time against Brandon McCarthy, who went 6 2/3 innings, allowing just two runs over 105 pitches before letting the bullpen close out the game.
The result was more bouts of offensive frustrations that this time weren't bailed out by pitching. Yost even mixed up his lineup from the night before in an effort to kick-start the bats and keep some bench players sharp, which included inserting Josh Willingham and Carlos Peguero into the order. The results stayed the same.
"Winning takes care of everything," said Alex Gordon, who had one of the two Royals RBIs. "But when you don't win, you try to search for things that make the offense click. Now, it's just not rolling [for us] as an offense. We're going to hit here and there, but [we're] not very consistent all around."
Willingham doubled and scored in the seventh on a sacrifice fly from Mike Moustakas, but the Royals couldn't come through in their other opportunities, most prominently in the fifth, when Alcides Escobar reached third with one out but was stranded.
They ran themselves out of the third inning when Omar Infante was cut down at third base, trying to advance on Gordon's run-scoring single.
"They're grinding it out," said Yost. "In the last seven to eight days, we've won some ballgames. Score enough runs, win some ballgames."
The problem with that equation is that "enough runs" is difficult to calculate night to night, especially on one like Saturday. Hendriks helped steady the ship, but an RBI triple from Ellsbury in the third inning and an overthrow to third base from catcher Salvador Perez that allowed a run to score in the fourth didn't help matters.
The rested bullpen did have its bright spots though. After Casey Coleman allowed two more runs in the fifth, lefty Brandon Finnegan, the Royals' first-round Draft pick this year, made his Major League debut, tossing two perfect innings with two strikeouts, one of them being Derek Jeter.
"I thought he was great," said Yost. "His stuff was good. He threw strikes. He wasn't overwhelmed."
"It was definitely a great experience," said Finnegan. "Getting to face him was an honor. But striking him out made the day a little sweeter."
Across the noticeably quiet clubhouse, though, Duffy sat in a cloud of despair, waiting to head back to Kansas City for an MRI and a diagnosis.
Already having dealt with elbow problems following Tommy John surgery in 2012, Duffy said he is optimistic about his shoulder, which he noted was still achy. It's something the Royals hope Duffy -- who has a 2.42 ERA in 141 1/3 innings -- is right about, considering his value to the rotation and their postseason chances.
In the midst of his frustration, he was still humble enough to put things in perspective.
"A loss isn't the end of world," Duffy said. "We're going to try go back out there tomorrow and try to win this series. The focus is on that. The focus is on where we go now."
Jake Kring-Schreifels is an associate reporter for MLB.com. This story was not subject to the approval of Major League Baseball or its clubs.